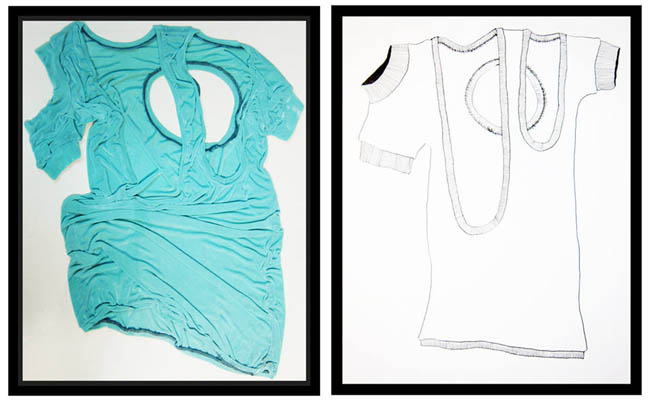 We all know how clothing works: pants have two legs, a shirt starts at the neck and stops at the hips, a hat goes on the head, etc. But we also know that great fashion is about throwing all of those rules out the window in order to push the boundaries of fit and style. Artist Stacy Scibelli takes this idea to heart with her most recent project "Made With Love" a fun yet poignant experimental fashion piece. StartUp FASHION was fortunate to be invited to Scibelli's artist talk at the Boston Center for the Arts where she is currently completing a residency.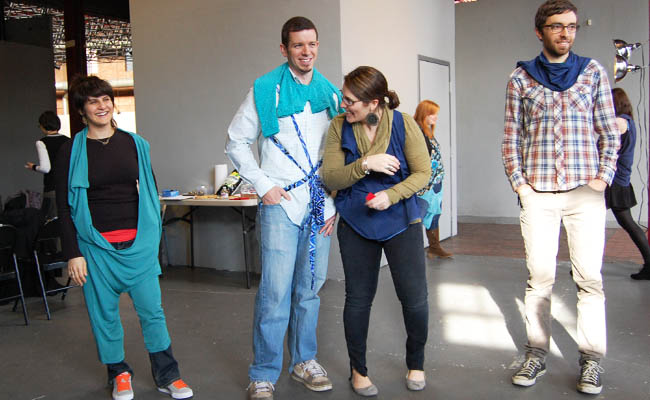 A graduate of the Massachusetts College of Art and Design's Fashion program, Scibelli knew from the beginning that her work was not that of a typical designer. Leaning more towards working in costume and sculpture, she learned many unusual techniques not normally found in a fashion designer's skill set. This gave her the freedom to create work that was not only beautifully crafted, but also incredibly innovative. A few pieces that she worked on in the past  include Kissing, Hand Holding, and Tickle "Machines"– all of which were made out of fabric and worn on the body, usually by two people.
"Made With Love" makes us consider our relationship with fashion and the way clothing is constructed. Scibelli created 300 garments by hand! Each piece was sewn together in a way that was not quite right- shirts with holes for the eyes and mouth instead of the whole head, three-legged pants, shirts that could fit multiple people at once.
The garments were displayed on racks much like in a boutique, and participants were allowed to try everything on, which made for some silly, yet inventive looks. In her talk, Scibelli remarked that her original intent for the project was to manipulate the audience with her unique silhouettes. Yet in the end, she discovered that it was more of collaboration, that the participants were the ones completing the piece through their own ingenuity. In this way, it becomes a stirring reflection on fashion itself: a relationship between the designer, the garment, and the wearer.
To see more of Scibelli's work, visit StacyaScibelli.com. S he will also be running several workshops during her time at the BCA, teaching wearable art and shoemaking. To learn more and sign up, visit bcaonline.org.