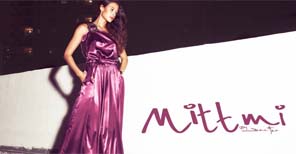 Meet BreakThrough DESIGNER Danittza Zimic of Mizmi Clothing.  Listen, Learn, Connect.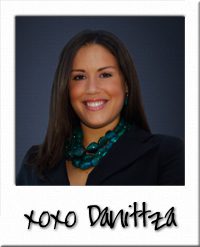 1. What is your brand's mission? How has it evolved since you started your business?

Our brand's mission is to create designs to fit the woman of today's style. I began with resort wear and moved on the ready to wear, our clothing line is sexy and classy at the same time, so it creates an edge.
2. How would you describe your brand's aesthetic?

Bold, forward, sophisticated, feminine but still in charge.
3. What's the most difficult aspect of running your business? What do you do to combat that?
I find that the most difficult aspect of running my business is time management and the ability to delegate certain aspects. I breath and reboot, even though sometimes I don't even notice.
4. Do you sell wholesale or primarily through your own website/retail location? What steps do you take to attain brand recognition, whether to wholesale buyers or retail consumers?
I sell both, but what I sell mostly is Danittza Zimic as a designer, because my brand is  me  🙂 I have been blessed to have people approach me, want to interview me, use my pictures, do write ups, blogs, etc.  Really! I have interns ask how I get all the media attraction, and what the PR company that I use, I always tell them God just brings all these opportunities my way!
5. What social media platforms do you find most integral to your brand's marketing? How do you utilize them to connect with your customers?
Facebook without a doubt, we are currently 17,000 likes/fans strong. We tell the customer our story, it's like having a reality show, the only difference is that we type instead of film. We are not on national television.  Yet!
6. Can you describe in a few sentences your day to day?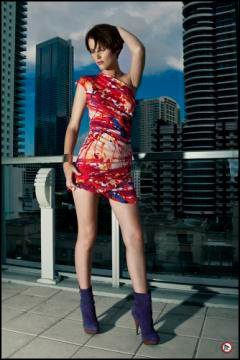 I cannot agree more that the designer's day to day is not all sketching and sewing. We actually recently posted something similar on our "Mizmi" facebook page. People out there that want to start a fashion career have no idea how influential business management is.  It's easy to be in fashion one season, but to remain you need to know how to really be a business woman overall.  Maintaining yourselves in this business is not possible if you hope to survive just on sketches.
7. What are three of YOUR favorite brands? What do you admire most about them?
Chanel- timeless beauty
DVF- Femininity to it's finest
Christian Louboutin- heels to die for
8. One piece of advice you can offer the fresh faces of fashion?
Get tough and always be creative, not only with designs but with ways you can take your brand to the next step.
9. What exciting things are in store for you in 2011?!
Wow, we are launching a new line and we could not be more excited, but I will contain myself until it's official.
Connect with Mizmi
@Website
@Facebook
@Twitter
Thank you Danittza for an awesome interview!