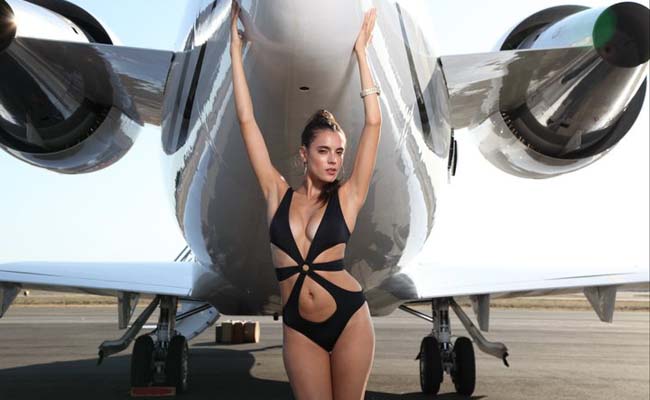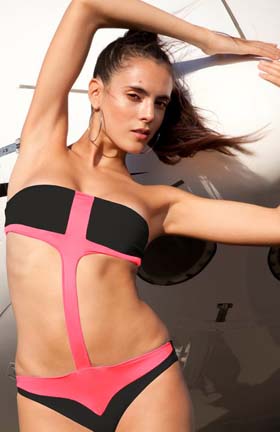 Designer Michelle Byrnes of SAGA Swimwear, a San Francisco based brand, launched her sassy swimwear collection with business partner Alex McCauley, in the year 2010. The two met while working at the same bar and instantly bonded when they came to the realization that they both had over 200 bathing suits.
The duo behind SAGA tells us that their ultimate mission is to dress women for the journey, not the destination. They "try to define a new era of worldwide mobility with adventure at the epicenter of it." With their use of bright and flirty colors they are able to attract all different audiences young and old who are confident in their figures.
Byrnes and McCauley take pride in saying that all of their fabrics dress the modern women who are looking to make a statement with cutting edge designs. SAGA Swimsuits are all manufactured in Los Angeles, California but they receive the majority of their fabrics from Italy.
One thing that has set SAGA apart from other swimsuit labels is its goal to make a new style of swimsuit that tells an exotic story to the world, ultimately making it one of a kind and highly desirable.
Like so many others, SAGA has seen the repercussions of the world's recession but the brand is keeping an open mind when it comes to embracing interesting opportunities and is always welcoming new possibilities and changes.  This outlook on the business is what  has helped them overcome many of their obstacles.
Byrnes and McCauley have learned that keeping all of their social media outlets alive and active will ultimately  provide them with the perfect customer base. For the last six or so months, Byrnes has been working hard on all of the different media platforms such as Twitter, Facebook, where she has been discovering new resources for her company to grow.