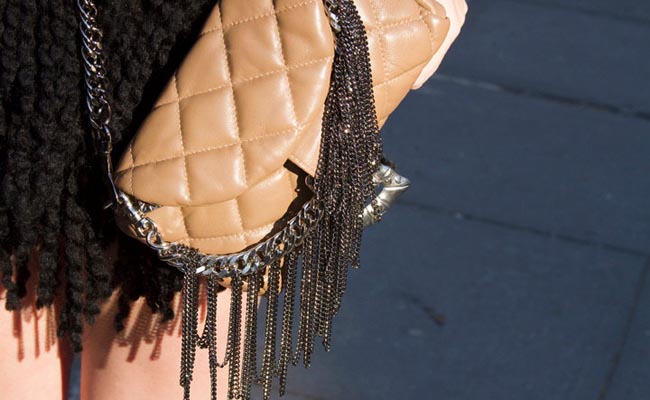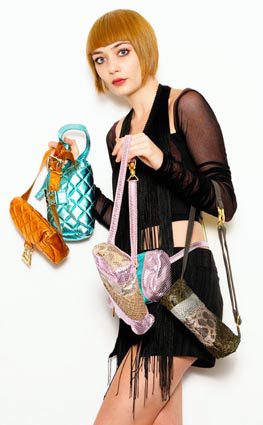 Ayana Evans designer and founder of YANA Handbags shows us how she found a new meaning to a fun, crazy, and sexy bag. Evans founded her handbag line in 2007, after realizing that there was no point in spending $400 for a bag when she could simply make it herself.
With the help of New York artisans, YANA Handbags are made with utmost craftsmanship and with one look at the hand sewn satin bows on each label, you'll know that every bag was made to excellence.
Yet, one of the most impressive aspects of Evans' handbags is how environmentally and socially friendly they are. The sale of her handbags contributes many charities including The American Cancer Society and The Brotherhood/Sister Sol. Evans strongly believes that by making a handbag that is not only trendy, but eco-friendly and socially conscience, she will be giving her customers more for their money.  Her customers agree.
Versatility is another thing that Evans takes into consideration on a daily basis, as she makes a size and shape for pretty much every type of shopper.  In the YANA Handbag line, Evans offers bags such as hobos, belt bags, satchels, clutches, travel bags and luxe leather. Ayana Evans tells us every bag is, "Closely interwoven elements of feminine constrict inspired by texture, controversy, nostalgia, status, sex, power, romance and humor."
A personal favorite is the amazing variety of fanny packs featured in YANA's 2010 JEM Collection, which totally bring out every ladies inner 80's. From the blissful metallic colors to the quilted snakeskin styles, you are sure to make a fashion statement while sporting YANA's fancy fanny. As Evans says, "these bags connect the eco-conscious lady with her bold and sexy alter ego."
Consumers aren't the only ones responding to Evans' bags, she is now selling her creations in small boutiques all over the U.S. along with two stores in Japan and the online store Karmaloop. These vibrant bags have brought celebrity clientele such as, Michelle Williams and Queen Latifah.
Evans wants the world to know that her bags are not only an affordable luxury but are good to the society and world around us. YANA Handbags creates a reaction among crowds and proves that an eco-friendly bag doesn't have to be boring.