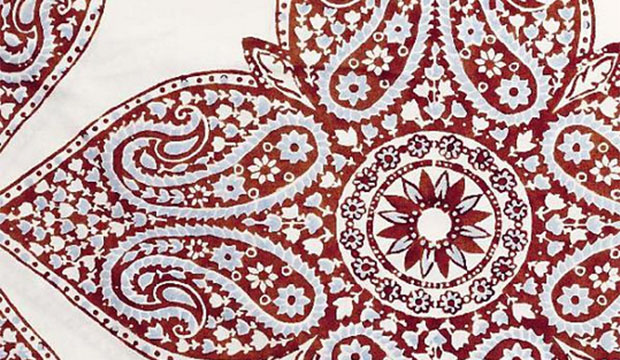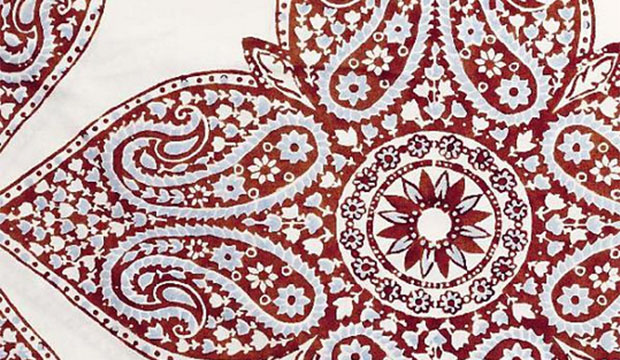 Textile Designer John Robshaw has captured our attention with his newly published book "John Robshaw Prints: Textiles, Block Printing, Global Inspiration and Interiors." And this got us thinking about out love for handcraft.
What makes Robshaw's collections so special is that they are comprised of fabrics that are block printed by hand. To celebrate this milestone of one of our favorite designers, today we bring you an inside look at how block printing is made.
The process of block printing is extremely versatile, and can be as simple or complex as a designer chooses. It has its roots in China where it originated, as well as strong traditions in Japan and India.
In it's most basic definition, block printing is essentially stamping an image onto fabric.
Traditionally, an image is carved by hand into a block of wood (linoleum is also commonly used today). Ink or dye is applied to the block, and the carved image is stamped onto the fabric, usually in a repeat to create a continuous pattern.
Depending on the complexity of the design, adjustments can be made to the process to get more interesting results. To get a multi-color image, a different stamp must be made for each color (much like silkscreen, or separating an image into layers in Photoshop.)
Additionally, rather than a single motif that is repeated over and over with space in between, the artist can create a design in which the edges of the stamp must line up seamlessly against each other. This creates a beautiful, unbroken repeat that flows through the expanse of the fabric.
It's a tedious process of exact placement and often requires some trial and error before getting the desired results.  But, with that said, the resulting fabric has a handmade, beautifully imperfect quality that can't quite be accomplished through another means.
Would you use block printed textiles in your collection, or try your hand at doing it yourself?