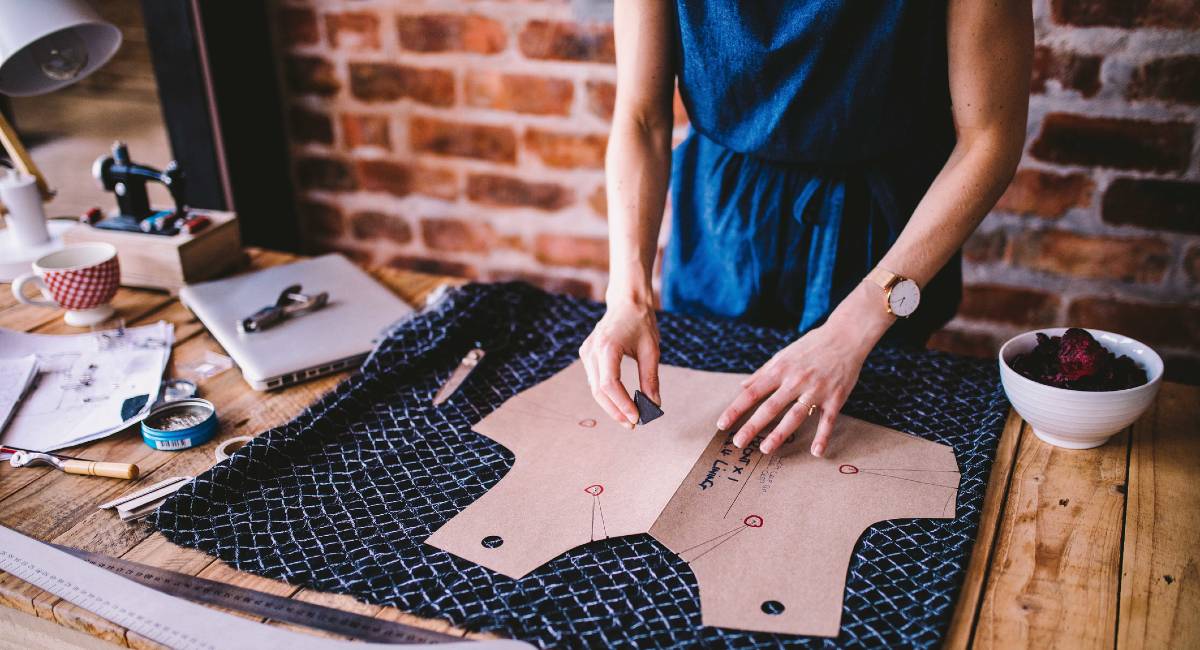 You've finally decided to go all in and start your fashion brand! This is an exciting time but may also feel overwhelming for first-timers. Looking from the outside into the fashion industry, many assume that the process from concept to creation would be simple. You have an idea and just need to find someone to make it come to life. Unfortunately, it isn't that easy.
There are many steps in the process and multiple vendor partners you will need along the way. Here is a high-level overview of the steps in the fashion production process:
Ideation – developing your idea

Technical Design – designing a product in detail for manufacturing

Product Development – developing and approving prototype samples of your product

Pre-Production – compiling all materials and trims and preparing for production

Production – manufacturing your product

Selling – generating a profit by selling your products
I have worked in the fashion industry for over 15 years and have assisted hundreds of launching and growing brands with a global vendor network. Based on this extensive experience, I have compiled the 5 most important steps you can take to produce your fashion brand successfully.
Develop Quality Tech Packs
Tech packs are the foundation of your products.  Think of them as an instruction manual for the factory on how to put all of the pieces together. If they don't have enough information or it's confusing it will take you much longer to get to an approvable sample, wasting time and money along the way. 
To streamline the product development process, tech packs need to include:
Product Sketches

– These are detailed CAD sketches of your products. They should include multiple views and close-ups of any special elements like mesh panels, special branding treatments, underarm gusset shapes, pockets, etc. Key measurements should also be called out in these sketches. 

Spec

– These are detailed measurements for all Points of Measure (POM) your product requires. I've seen Specs that don't call out enough POMs leaving a lot of the design up for interpretation which is not what you want.

Graded Spec

– This is your spec broken out into your full size range.

Bill of Material

– Also called the BOM, this is where you list out all of your materials and trims. This is everything down to the type of thread that will be used and the size of the care label. Include all the details and descriptions you can.

Reference Images

– Images that show specific construction or design details from reference samples. Pictures are sometimes easier for factories to understand.
*Pro Tip – Just because you have quality tech packs doesn't mean your factory will nail the fit in the first sample. There is an art to garment manufacturing so although the tech pack gives them a solid foundation to work on, there will most likely be tweaks or modifications once you review the design in garment form. 
Shop Around for a Factory Partner
The only way to ensure you're getting the best quality and price is to shop around. It's not always easy to get estimated costs from factories upfront or to fully understand what their manufacturing capabilities are. By asking the right questions you can get closer to understanding your full investment and make sure their manufacturing aligns with the products you're looking to make. Here are some great questions to ask:
What are your product development fees and what do they include?
What types of products do you specialize in? Can I see examples?
What other brands have you produced for? Can I have a list of references to contact?
What would an estimated cost be at your Minimum Order Quantity (MOQ)?
If you can't give me an estimated cost, can you at least give me a cost range?
How and when do I pay for product development and production?
Although there are a lot of variables that drive the cost of fashion production, a potential factory should be able to provide you with an estimated cost range after reviewing the tech packs and understanding your design. If it's an experienced factory that has produced similar products, they should have something to compare to.
I am always hesitant to work with factories that require you to go through the entire product development process first before giving you any idea on a production cost. With product development costs averaging around $1,000 per style, you could easily be thousands of dollars in after this development phase and then realize you can't afford to produce with them. 
Don't forget about sourcing overseas as well. Just because you're launching your brand doesn't mean there aren't viable options outside the US that produce small quantities. Do your research and make sure you've explored all your options before selecting a partner. 
Understand Your Total Unit Cost
In order to build a sustainable and profitable fashion business, you will need to make sure you are making money. The only way to know this is if you keep track of all of your costs along the way and choose retail price points accordingly. 
Costs that go into this per unit total are fabrics, trims, production, all shipping for materials and production units, and your shipping materials like boxes, tissue paper, etc. Some brands decide to include their product development fees into this as well while others account for it separately. Either way works! 
Once you have this total cost, you can divide it by the number of units you are producing. This will give you your total unit cost. At this point, you can validate that the retail price points you have chosen work with your business model and will generate a profit for your business.
Remember that profits are smaller with lower quantities since costs are higher. Always make sure that as you increase the units of production, your profits per unit should increase as well.
Request & Review All Elements for Approval 
This is one of the most crucial steps for successful fashion production. This is the process of evaluating each and every element of your product so you can correct any issues that do not meet your expectations. 
Here is a list of submits and samples you should request from your factory or suppliers to review and approve prior to production:
Fabric Quality:

Don't approve anything off of a picture, you want to review this in person. To save time, you can request 2 or 3 similar qualities to review in case the one you love doesn't end up being what you're looking for. You should be reviewing the hand feel, fabric content, and care instructions to make sure they align with what you need.

Strike Off:

  This is a small swatch of fabric showing you the execution of a custom print or pattern. You should look at the quality of the printing process, feel the fabric for desired hand feel, and review the colors and scale of your print.

Trims:

These include buttons, zippers, hang tags, labels, etc.  Anything on your product that isn't the fabric. You should take into consideration the size, quality, color, and placement of each trim.

Development Sample

: This first sample is usually in available fabric and trims. Its purpose is to evaluate the factory's understanding of the design and construction of your product. You should be reviewing the fit, quality, design, and construction to call out changes prior to starting the fit process.

Fit Sample:

This sample could be in available fabric or your approved fabric quality.  The purpose of this sample is to make sure it fits and performs exactly how you want it to. I always suggest trying this on a variety of body types to make sure you catch everything you can. I would anticipate at least 2 rounds of fit samples on new products, make sure this is included in your product development costs.

Pre-Production Sample

:  This should look and feel exactly how you envisioned your product and be in all actual materials and trims. Every element should be reviewed and approved as this will be the standard your factory will follow.  This is your last chance to make any changes to your product. Ask for another sample if you're not happy with the outcome.  Once this sample is approved, your factory will begin production.

Top of Production Sample

:  These samples are pulled directly from your production. This is meant to keep as a reference standard for future production.   
Stay Organized Throughout The Fashion Production Process
Last but certainly not least is to stay organized throughout the entire product development and production process. It may seem like an obvious step, but I can't stress the importance of this enough. There are so many moving parts and vendor partners you will need to work with along the way so staying on top of everything is imperative.
Knowing where and when you will be receiving submits and samples will help you to plan your time and keep you on track to meet your timelines. Make sure to request typical turnaround times for receiving submits and samples from your vendors. That way you know when to expect things and when to ask for updates. 
It sounds simple but managing all of your vendors and materials is a big job. Staying organized throughout the process will keep your fashion production on schedule, save you a ton of time and ensure you're producing a quality product that aligns with your vision.
There are so many steps to manage in the fashion production process. It's totally normal to feel overwhelmed.  By focusing on these five important steps along the way, you can ensure that you're focused on the most important aspect of the fashion production process. Take one step at a time and ask questions along the way. You've got this.