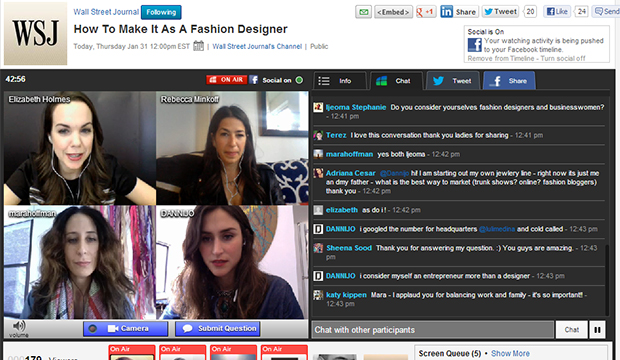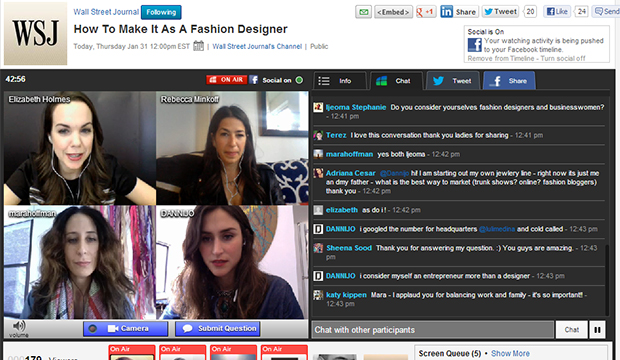 Yesterday we had the pleasure of sitting in on a Wall Street Journal Spreecast with designers Rebecca Minkoff, Mara Hoffman, and Danielle Snyder of Dannijo.  It was an hour long question and answer segment that offered some notable insight for emerging  designers.
Key Take Aways from How To Make It As A Fashion Designer
Rebecca Minkoff attended only one semester of FIT, worked 3 years for Craig Taylor, then started her own business

Celebrity attention was a big part of the success for all three of these designers

Important skills other than technical: sales, bill collecting, event planning, finance, e-commerce, social media, blogging, understanding how to create your own language and voice for your brand. 

Forget the glamour, focus on being business savvy.  Do every single part of your business in the beginning in order to learn.  Once your business is at the point for delegating, you will have a solid understanding of how the business runs from all aspects.
Get uncomfortable.  You will inevitably be in situations that take you out of your comfort zone.  That's imperative in order to grow. 
Social media is essential. Talk to your consumer and use social media as a way to be as close to your costumer as possible. Allow them to know you.
Give your brand a voice, a face, and a spirit.
How the designers first reached out to buyers: begging and pleading.  They  went store to store with a bag of their clothing, asking the buyer to give them just 5 minutes.  You must have the "nothing to lose" attitude. But find the balance between being annoying and effective.
Accept rejection and embarrassment.  You have to be fearless. This is not easy.
On finding the money to start their brands: focus on no or low overhead. No studio or office, use your apartment.  Plug every cent you make in the beginning into your company. Know that it will take a very long time to see profit, live like a "church mouse".  After you start to get orders and show a track record, banks may offer lines of credit. (Mara Hoffman)
Dannijo combined a small family loan and their own savings for a total of forty thousand dollars. They worked on consignment in the beginning in order to get more stores. The best entrepreneurs understand how to be scrappy and prioritize where the money goes.  It's scary and risky. 
Rebecca Minkoff had a personal savings of ten thousand dollars. Though she was not smart with her money, spending  $2,000 on a photo shoot and other things.  She eventually managed to get a family loan when she was at the point of not being able to pay her rent. To this day, the business remains thrifty.
On reaching magazine editors: search the mastheads, do your research, and just start emailing. Celebrity endorsement is important but so is editorial placement.
On hiring public relations firms: all three designers did everything themselves, along with interns, until they were profitable.
No showrooms, knocked on doors themselves in order to get new accounts.
How to determine what collaborations are right for your brand: the appreciate the brand's values and they have a complimentary aesthetic. It's easy to say yes to every opportunity but in the end it can hurt you.
Once you're ready to hire help, find people who know the things you don't (i.e. numbers person). Fill in your weaknesses.
No typical days. The job always changes.
Wear your stuff, start locally, get opinions, offer your collection to a boutique on consignment in order to collect market research.  This is an excellent way to get feedback and learn about your customer.
Over time, the goal is to build a brand DNA
Tough love: you have to be able to put your entire soul and other people's souls into the business. You're on call all of the time and you will  not see people for weeks on end, you will miss holidays. You need to have a very high level of focus.