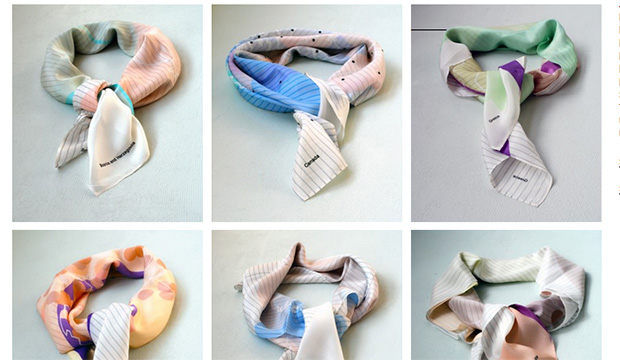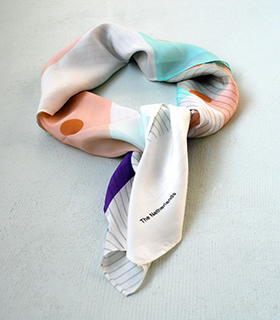 In school, students are taught a pretty standard method of going about their design process. Make a mood board to garner inspiration, sketch ideas, etc. Every once in awhile though, we come across a unique designer who has clearly deviated from the design methods typically learned in a school curriculum. Reineke Otten of World Skin Color Scarves is one of them.
At a very basic level, she is a scarf designer, but her ideas and concepts for her work go much deeper than that.
Otten is a designer who works in "the field of visual sociology," and her process involves an instinctive classification and analysis of the recurring patterns in a daily urban lifestyle.
Otten's latest project World Skin Color Scarves, intelligently marries sociology and fashion.Visually, her collection is striking; bright, saturated colors are arranged in well-balanced, abstract compositions. However, the underlying concept is anything but abstract.
The WSC Project's scarves are a visual representation of global data- specifically skin tone. Otten has created unique color palettes for all 231 countries throughout the world, all based on data she has collected from the internet, books, thousands of images of people, as well as interviews with dermatologists and cosmetic companies.
She then assigns each piece of information a hue from the pantone color system.  The resulting patterns have layers of multiple design elements representing different components that factor into the skin tones of a particular region. Statistics from the past eight years such as migration, population density, number of airports (the United States has 15095 airports while Aruba has one) as well as temperature and UV radiation are recorded, analyzed and translated into visual symbols.
The compositions of information are finished off with a white outline of the area represented. Each of the scarves for every country is as beautiful and completely unique as the nations themselves.
To view the lookbook as well as a collection of maps, data and colors, visit worldskincolors.com/scarves
What do think of this idea?  We fell in love with the innovative way of looking at and combining design, fashion, sociology, and humanity.