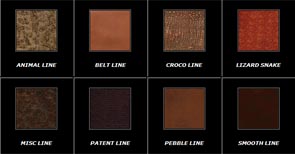 I write a lot about domestic raw materials suppliers. With my own personal work, I love utilizing suppliers right here in the United States as often as I can. From domestic, vegetable-tanned leather to local manufacturing, keeping production on my home soil makes me happy.
While prowling Sourcing at WWD MAGIC last week, I stumbled on a third generation, 100 year old leather tannery based in Miami, FL called LEATHERworks.  While they do source the skins from all over the globe, the dyeing takes place in the United States and, I was excited to find out, the company uses the environmentally sound process of vegetable dyeing to color their skins.
LEATHERworks goal is to "balance hand working with a long leather tradition to make the most technically advanced and fashion forward leathers in the world".  They provide a large variety of skins, from reptile to cow, and everything in between.  It's worth taking some time to search the site, give them a call, and request a sample card.