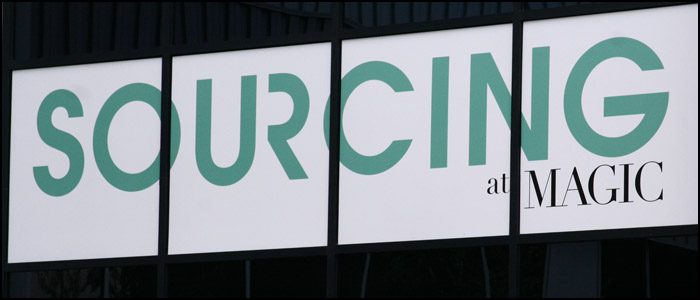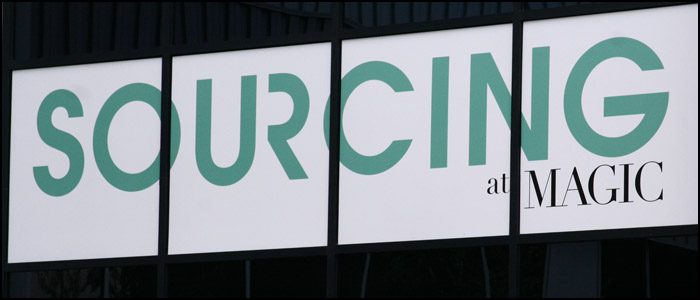 In my quest to suck in as much of WWD Magic as humanly possible, I happily took on the responsibility of attending and writing about a Sourcing Keynote – Making Money in a Brave New World.   The objective was for a panel of experts to help the members of the fashion industry, whether it be retailers, designers, sourcing professionals, or brand reps, to survive and prosper in the current business environment.
I have to say, I wasn't sure what to expect.  The panelists were all suit wearing, seasoned industry pros; presidents of major fashion corporations.  Not that these are bad things by any means, just that I wondered about their ability to relate to a diverse crowd that included a lot of people who are young and new to the industry.  You know, the fresh faces who want to start a career in fashion at one of the most volatile times we've seen in decades.  However, the panelist did not disappoint.  Each one spoke pointedly about various areas of the current business climate with clear examples and valid ideas.
If you are an emerging brand, you may think that things like trade policies, fluctuating costs of raw materials, and manufacturing and sourcing strategies do not apply to you, at least not at the moment.  Well you could not be more wrong.  So read what they had to say and figure out exactly how to apply this information to your business model because their insight and expertise is priceless, regardless of what stage of the game you are in.
Thomas Travis– Managing Partner of Sandler, Travis & Rosenberg
Tom Travis' focus was on trade with a specific emphasis on the Obama Administration's policies and initiatives.  He spoke about the fact that trade changes every day, how invariably there are winners, losers, and bystanders.  He pointed out that those who actively look at change on a regular basis and figure out how to adjust their business accordingly, will prosper; those who don't will fail.
Here are some areas where change came and the industry was shaken:
China Sourcing
China is the leading manufacturer of apparel in the world.  For the past several decades, they have been happy to export everything they make but this fact is no longer true.  With an inward focus on building their own economy, the U.S and Europe are left scrambling.
Trade Agreements
Not understanding the governmental policies that are constantly effecting the way trade is performed is a crucial mistake that too many business are guilty of making.
Supply Chain
Attention is increasingly being paid to the Responsibilities of the Supply Chain.  Light has been shed on issues like unfair wages and improper working conditions and this inevitably has an effect on the price of raw materials and the lead time in producing goods and products.
Some of the initiatives of the Obama Administration's United States Trade Policy include making trade work for American families, advancement in the social accountability of trade policies, progression on national energy and environmental goals, building existing Fair Trade Agreements, and export, export, export.  These initiatives are bold and require the re-education of brands. Brands need to adjust their business models in order to implement these new laws and remain profitable.
Rick Darling– President of Li & Fung USA
Rick Darling's focus was on sourcing strategies, pricing, and diversity.  In a time of continuously rising costs of raw materials and manufacturing, this industry is currently in the roughest time it has ever seen.  There are not a lot of countries left that we have not tapped and we have never before been in that situation.
For the past thirty years, China has been the world's factory.  But in the words of Mr.Darling, "That party is over."  As mentioned in Tom Travis' summary, the Chinese economy has matured and it is now turning inward.  They want to improve their own economy and in order to do that, people need to make more money.  The next thirty years will be spent with China developing its own consumer market.  This initiative is driven by China but is taking place everywhere else, in every region of the world. What this basically means is that the world has structurally changed and this fact will only lead to continued rise in production costs.
So what is the reality?  What do we do?
Mr. Darling's suggestion is that brands really need to take a hard look at how they conduct business and do whatever it takes to adjust to the new environment.
Technology will push inventory refinement.  You're seeing this more and more in major brands no longer building an inventory of ready-to-ship product, but really fine tuning what they produce.
Much more strategic dealings with partners and suppliers.  Really sitting down, thinking out, and making decisions based around what is happening in the industry today and what these happenings mean for tomorrow.
Relationship building with suppliers.  In the past, the fashion industry has been incredibly opportunistic.  Can't get a cheaper price?  Pick up and move operations to another factory. Lead time too long on a fabric order?  OK, we'll find a mill elsewhere that can produce faster.  This has to stop.  The only way a brand can survive in the current climate is to really nurture the relationships it has built and will continue to build.
Rick Helfenbein– President of Luen Thai USA
When asked "What's going on?  What does the current state of the industry mean for us?", Rick Helfenbein really focused on two main points to keep in mind when thinking about how your business needs to adapt:
Cheaper is not always better
Opportunities and Situations are not always what they seem
What does that mean?  Take a hard look at the industry and really make informed decisions before jumping in.   The current situation with China has caused a lot of change in the fashion industry.  But keep in mind, change breeds opportunity.  Do your homework, see what your options are, and proceed intelligently.
Rick did also offer a few points if it is decided that the smartest decision for your business is to stay in China.
Make sure you have a well capitalized partner.  Requiring deposits is something that is becoming more and more commonplace with factories.  If you don't have a partner that can lay down the money, China may no longer be a viable option.
Make sure you have an innovative partner.  Innovation is the key to staying relevant and profitable.
Make sure you have a partner who exhibits creativity in terms of productivity.  You have to find creative ways to conduct business, not just creative product design.
Make sure you have a partner who has a window into the Chinese market.  It's imperative to understand what's happening in  China as, or even before, it happens.
Rick Paterno– Group President Global Footwear Wholesale The Jones Group
Rick Paterno focused on sharing an insight into how Jones Group is growing its footwear brand in lieu of failing in the current fashion production climate.  There is a tremendous amount of angst in the industry right now.  Brands have to take a different approach.  What can be controlled in your business? Figure it out and focus on it.  Things like:
Diversified Portfolio– mid tier brands and premium brands
Product, Product, Product– At the end of the day, product is what the consumer votes for.
Creativity– Leaders do not copy.  You must be a design driven company.  Newness creates new business.  The key is to understand how a trend is working, see where things are going, and get there first.
Product Concepts– Examples being AK Sport within Anne Klein, Vintage American within Nine West.
Create more discipline in managing the brands– Brands need to be managed and nurtured, the DNA of a brand must thread through every product by staying true to the brand aesthetic.  What you don't do with a brand is as important as what you do.
Portfolio Management– Keep a distinction between each of your company's brands.  Create a product document for each brand and update it every six months.
Sourcing and Product Development– What you put into a factory is what you get out of a factory.  One suggestion on how to do this is to commit the technical expertise and capital to help factories that are currently moderate to raise their product level.  Over time, a relationship is built.  This will not be easy, but options are running out.
This panel of speakers had a lot to say; all interesting, relevant, and well delivered.  One idea that seems to be a common thread throughout the entire keynote is that it is time to be progressive, act boldly, and take risks. Change has come; accept it, embrace it, and recognize the opportunities.