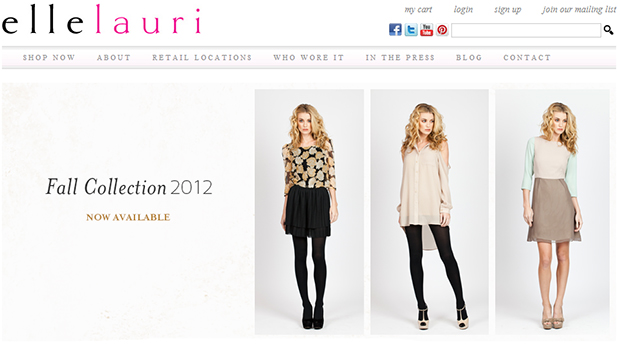 New York City based women's apparel brand ellelauri is a growing name in fashion.  The brand has experienced much success in a few short years, having not only received extensive press coverage and securing a solid celebrity following, but has also managed placement in over 60 retail locations.
We were intrigued.  check out our interview with sister founders Elizabeth and Laura.
How and why was ellelauri started?
Ellelauri was started by myself and my sister Laura in my NYC apartment. Every time we went shopping we found ourselves wanting to change something about everything we tried on. We recognized a void in the market place for traditional styles with a modern twist. We wanted styles that were trendy but wearable.
What's the story behind ellelauri; why is it different?
After graduating from the University of Delaware with a degree in Fashion merchandising, I [Elizabeth] moved to NYC to work for a swimwear designer. While working with a few different designers in NYC, I also took classes at FIT after work and on weekends.
I had the opportunity in 2007 to study at the London College of Fashion in the UK.  While living in London, I decided I wanted to start my own line, so I wrote my business plan for ellelauri while I was still in London.
It was a really exciting time, we [Laura and I] were continuously working on ideas together and we both became consumed with the visions we had for ellelauri.
Laura and I found ourselves doing everything from designing and sourcing to marketing and sales. We worked out of my small NYC apartment, working at night and on weekends, when we weren't working at our full time jobs.  Fast forward a few years and we now have an office in NYC and in the Philadelphia area.
I think our line is different because our personal styles are very different. My personal style is very traditional; I love the little black dress. I love clean simple lines along with anything feminine. Laura on the other hand has a much more edgy style. She loves to push the envelope and experiment with her clothing.
The great thing about working together is that we balance each other out. She never lets me go over the top with ruffles or get boring. I tone down her edginess and never let anything get too extreme.
What are 3 things you feel contribute to the success of the brand?
Hard work, perseverance, and networking.
How has ellelauri approached it's social media strategy? What platforms have been the most successful?
Social media is so important in this industry.  We used Facebook a lot when we first started ellelauri to get the word out. Soon we started using twitter, blogging, and even posting pictures on Instagram.
All of these outlets allow us to keep our followers informed on a more personal level. We are able to keep everyone updated about special sales and our new collections as soon as they become available.
This also allows us to take our followers behind the scenes of our company for example photo shoots and trade shows. From my own Instagram account alone I get orders because people love the photos I post of the line.
How does the brand plan to evolve and grow in the near future?
We are continuously signing new boutiques to carry our line. We also plan to open our first free standing boutique to help strengthen our brand.
We are currently negotiating with a large upscale department store chain to hopefully do a national roll-out of our clothing. Both of these goals are already in the works!
We will also be launching several other product categories as we evolve into a lifestyle brand.
Advice for emerging designers?
It sounds like a cliché but hard-work and perseverance is key. You must also love what you do, when you are truly passionate about something, that passion alone will be the driving force for success.