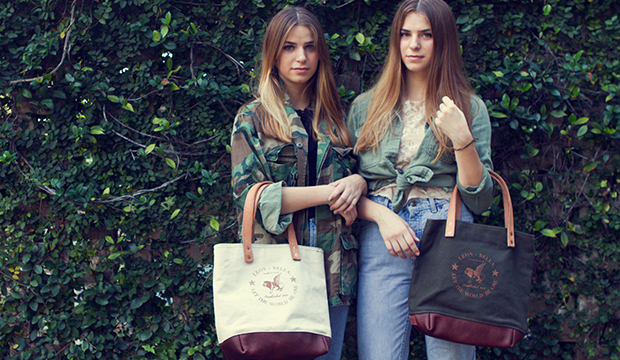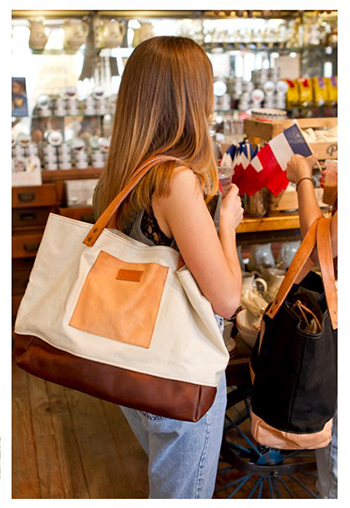 Taking on the endeavor to blend architecture, fashion, and the importance of handcrafted goods, Elise Avera, founder and creative director of Leon + Bella, shaped her personal label around a product that she believed was missing from this world, the tomboy tote. Growing up as a tomboy, Elise noticed that there weren't enough totes that matched her 'rough around the edges' personality.
However, Elise's goal wasn't just to create a tomboy tote, but it was to make sure they were all handcrafted.
She believes that having handcrafted products sets her apart from the many uninspiring, commercially manufactured items in the market today.
Elise wanted her label, Leon + Bella, to have a sense of realness that reminded customers that handcrafted goods are what originally built the fashion industry in the first place.
Also, a handcrafted product tells a story, has a lasting life and is unique. Many of Leon + Bella's bags are alike in design. However, because they are handmade, no one bag is exactly like the next.
Learn more about Elise's journey in creating her label in our interview below…
Your brand is unique. What inspired you to start a business around this concept?
L+B – My dream has always been to start a fashion and lifestyle brand. As a child, design was what always drove and inspired me. I chose to study architecture at Savannah College of Art and Design primarily to learn about design principles and forms.
I wanted to have a fresh and innocent approach to fashion design, and figured if I took the traditional fashion design route my designs would be more of someone else's- rather than my own, and that I did not want.
Designers like Bill Gaytten, Gianfranco Ferré, and Tom Ford are among a few who also studied architecture as well, this was comforting towards my decision due to the fact they are all so talented. I worked in the architecture field for a few years and decided it was now or never to finally take a leap of faith and do what I always wanted to.
I wasn't exactly sure of how I was going to start but I knew that I had to start with one thing. And for me bags were a perfect entry since they are so adaptable. This line in particular is nostalgic yet modern all at the same time. I designed them for women, men, and children to all go about their adventures effortlessly stylish.
Would you say that all of your items are handcrafted? If so, why do you believe that having handcrafted items is so important?
L+B – Yes all of our products are handcrafted. I believe it is really special to promote one's trade and to have real hands, thought, and patience put into an actual product. Each piece holds a little bit of everyone that put their heart and efforts into it, and to me that means a lot.
I want to continue with this tradition that built our fashion industry and to have people remember why products were so special in the first place. That being said, that's when I decided to create something that is timeless and that will last for generations.
How did you establish a voice for your brand; was it a conscious strategy or did it just sort of happen. Is this voice consistent across all your content and platforms?
L+B – For me this one actually came pretty easy. I think a brand's voice has to be cohesive (which I was taught thoroughly throughout school) and honest. Yes there was strategy but mostly just being sincere about what my designs stand for.
I would like to believe that the voice behind the brand be and always remain consistent on all platforms. Believe what you stand for and stick with it.
How do you see your brand growing in the next few years?  Do you think it's important to have a clear view of your goals documented in a business plan? Have you adjusted your business plan along the way?
L+B – I always think of future plans for this brand. The next big step for Leon + Bella is our launch of a new line of clutches and satchels, which I am totally excited about.
Also, I am inspired by so many different things, travel, food, culture, photography, (to name a few) and these constantly influence new designs– For me this is the best part of all of it is to be able to design and translate based on my experiences.
I think goals keep things relevant and in perspective; which is important.
Advice for other emerging brands?
L+B – Don't give up. You've heard it before but it's the truth. There are so many speed bumps that can slow you down but tenacity pays off. Also — follow up- and with this I mean have manners and value people's time and efforts.
Is your product line handcrafted?  Tell us about it!