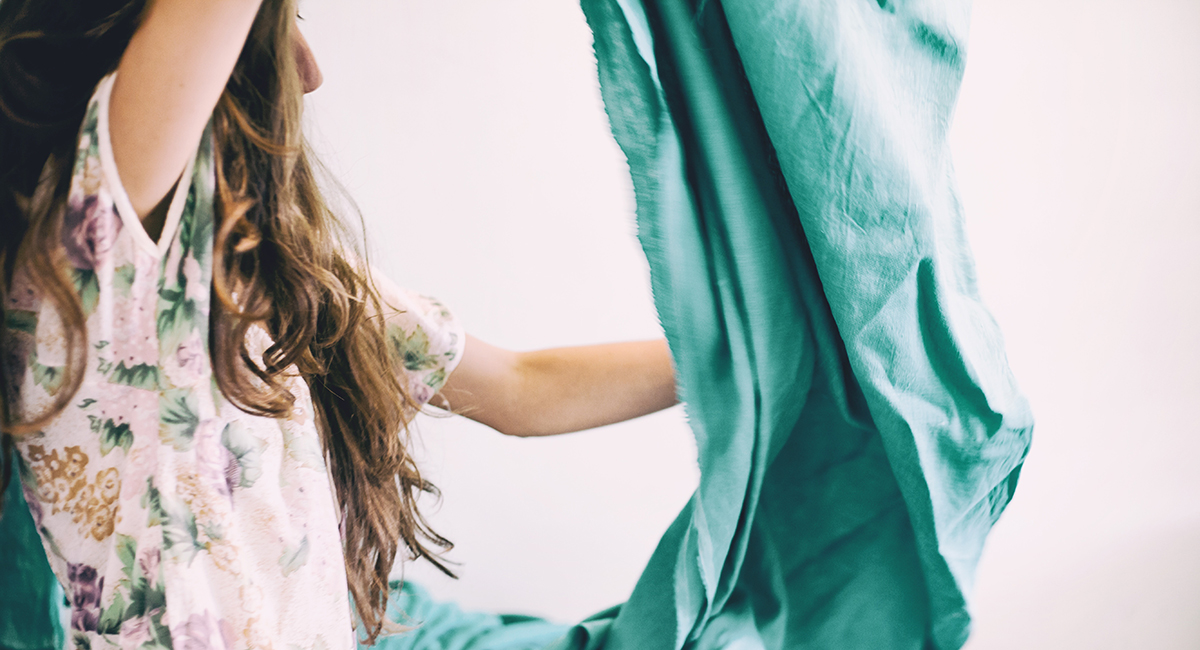 This blog post is sponsored by our partner Swatch On. The content is inspired by the fabric sourcing marketplace they have created for emerging fashion designers. While this is a sponsored post, I would never share anything with you that I don't believe to be a truly helpful resource. Promise. 
It has never been simpler to create a sustainable fashion brand and business. The educational information and the access to resources needed to make it happen are becoming more and more available to brands of all sizes. But while this may be true, there are still some common roadblocks and concerns that seem to pop up.
One of these concerns that come up for emerging brands when asked about creating environmentally sustainable products, is the limitations that sustainable fabrics present.
Things like limited access, lack of variety, and affordability are keeping brands from making the decision to be sustainable. And honestly, I think that's a mistake.
Sustainability in fashion is something that all brands should be thinking about, and rather than seeing limitations, see opportunity.
So let's address 3 common objections for sourcing sustainable fabrics and talk about ways to overcome them.
Limited Access
This one presents itself most when designers are facing the decision of whether to use deadstock fabrics in their collections. Deadstock fabric is fabric that is left over for a variety of reasons including brand overbuying, having the fabric custom dyed the wrong color for their collection and therefore cannot be used by them, or mills producing more than they can sell.
There tends to be an immediate belief that using deadstock means you can't ever re-order. But that's not true. Deadstock fabric isn't always only available in a few hundred yards.
As part of their sustainable fabric initiative, our partner Swatch On has gotten their hands on 682,000 yards of deadstock fabric, paying particular attention to sourcing materials that have significant stock left, making it easier to reorder. You can source from their deadstock here, if you'd like to check it out.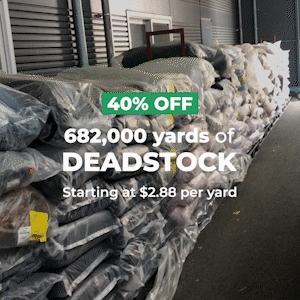 On the flip side of that, if there are deadstock materials that you like but you're only able to source a small bit of yardage, make it work to your advantage!
Limited yardage does not need to be looked at as a bad thing. Instead it can create a sense of FOMO. When you produce a limited availability capsule collection with your deadstock fabrics you are offering your customers something that they won't be able to get again. It's special.
And with the correct marketing, you will find that message can convert into a lot of sales.
Look at Los Angles based brand Christy Dawn, which seems to be thriving in their business and their model is based on creating a selection of core dress silhouettes that are made with limited availability deadstock fabric. They source a beautiful material, make as many dresses as they can with it, and then that's it. It is a creative, profitable, and sustainable (in both senses of the word) business model.
Lack of variety
I've heard so many designers say "I'd love to create using more sustainable fabrics but organic cotton does not match my aesthetic. I need something more luxurious" I get it, years ago it felt like the only way to be sustainable was to use organic cotton. But it's not true anymore.
Tencel, a fiber made from wood pulp, has a beautiful hand, a lovely shine, and drapes like a dream. It's a great fabric to use when you want a more luxurious look and feel to your fabrics. Swatch On also carries a selection of TENCEL™ lyocell and modal fibers which are certified as compostable and biodegradable and are also certified by the international standard STANDARD 100 by OEKO-TEX® as containing no harmful substances. You can source tencel here.
That said, if organic cotton is part of your aesthetic, great! Organic cotton eliminates the use of genetically modified seeds and restricts the use of chemicals that harm the environment.  Swatch On offers GOTS certified organic cotton in a variety of weights and colors here.
And then lastly, of course the use of deadstock fabrics addresses this concern beautifully. You're open to a large variety of fibers, construction, colors, weights, and properties because of the nature of the offering.
Affordability
Well-made products tend to cost more to produce. Sustainable materials, attention to detail, highly skilled seamstresses, and factories with fair working conditions cost more. As they should.
Emerging brands choosing to create products they are proud of, even when the cost is higher and the margins are smaller, is a one of the major shifts that has taken hold in the fashion industry over the past several years.
Creating a business that addresses a greater good, while simultaneously doing something they love, is a decision that more and more brands are taking seriously.
That said, here are some things to keep in mind when affordability is keeping you from sourcing sustainable fabrics for your fashion line:
Deadstock fabric is less expensive because of the nature of the product. Remember, this is yardage that the mill or a brand can no longer use, it's their over-production. So the price per yard tends to be low. Swatch On's selection is priced at a 40% discount.
Yes, organic cotton costs more than regular cotton and the higher-end quality of a fiber like tencel comes at a price. But if you're making a quality product, quality materials are a big part of that.
The way you market your brand and your product will go a long way in making sure that even though your cost to produce is a little higher due to the sustainable materials, you're still able to be profitable.
With a little time spent on research, reflecting on your values as a brand, and tinkering with costing and profits math, you can create a sustainable fashion brand and business using fabrics that are not only better for the environment, but also fabrics that you really love.
As a side note, we mentioned our partner Swatch On a few times, which is an online fabric marketplace that offers no minimum fabric sourcing for fashion brands around the world. It's a great resource, and if you'd like to source from them, consider becoming verified.
If you upgrade your Swatch On account to brand-verified status, you get exclusive offers including Swatch Box service ($1.5 per item/free shipping), Free shipping on fabric orders, and constant discounts, exclusive benefits.
​The verification process is super simple. It will only take 3 minutes. If you're new to Swatch On, you can just create an account and proceed with the verification process.