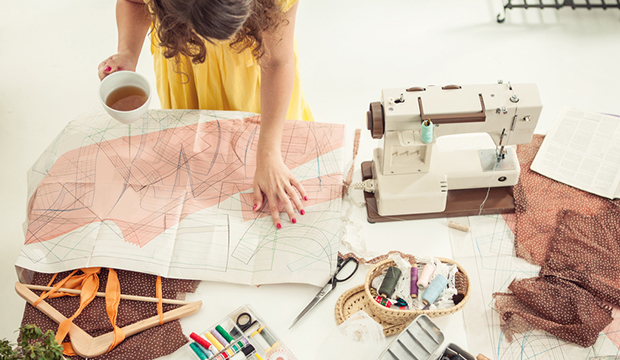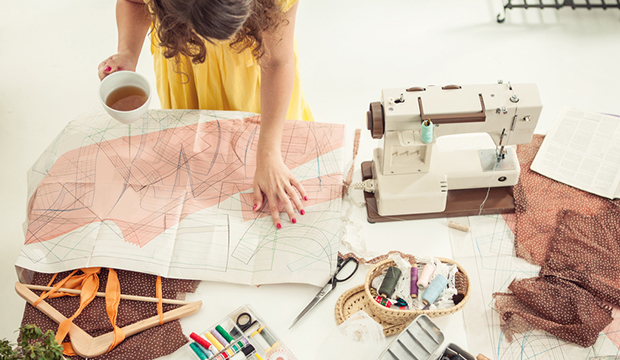 I was recently interviewed by an emerging fashion designer for her upcoming podcast featuring fashion industry folks (more on this later) and during our discussion she asked me about anything I've observed over the years in relation to designers not reaching the success they desire. Now, there are things in various areas of business that could cause this (i.e finances!, branding!) but the very first thing that came to mind when she asked the question was — not knowing their medium.
Fabrics. This is what a lot of us- clothing, accessories, even jewelry designers- use to create our products, yet so many of us don't know much at all about the textiles themselves.
It's strange, really. I mean, how can we use a material without really understanding the structure, drape, shrinkage, wrinkle tendency, dye-ability, and care instructions of the textile?
And it's not just the fit and construction we have to think about. There's also the financial factors that come into play. You don't want to lose money because you don't know your stuff, right?
How can we know what we're ordering or whether we're unnecessarily throwing money away when we choose to use one fabric over another?
Here are 3 aspects of knowing your fabrics that can make or break your bottom line.
Talking the Talk
Yep, negotiation. In order to be a successful negotiator and get what you're hoping to get from a negotiation, you need to know what you're talking about. Nothing says "take advantage of me" more than a fashion designer who is sourcing fabrics with no real knowledge of what they're sourcing. It's incredibly important to speak the language of the manufacturer and be knowledgeable about the composition of a fabric.
Imagine you're in discussions with a supplier for a certain type of cotton, and they suggest say, a tencel, instead due to limited supply of the original fabric. Do you know enough about tencel to approve the switch? If so, do you know how to zero in on the differences and use them to your advantage when negotiating the price and minimum?  There's a lot of power in talking the talk with suppliers and manufacturers. Impress upon them that you know your stuff and can't be taken advantage of.
From Sketch to Reality
Oh, the delight we all feel when we sketch something that has the potential to be a real game changer for our businesses. Whether a custom gown that will get all kinds of media attention or a ready to wear silhouette that every woman will be dying to get her hands on, creating something with real potential is so exciting.
Now imagine you are ready to translate that sketch to a sample. You start with a muslin, then you start sourcing the perfect fabric. If you don't understand the way a silk drapes, fits, and shrinks versus say a cupro, how much time and money are you willing to waste figuring it out? How much frustration are you ready to take on as you try various fabrics in hopes that it will not bunch at the seams or pill on the shoulder where the handbag strap lives everyday.
See where I'm going with this?
The Cost
When you design something, do you ever think about whether you can accomplish the same result less expensively than your original idea calls for? I feel like this is one of the signs of a really smart business owner, finding a way to reduce the cost without compromising the quality.
Finding less expensive textile alternatives that do the same thing, create a very similar look, and still make you proud to put out into the world is an incredibly effective way of finding success in your business. After all, while your vision is super important, if the finances are off, your ideas will never become fruitful.
If the above three points aren't a strong case for learning more about textiles, I don't know what else I could possibly say.
Get started by learning online, attending trade shows, and sitting in on seminars…
You've heard us talk about Texworld USA many time before, they are one of our sponsors because we really believe in the importance of attending shows like this as a means of learning, connecting, and building a stronger business.
Here are some ways that attending the show in NYC can help you succeed in your fashion business.
How Texworld USA Can Help You Improve Your Understanding of Textiles and Ultimately Succeed in Business
Seminars
While there is a long list of awesome seminars on the schedule this season.
Networking
Even if you're not ready to source fabrics just yet, actually especially if you're not ready to source yet, attending the trade show to listen, observe, and learn is a mini-education all in itself.
Think about it, walking the floor, talking to vendors, asking questions about fabrics when you're not boggled down with the pressure of sourcing and negotiating minimums and price, is perfect.
Trend Forum
The Trend Forum that Texworld USA creates each season is incredible. It's not just about color, it's about textiles as whole. Knowing what consumers are looking for in terms of silhouette, texture, and surface is incredibly important when designing.
Not only that but think about things like wrinkle resistance, breath-ability, wicking. Knowing the trends in textiles can help you in the designing process to bring something to your customer that they didn't even know they way wanted!
Bottom line, knowing your fabrics will help you make more salable decisions in the product development stage of your collection, which ultimately leads to a more profitable business, of course.