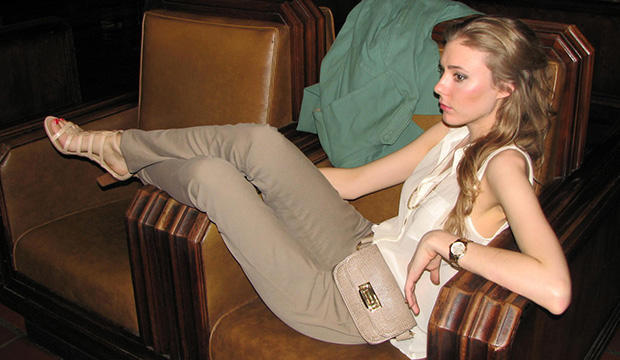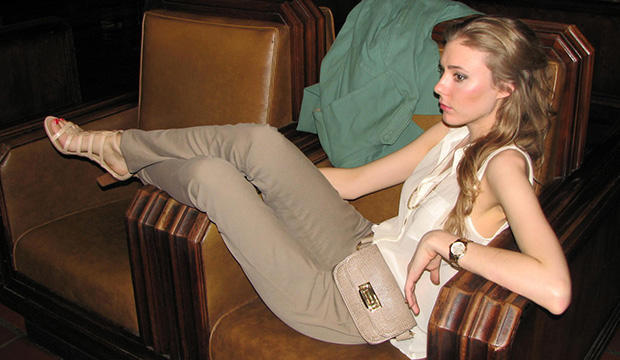 In 2012, Debra Denniston and her daughters Kate and Rachel, decided that the world was lacking a functional, hands-free, and stylish bag.  And, after brainstorming the idea of taking a fanny pack and putting a classy sophisticated twist on it, Hipsters for Sisters was born.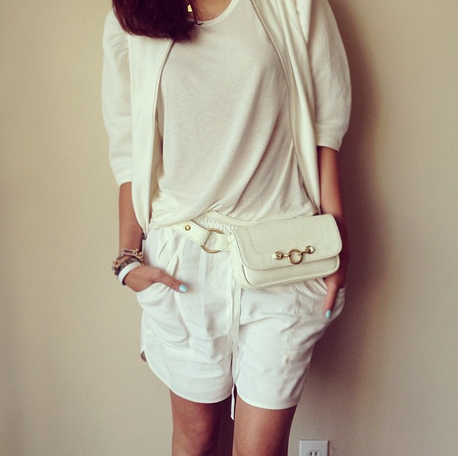 And because these ladies are life-long vegetarians and nature lovers it is no surprise that they wouldn't settle for anything less than environmentally sustainable, cruelty-free fabrics and leather substitutes. All of their bags are made from polyurethane fabric, a greener alternative to both leather and vinyl.
Interview with co-founder Rachel Denniston
Your brand is unique. What inspired you to start a business around this concept?
It was actually my mom, Debra's, idea to start this company. She fell in love with the belt bag when my sister and I were just toddlers. She used the fanny pack to hold her keys and wallet, which enabled her to leave the diaper bag unattended as she ran around with us at the park.
My sister and I joined the family business when we experienced, for ourselves, the joy of being hands-free. We thought if we could combine the hands-free functionality of a fanny pack with the sophistication and craftsmanship of a simple, timelessly-designed clutch, we would have the best of both worlds.
After many months of designing and redesigning, we put up our first collection, the Classic Collection, for sale on our website in May 2012.
We recently launched our second line of belt bags, called our Flats Collection, in April. Our Flats are slightly smaller and thinner than our Classic Collection bags and come with polished chain belts, which enable them to be worn one of five different ways: as a belt bag around your hip or waist, as a crossbody, shoulder bag, or clutch. 
Solving a problem for the customer is a key way to stand out and build a business. How does your brand solve a problem for your customer?
The whole idea behind Hipsters for Sisters is to liberate women from the bulk and heft of the ordinary handbag. There are many instances in which women want and need to be hands-free, yet also need to have their keys, wallet, and phone on them. Pockets can only get you so far.
That's where our belt bags come in. How many times do we try to carry our wallets and phones with us and end up losing track of where we placed them when we needed to put them down to use our hands?
Simply put, having to carry stuff is a burden. With our belt bags, no woman ever needs to again.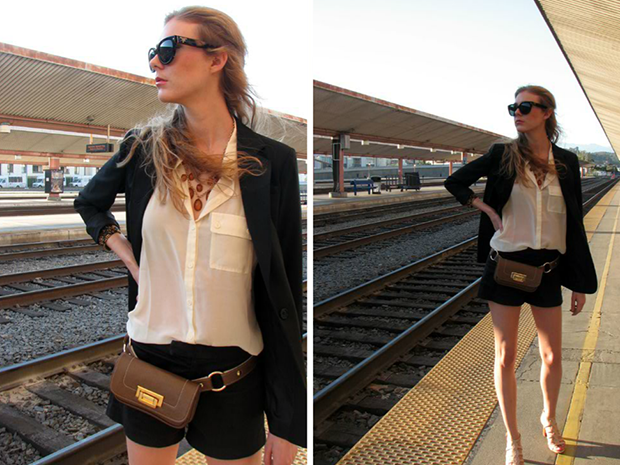 "Made in America" labels are becoming more and more popular among consumers. Why do you think it is important for start up labels to be "Made in America?"
"Made in America" is the future. I think many people have become a bit disillusioned with manufacturing process overseas. Yes, it's less expensive to manufacture in China, but besides that, I can't see many real advantages to producing your designs abroad.
By being "Made in America," you are helping support the American economy, engaging in more environmentally sustainable practices, and have more control over the way your products are being made.
Our belt bags are made locally in Los Angeles by a manufacturer just a short drive away. We feel so spoiled to be able to just run over there at a moment's notice, whether it be to drop off a roll of fabric, pick up a few samples, or check up on our bags.
Since we visit so often and spend so much time there, we've developed a great relationship with our manufacturer to the point where they feel like family.
What has been the best marketing outlet for Hipsters for Sisters, and why do you think it has been so successful?
Pinterest has proven to be a really great marketing platform for us. It's allowed us to not only show our products and what they can do, but also really show who we are and what we are all about as a company.
With specially themed boards, like our "Vegan Recipes" board, for example, we are able to align ourselves with people of similar interests and target our audience fairly specifically.
We also use boards to tell a story about our brand and message. Our "Free to Be" board is meant to communicate the ease and freedom of wearing a belt bag and being hands-free. At Hipsters for Sisters, we are all about the freedom that comes from liberating yourself from your baggage. This board communicates that.
What have been some of your biggest challenges as an emerging label and how have you overcome them?
One of our biggest challenges stems from our lack of a background in fashion design. It would have been incredibly helpful for at least one of us to have gotten a degree in fashion. We've had to teach ourselves everything from design to sourcing to manufacturing to distribution.
There is a big learning curve here and it's taken us a while to finally get to the point we are at now and we still have so much to learn. We made a few mistakes, learning as we did, mostly through trial and error.
The networking would have been beneficial too. Most people we have met along the way have been so generous with their knowledge, resources and time.
Networking with other designers has been one of the most helpful things we have done and we wish we had done that sooner as well!
What do you think designers should know before starting a label?
It takes time to become successful. It takes perseverance and confidence in yourself and your vision. When you are just beginning, many people are going to tell you no, that your company won't work, that you must change this and that, but if you are really passionate and serious about your work, you must stay true to yourself and your vision.
Don't let yourself get discouraged by naysayers and remember that it takes seven times for people to hear/ see/ read about you before they take action and buy.
Stay open-minded. When things don't seem to go the way you planned, try something else. At Hipsters for Sisters, we've learned to stay open and flexible. There is no one right way or method to becoming successful in business.
It can also be a bit overwhelming when you first start out, so be sure to have a clear idea of your brand's identity and message, your target audience, and brand aesthetic, or else you can just get totally lost.