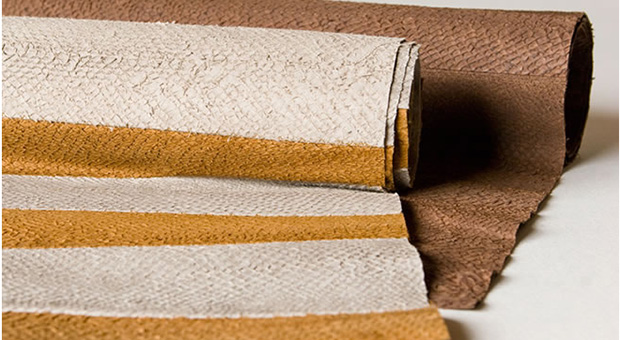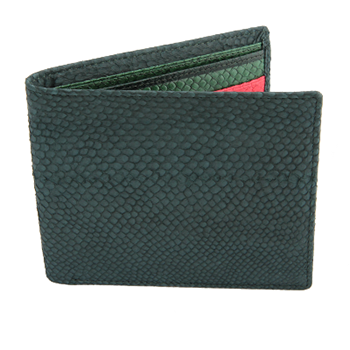 Designers are constantly coming up with unique combinations of  materials to use in their collections. Models have walked down the runways wearing anything from hair to recycled coffee filters. Even Lady Gaga's meat dress-though controversial- is undeniably pushing the boundaries of fashion. If sourcing from the butcher shop for your next line has become standard, this next question might not sound so strange: would you consider wearing fish?
A new take on leather has been popping up among textile retailers, and we promise it doesn't smell! Much like the material that is made from land animals, fish leather is exactly what it sounds like. The skin of a fish is tanned to create a strong and unique textile. The end result is beautiful- the scales are removed, leaving pockets that make lovely patterns that are similar to snakeskin. The look of it can vary depending on the fish. It is also more tear and wrinkle resistant than other leathers, and ages just as well.
If the use of animal products makes you uneasy, know this: the skins are recycled, only taken from fish that have been farmed and caught for food and would have otherwise been thrown away. Additionally, the process of creating the leather is much less harsh on the environment. In order to tan land animal skin, the hair must be removed with chemicals, whereas fish scales can be manually removed.
Creel, an accessories company, boasts a line of products made solely from fish leather. They mainly carry wallets and cases for Apple products, all of which retain a subtle elegance, despite the unusual nature of the material. The products offer a range of different fabric choices depending on color and scale size.
Want to use fish leather in your next line? The online textile tradeshow Source4Style carries salmon leather in a variety of hues, including black, warm brown and bright red. As does the online supplier ES Salmon Leather.
What do ya think?  Are you in?