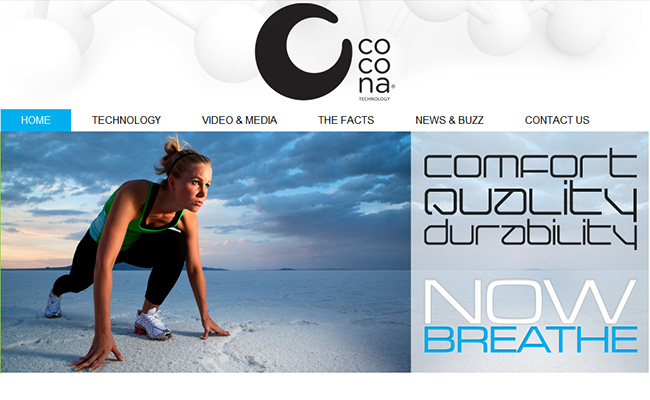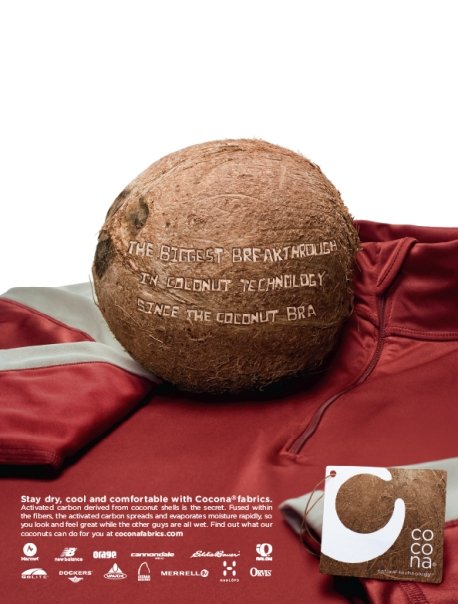 It's easy enough to make fabric, there are a number of ways to weave, dye and otherwise embellish cloth. But as we all know, beauty is only skin-deep, and our options seem to limit significantly when designing textiles that need to do more than just look pretty. Fabrics for active wear are particularly problematic, as they need to be able to take whatever the wearer can dish out. Add the issue of sustainability, and the designer is left to wonder: what solution could possibly satisfy all of the wearer's needs?
The most recent answer lies with Cocona Fabric. Just like the name hints at, it is a textile that has been created from coconut shells that have been recycled (made from an eco-friendly source, check!) Activated carbon is taken from these shells and incorporated into yarns and fibers. The resulting coconut fabric has a number of properties that are beneficial to the sports wear designer. For example, Cocona textiles are fast drying (92% faster than cotton), meaning the wearer spends less time in wet clothes, and the garment spends less time in the dryer. This feature also helps to wick away sweat; and odor is reduced by absorption through the fabric's pores.
As with all sports textiles, Cocona is highly durable, lasting longer than other organic options such as bamboo and cotton. It's performance properties are contained inside the fibers rather than on the surface, retaining these assets over time. It even provides sun protection. On an aesthetic level, Cocona is wrinkle-resistant, so the garment will look presentable even after being tossed in a gym bag. The fabric is very comfortable, and the yarns can be made in a variety of weights to perfectly suit the garment.
Polartec, Marmot and Orvis have already begun incorporating this interesting new textile into their garments. Additionally, the company who developed it, Cocona Fabrics, has designed and are currently testing out their own line of active wear.