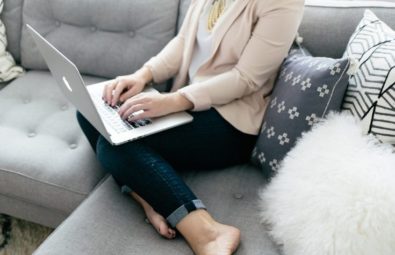 Dear Designers,
I don't think that most of us dream big. I think we tend to listen to that little voice in our heads that says "that's crazy". We need to stop doing that because dreaming big is important.
Before I continue, I want to make sure that I clarify what I mean by "dreaming big." I don't necessarily mean lots of money, multiple homes, fancy cars, and shopping sprees. At least, that's not what I mean for myself when I say dream big. (except for the multiple homes. I'm a traveler and have a goal to one day own a few homes in a few countries to make my travels extra comfy.)
Anyway, what I mean when I say dream big is not one specific thing because it's different for everyone. What I mean for the purpose of this note, is to dream outside of your comfort zone.
We tend to dream big in ways like…
I want a successful fashion business
I want enough money to travel
I want a really nice home
I want to shop without thinking about money
I want freedom of my time
These dreams are valid and you should definitely keep them close. But why stop there? Why put a cap on what you dream about? Why not dream bigger?
For me dreaming big means thinking about the things that I want for my life that tend to get the most incredulous looks from others. 
Here's an example: I'm not a mother yet. But if I do become one, the life that I have built with my partner (where he and I travel several times a year for extended periods of time) will not disappear. When I dream big, I dream of being able to show my family the world through travel and experiential education. Can I just tell you how many looks that gets me? How many, "well, travel now because once you have kids, that life is over" statements get thrown at me?
I ignore them.
Or how about this one: Back before StartUp FASHION was a profitable business, dreaming big for me meant I was envisioning a life where I built a business that I could take anywhere, a business that made great money and allowed me to travel whenever and where ever I pleased. Most people smiled politely while most likely thinking, "Good luck with that…entrepreneurship requires complete and total focus and if you want in, you need to buckle down, get yourself an office, and hire a team. Until then, you're not legit."
I ignored them.
And guess what? I have exactly what I dreamt big about.
Everything that I have wanted for my life, I've made happen. And a huge part of that is because I allowed myself to dream big. I refused to accept what others projected on me due to their own limitations and beliefs. 
And I have no intention of stopping now. And neither should you.
What is it you want? You have to envision it, picture yourself accomplishing it, check yourself when you feel like your conforming to other people's perspectives on your dreams. This is where a lot of us get held up. We let others get in and mess up what we had so clearly defined for ourselves.
Push past the logic and dream about the things that seem so out of reach, you don't dare wish for them. Figure out what those things are and then, darling designers, do dare wish for them.
Lots of love and encouragement,