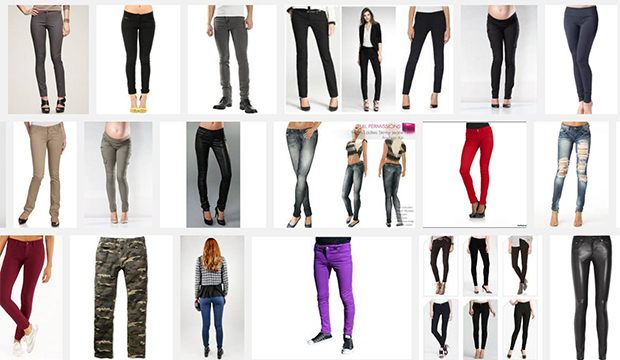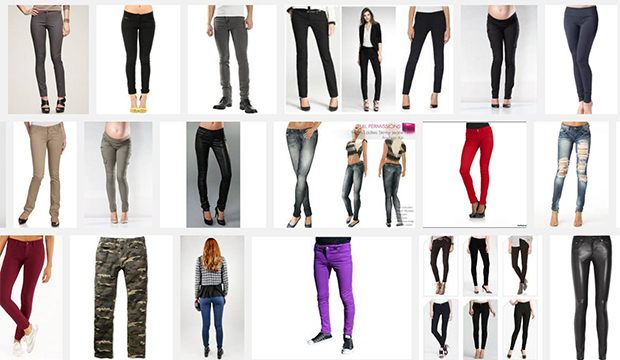 While 70's fashion trends such as flare jeans are plastered all over the pages of every fashion magazine right now, the skinny jean has still managed to hang onto it's status as a popular close staple. Slim-fit pants are owned by nearly everyone, women and men alike. So if you're not into the wide-leg trend don't worry, we highly doubt skinnies are going out of style any time soon- they have been around long before their early 2000's surge in popularity.
Slim cut pants have stood the test of time, and like a little black dress, the classic style is one we return to again and again.
While tight-fitting pants are decidedly not a new concept, their origins stretch farther back than you might realize. All the way back to the 17th century, to be exact. Men's breeches, the old aristocratic grandfather of the skinny jean, were very tight and very popular among French royalty. Like most trends, it spread, all the way out to England and the rest of Europe. They fell out of favor for a time, but resurfaced again in the first half of the 1800's. A mark of rebellion during the French Revolution, this iteration was dubbed the "pantaloon," a high-waisted, tighter version of work trousers.
Tight pants for ladies had a much slower start, due mostly of course to the lack of social acceptance for the female set to don "menswear." Women gained some traction in abandoning their skirts in the late 1800's, when bloomers became appropriate attire for sports such as horseback riding or cycling. Though voluminous on top, the bottom half was tight-fitting in a similar vein to a legging. While a bit more practical for physical activity, bloomers weren't exactly meant to be worn for social gatherings.
By 1910, pants for women had become relatively socially acceptable (and by "acceptable" we mean the wearer wouldn't be arrested.) Poiret-style pantaloons were the pant of choice for this decade and like bloomers, featured volume on top, tapering into a thin leg at the bottom. Despite the relaxed fit and the fact that these were often styled under a dress, pantaloons were mainly worn only by wealthy and very avante-garde, forward-thinking women.
Around 1915, pants slimmed down, albeit only to allow for freedom of movement while being active. Slimmer pants made of canvas or denim were worn solely for sports or manual labor. While the sight of  a woman wearing pants wasn't as shocking as it had been in the past, dresses and skirts were still largely favored, and it would take a few decades before a woman would be able to "casually" wear pants without making a huge statement.
By the time the 1950's rolled around, skinny-fit pants began to hit their stride. "Beatniks" preferred a gender-neutral, minimal style, and this helped to cement skinny pants as being sartorially appropriate for both men and women alike. Many male sex symbols of the time, such as James Dean, Marlon Brando, and especially Elvis Presley were known for wearing tight-fitting jeans. The style became synonymous with rock n' roll and the "bad boy" culture that came with it. While jeans weren't popular with women in the 1950's, many Hollywood actresses of the decade like Marilyn Monroe and Audrey Hepburn wore slim-fit, high-waisted pants, a classic silhouette which is often re-imagined in denim today.
The 1960's were a golden age for skinny jeans. While they initially started as a counterculture trend, high-waisted, tight "drainpipe" jeans became so popular that they spread beyond Mod girls and rock and rollers. Seeing actresses such as Doris Day wearing skinnies helped bring them into mainstream. Additionally, Butterick released a number of sewing patterns for slim-fit pants, making the style more accessible to the average woman than ever. The skinny jean was the "it" pant for the whole decade, until the 1970's when they were swapped out for bell-bottoms.
This dip in popularity was short-lived however. Skinnies made a comeback in the 1980's via another counterculture movement: punk. By this time denim was cemented as a wardrobe staple, and the punk wardrobe nearly always featured distressed, slim-cut jeans (preferably covered in safety pins and patches.) The "workout" look was also popular during this time, and was characterized by leggings or skinny jeans paired with a baggy top and leg warmers.
In the 90's, jeans began to loosen up and give way to flare jeans by the end of the decade. However, the early 90's did provide the fashion world one infamous, slim-fit sartorial gem: the mom jean. High waisted, looser on top, with a tapered ankle, this particular style is a distinctive relic of the decade. It has also been frequently replicated by American Apparel and a number of other brands looking to bring the mom jean back (in keeping with the normcore trend.)
The early 2000's saw boot cut jeans of the late 90's being pushed to the side by (what else?) another skinny jean counterculture movement. Low-rise, so-skinny-they-cut-off-your-circulation "emo" jeans were the "it" pant. Fortunately, as we ventured forward into the new millennium, and skinnies trickled back into the mainstream, cuts loosened up slightly, and the high waist became popular once again. Incidentally, we seem to be doing a full cycle of the trend- the skinny styles that were popular in the 50's and 60's are the cuts many designers have recently been inspired by.
Read more articles we've published from the Fashion Archives.