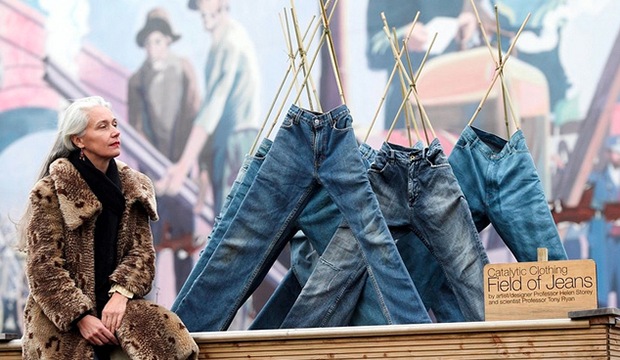 Is it possible to seamlessly integrate environmentally friendly solutions to toxic air into the way we currently live our lives? Catalytic Clothing believes so.
Professors Helen Storey and Tony Ryan, founders of Catalytic Clothing,  have created an innovative way to use textiles that seems closer to science fiction than reality.
Together, they have developed a fabric that is capable of purifying the toxic air around it, and can be used for clothing, interiors, and installations.
The key is titanium dioxide, which is added to the fabric.
When exposed to light and air, it reacts with both and neutralizes harmful pollutants around it.  Later, the fabric can be tossed in the laundry, and the now-neutralized particles are simply washed away.
The project continues to grow as more exciting potential for it is discovered.
A key success factor: in order for the project to have an impact, a huge number of people need to be wearing treated clothing.
Tactic: Rather than the  purifying formula just being in spray-on application form, it has since been developed into a laundry additive!
In this way it doesn't only create a select few fabrics and clothing pieces with the ability to purify air, virtually anyone can add this formula to any fabric they wish.
Whether it is a fashion designer who wants to integrate that aspect into his or her line, or an eco-conscious consumer wanting to apply it to their favorite pair of jeans (the solution works best on denim!) there is potential for quick and easy expansion.
Though the project is still currently in development they are aiming for a release within two years.
What do you think of the Catalytic Clothing idea?