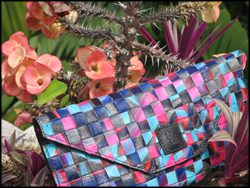 Meet BreakThrough DESIGNER Andrea Tobin of Marla Cielo.  Listen, Learn, Connect.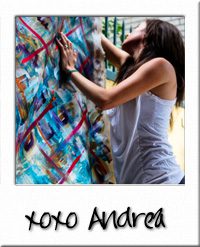 1. What is your brand's mission? How has it evolved since you started your business?
The mission of my brand, Marla Cielo, is to bring art to life and inspire creative energy in the every day.  Since inception, this has been the core of Marla's mission and it has evolved from paintings on stretched canvases to modern luxury products that incorporate original artwork.
2. How would you describe your brand's aesthetic?
If I can put it in Manhattan terms, my brand's aesthetic is the Lower East Side.  The prints are bold, original, and eye catching, and the bodies incorporate simple lines and functional shapes.
3. What's the most difficult aspect of running your business? What do you do to combat that?
The most difficult aspect of my business is making sure that all aspects are growing in parallel.  For example, having product ready in synch with sales, having hardware and materials ready in synch with production dates, and having consumer interest and brand identity in synch with everything.
4. Do you sell wholesale or primarily through your own website/retail location? What steps do you take to attain brand recognition, whether to wholesale buyers or retail consumers?
I sell both wholesale and through my own website.  Having my own retail location is a goal for the future.  To attain brand recognition I do a lot of writing about my products and brand on my site and syndicate the content to Facebook, Twitter, and other social networking and fashion blogs.  To attain more brand recognition to retail buyers, I attend some trade shows and recently started working with a showroom in New York.
5. What social media platforms do you find most integral to your brand's marketing? How do you utilize them to connect with your customers?
I find that posting links to updates and content on my site via Facebook and Twitter are most integral to my brand's marketing.  I connect and communicate directly with my current and prospect customers through these channels.  I have found that responding to 'likes' and comments on social networking sites brings my customers deeper into my brand experience, which is very valuable for the goals of Marla Cielo.
6. Can you describe in a few sentences your day to day?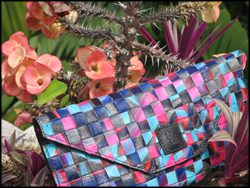 My day to day work tends to be a mix of production errands such as leather and hardware sourcing, writing and posting photos on my site for brand development, phone calls to current and potential retail partners, and emails to bloggers and stylists about events and brand exposure opportunities.  My favorite aspects of Marla Cielo, the painting and designing, usually happen during nights and weekends when it's easier to catch hours of consecutive quiet.
7. What are three of YOUR favorite brands? What do you admire most about them?
My favorite brands are Alexander McQueen, Proenza Schouler, and Louis Vuitton.  I love Alexander McQueen's spontaneity and the way he incorporates art and nature in his shows.  My favorite was this tree scene with angel models during fashion week.  I love Proenza for the hardware and rock and roll aesthetic of their bags.  I wish I could find their hardware source, the gunmetal buckles and grommets they use are to die for.  I admire Louis Vuitton for their history and loyalty to classic architectural bag bodies.  I study their dimensions and would love to make Vuitton inspired Marla Cielo vintage luggage one day.
8. One piece of advice you can offer the fresh faces of fashion?
The most important advice I would like to offer the fresh faces is to live with your soul and let your heart guide the way.  I cannot stress enough the importance of gut instinct and passion in designing and developing a brand.  It does not always create the easiest or most direct path, but I promise it will lead to the happiest one and at the end of the day there is nothing more important than loving your work.
9. What exciting things are in store for you in 2011?!
At the top of the list are the Summer and Fall 2011 prints I'm going to finish this weekend, the showroom that I just moved product into on 39th street, new retail distribution which I will be able to share soon, and hopefully some monumentally exciting opportunities that will pop up at random throughout the year!
Connect with Marla Cielo
@Website
@Facebook
@Twitter
@Blog
Thanks Andrea for a great interview!