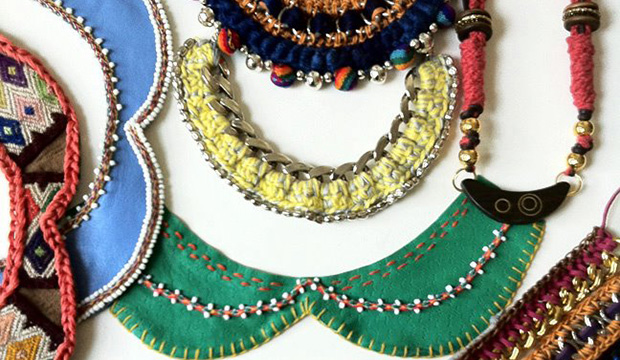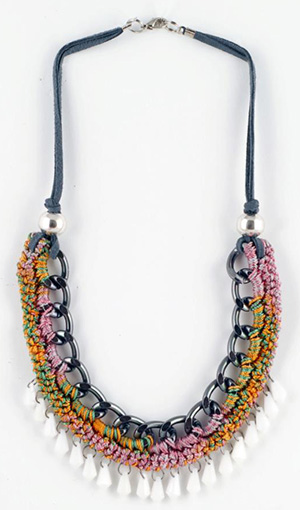 Proving that sometimes the best things are the ones unplanned, jewelry designer Andrea Bocchio took what she thought was just a nighttime hobby and made it into her very own successful jewelry label.
Having graduated as a print designer, it was a surprise to many that in 2 short years, Bocchio's plans were completely flipped.
Working best under pressure, Bocchio's personal label Andrea Bocchio Jewelry took off in the fashion industry at lightning speed and has created a buzz among consumers and industry folks alike.
Yes at times she admits there were moments of frustration, when budgets were small, marketing was tough, and inspiration was lacking,
…but this is something all independent designers have to go through.
focusing on what she has to offer and her unique contribution to the industry she say,
I bring a unique and fun look to jewelry! All my pieces are woven, knit, crocheted or embroidered using rich cottons, repurposed leathers and various beads to create exquisite textures, which you won't find elsewhere.
When designing, Bocchio likes to make pieces that can change an outfit completely or tell a story and even sometimes become its own character.
Her passion rests in handcrafting each and every piece along with guiding her consumers to take risks and have fun with their personal style.
Running a small business is always fun for Andrea, she says that no one day is alike because there are always new challenges to be faced and new opportunities to be had.
Bocchio told us her typical day consists of any of
Going to get supplies, meetings with stylists and stores, casting for models for a project or shooting the line…all while designing and manufacturing new pieces or fulfilling orders.
One thing that Bocchio is extremely proud of is that her cliental base isn't just in Brooklyn NY, but ranges from places in Europe to cities in Asia.
It may take hours to hand make each piece, but she stays motivated because she knows that it's what she loves the most. So one country and city at a time, Andrea Bocchio Jewelry is continuing to make its mark.
You can follow Andrea Bocchio Jewelry on Twitter and Facebook.