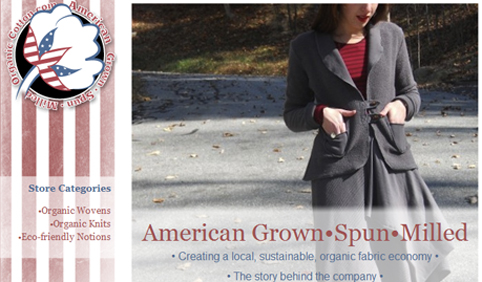 Designers, we've found a great new source for fabrics that are not only eco-friendly, but also local! North Carolina-based textile company NearSea Naturals boasts a product range that is 100 percent organic. Recently, they have taken their business a step further and launched American Grown•Spun•Milled, a name that perfectly describes their products.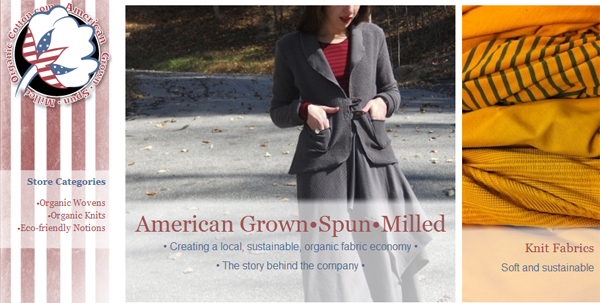 As per standard for all NearSea Naturals fabrics, the textiles from GrownSpunMilled are organic. But this standard is now being taken further. According to their website, all of their fabrics meet this strict criteria:
-The fabric is made from certified organic fibers
-The organic fibers from which the fabric is made are grown in America
-The fibers are processed (spun into "yearn" which is very different from knitting yarn) in America, in an eco-friendly fashion
-The yearn is milled, that is, knitted or woven into fabric in America
-Any finishing (dyeing, flannelling etc.) also takes place in America
Every step of the process from fiber to fabric takes place in the U.S. How cool is that? There is no sourcing of any kind overseas; this company's main goal is to support the local fabric industry. In fact, GrownSpunMilled tries to geographically contain all of it's processing as much as possible even within the U.S. In addition to sustaining jobs here, cutting travel distance also reduces its carbon footprint. The company is constantly looking for new ways to benefit the community and the environment.
In addition to being locally and ecologically beneficial, these fabrics are beautiful to boot! They include rich colors that look perfect for the upcoming fall season. My favorite is the Organic ColorGrown Cotton collection, which features gorgeous neutral tones using the natural color of the fiber! There is also a small, yet sweet selection of prints.  And for those of you who dye your own fabric, there is a solid range of white, un-dyed knits and wovens, including a chic herringbone!
For more information on organic fabrics, or to make a purchase, check out American Grown•Spun•Milled at www.organic-cotton.com and NearSea Naturals at www.NearSeaNaturals.com.