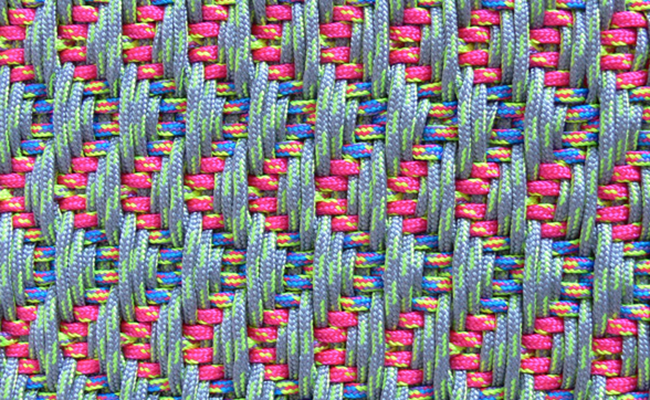 As fashion designers, we can all appreciate a beautiful piece of fabric. But more often than not, it is the garment created with the fabric that truly brings it to life. Not true for the whimsical textiles dreamed up by woven designer Angharad McLaren. She contrasts the traditional, domestic process of dobby and jacquard weaving with a sporty aesthetic inspired by nautical "adventures" and activities such as windsurfing and sailing.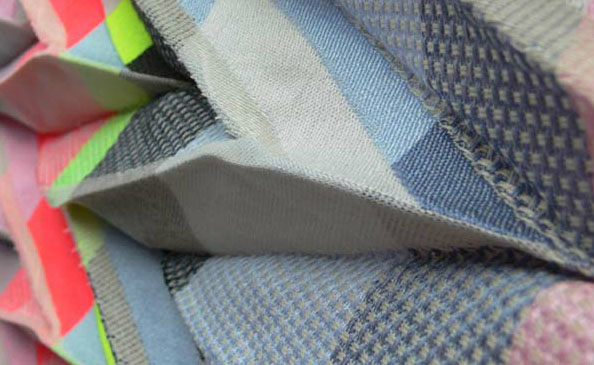 This adventurous spirit translates beautifully to textiles. Weaving is usually a more subtle medium. However, McLaren pushes the process to its creative limits with designs that are bold and unique. What first caught my eye were the colors. I'm not usually a fan of neon, but McLaren made the pops of highlighter hues work so well, I might have to change my opinion! Electric green suddenly seems right at home next to soft corals and blues, while a combination of lemon yellow and shocking pink allude to a hint of the 80's but still retain a modern look.
Equally as bold as the color palette are the weave structures. McLaren's most intriguing works are mainly her three-dimensional experiments. In many pieces, the way the fabric is sculpted mimics the zigzag pattern of twill. This design element celebrates the simple pattern, and also elevates it to a whole new level. She is not afraid to cut up her beautiful work in order to stitch it back together to create new, interesting repeats.
Another unique element is McLaren's use of unusual materials. Staying true to her sports-inspired aesthetic, she incorporates ropes, neoprene, wires, silicone, as well as yarns that are transparent. Mixed in to contrast with more traditional yarns, these materials are a fun surprise for those who examine the fabrics more closely.
McLaren has a line of products available for purchase, and is available for commissioned work. Visit www.angharadmcLaren.co.uk for more info.