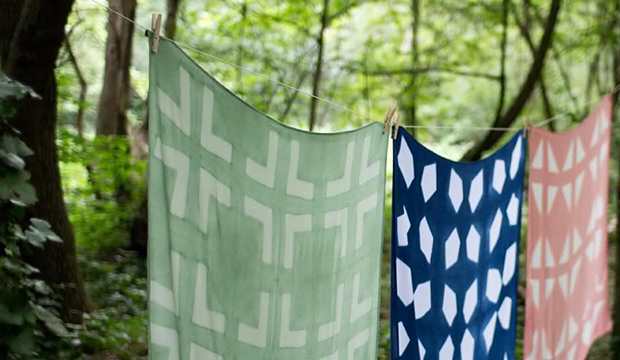 It's no secret that we at StartUp Fashion love handmade fabrics, especially ones with a global twist. So of course we were very excited to discover a designer that has combined our two favorite trends into a simple and stunning collection!
This past summer, London-based designer Rebecca Desnos launched her namesake line. Originally an interior designer, Desnos became inspired to delve into textiles after being disappointed by the lack of sustainable luxury products. The collection includes scarves and clutches, all created by hand from sustainable fibers including silky bamboo and fair-trade, hand-loomed organic cotton.
What makes Desnos' line truly special however, is the way she dyes her fabrics.
The designer does each piece herself, using natural plant dyes including indigo. This method is what gives the fabrics their lovely muted tones. And unlike synthetic dyes, these colors will "age" in a similarly beautiful way that leather does.
Additionally, Desnos has used the Japanese technique of shibori to create the patterns on her scarves.
Shibori means "resist-dyeing," which involves using a barrier resist to keep part of the fabric white, thereby making a 2-color design.
The specific variation Desnos has used is called itajime, known in English as clamp-resist dyeing.
To create a pattern using this method, a piece of wood cut into a shape is clamped tightly on both sides of the fabric to prevent dye from getting in. After the fabric has been dyed, the clamps are removed and a beautiful image remains in the piece.
Desnos' use of itajime highlights the beauty of the process. Her scarves have been designed with minimalism in mind, letting the sustainability (the materials as well as the hand of the work) shine. Such simplicity makes a bold, confident statement.
How does sustainability in fashion inspire you?