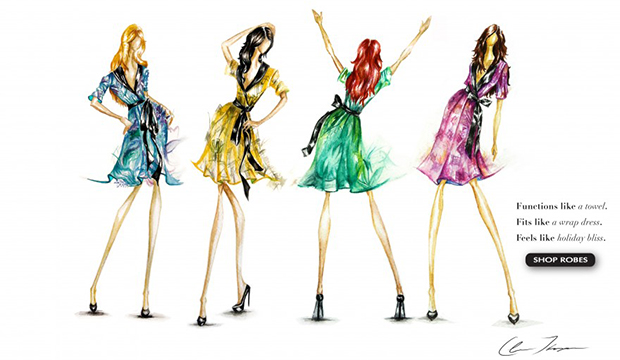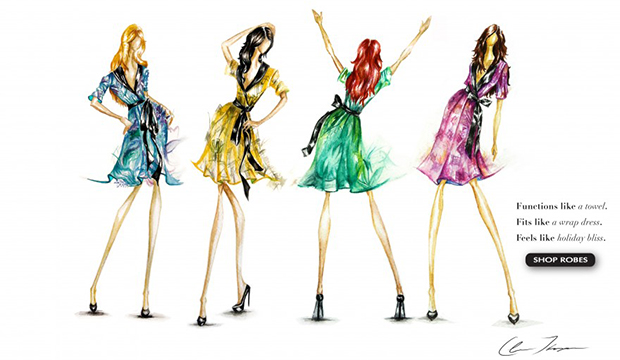 A.MOET is a women's apparel brand that creates artfully designed fashions for the resort-loving woman. But that's not why Allegra Moet Brantly, creative director and founder, has been so successful. Rather it's because she saw that something was missing in the market and decided to fill that hole.
There was a lack of variety in the niche robe market and robes were being categorized as either bathrobes or lingerie robes.
By embarking on some market research through talking to everyday women, she found that they felt that bathrobes were bulky and heavy and lingerie robes were not absorbent, not convenient to clean, and sometimes really costly.
Brantly wanted to give women the option to run out of the house in something comfortable and extremely easy. She took the idea of a bathrobe and added the sexiness of a lingerie robe.
The designer also took into consideration the fit and silhouette in which so many women are comfortable; the effortless wrap dress style.
Combining all three components, A.MOET's elegant, appropriate, and stylish robe was created.
Each robe has a silky soft collar and blends the idea of fashion and functionality seamlessly, "reminding women that they really can have it all."
Reaching consumers that are interested in such a specific product could possibly seem like a challenge, however Brantly says that's certainly not true with the help of social networks.
She understands that social media
is where her customers live, where they tell the truth, and where they share their interests with their network.
She also relies on conversing with her fans as opposed to talking at them, because not only does it make her label personable but it makes her customers feel comfortable that she has their best interests in mind.
As far as the future of A.MOET goes, Brantly hopes to do a lot of work with video because as much as they believe,
content is king, it's becoming evident that video is queen and we all know the queen is who's really in charge!
In an interview, we asked Brantly about the advice she would give emerging designers.
A great product is one that has the consumer always in mind. If designers can tap into what needs refinement as opposed to embellishment, I think it will serve them well.
Check out the first A. MOET video: