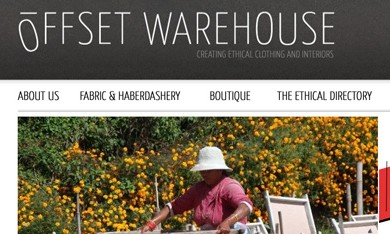 Guest Post by Charlie Ross, Director of Offset Warehouse
Website: http://www.offsetwarehouse.com
Type of Business: Ethical Fashion & Textiles
Offset Warehouse brings together all you need to create ethical clothing and interiors.  We are a one-stop-shop and essential resource centre for students, hobbyists and designers. Our vision is to make all non-ethical practices in clothing and interiors redundant, by providing ethical equivalents that look and cost the same.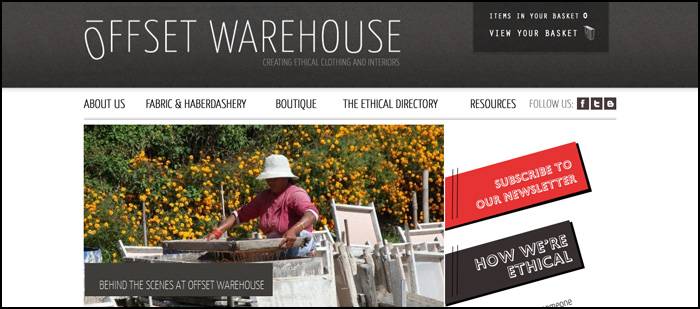 You may not be ethically inclined but as a designer in today's market, you should seriously start thinking about it. Did you know that there was a 63% increase in global retail sales of organic cotton clothing in 2008?  And that over half of Britain's consumers (23.1 million people!) think ethical production of clothes is important? It's safe to assume therefore, that not thinking ethically wouldn't be the wisest business move.  Keeping that in mind, we've devised these helpful tips on launching your business while building an ethical undertone. While these aren't hard and fast rules, they are possible strategies that you can implement, some or all of, into your brand.
1. Branding – Think about who you are and an overall image for your label.  Being ethical should just be seamlessly integrated into your style.  There is no need to necessarily market yourself as an "eco-designer", just do it, your customer will understand and appreciate.
2. Focus on one product – Do like Christopher Raeburn and so many other business-minded designers, and focus on one specific category such as t-shirts, scarves, chemises or denim jeans.  Ultimately, this strategy will help you streamline your label and allow your customer to associate your brand as an expert in one specific area.  This will also help save you time and tons of money.  Once you become an expert in one area, then expand.
3. Research Your Market – Sometimes it's difficult to understand your market as an ethical designer.  What are your customers willing to pay for work where the production costs can often be much more than that of a mainstream product.  Just like any other business you must find out your competitors and know them inside out.  What are their prices? What are the pieces made of? What sells well and what sells dreadfully?  Remember your market will also have a huge effect on what your price should be.
If you have cash to spare, it would definitely be worth doing a more in depth analysis of your market and your competitors.  The industry specialists here at Offset Warehouse, have a consultancy service that does excellent market analysis…if I do say so myself.
4. Know your strengths – If you're not so great at production, then stick to designing.  If you are a designer, but a rubbish numbers person, then recruit in an accountant!  Fashion is a collaboration, all the pieces must come together. By creating the proper team, your brand will have the framework to thrive.
If funds allow, and you are able to put together a large team, you may want check out an ethical fashion directory filled with tons of contacts from creatives, designers, photographers & loads more.
For creative roles, make sure that you look for someone that gets your style, and is someone you can relate to.  Meet them for a coffee and go through their portfolio with them.  You can always arrange an hours trial to make sure they're on the right wavelength and can communicate your vision.
5. Sourcing The Raw Materials – Before you design your product, you should already have an idea about the materials you will use to make it. After you have finalized sketches, you should begin to finalize your raw material choices.
You'll have to find everything from the fabric, to trims, to buttons, to zips and linings.  It's at this point that you can see why starting out with just one category can be a lot more cost and time effective. There are sourcing tools out there that can make your life a lot easier.
This will take some time and creative thinking.  Remember, there's no point in creating a sample that will be too expensive for your market.
6. Make Patterns and Samples – If you can't pattern cut or sew samples yourself, finding one person who can do both is ideal. Having someone that does both usually takes less time, which is therefore cheaper, and tends to end up achieving much better end results.
7. Edit – After you have samples of your product, it's really important to edit your pieces to make a cohesive collection, that targets your market and tells the story of your brand.
Most designers find this aspect hard – your designs are your babies after all!  But it's really important to be firm and finish the line with items that complement each other and would push a buyer to purchase several pieces from the collection.
8. Pricing – Once your line is completed, you have to assign prices to each piece.  Make sure you gain at least a 50% profit to make your efforts worthwhile.  You also want to make sure your product appears to be worth that price, and is suitable for your market.
9. PR and Sales – Now that you have your assortment products at appropriate prices, you are ready to begin the marketing and sales process.  Think about working with someone who understands eco design and the ethical market.  While it's not easy, there are reps out there that focus directly on this kind of work and will have a stronger connection with this particular community.
Creating a catalogue can be very expensive.  One way to do this less expensively and also adhere to your eco-friendly beliefs is to create an online catalogue.  Make yourself "for the trees" and save paper as well as cost.
Whatever you decide, at the very least you must have a line sheet.  A line sheet has pictures, pricing (retail and wholesale) and colour information for each style.  Using this you can start selling your product at tradeshows or searching for a sales rep that is willing to sell your goods on your behalf (they usually ask for a commission of sales).  Et voila!  You have a line.
Editor's Note: While this article is focused on the creation of an ethical fashion line, it is really applicable to any new fashion venture.  The fact that the process of creation is so similar, whether ethical or mainstream, is a great example of why it's not a bad idea to implement responsible practices into your line; whether you plan to advertise that, or not.