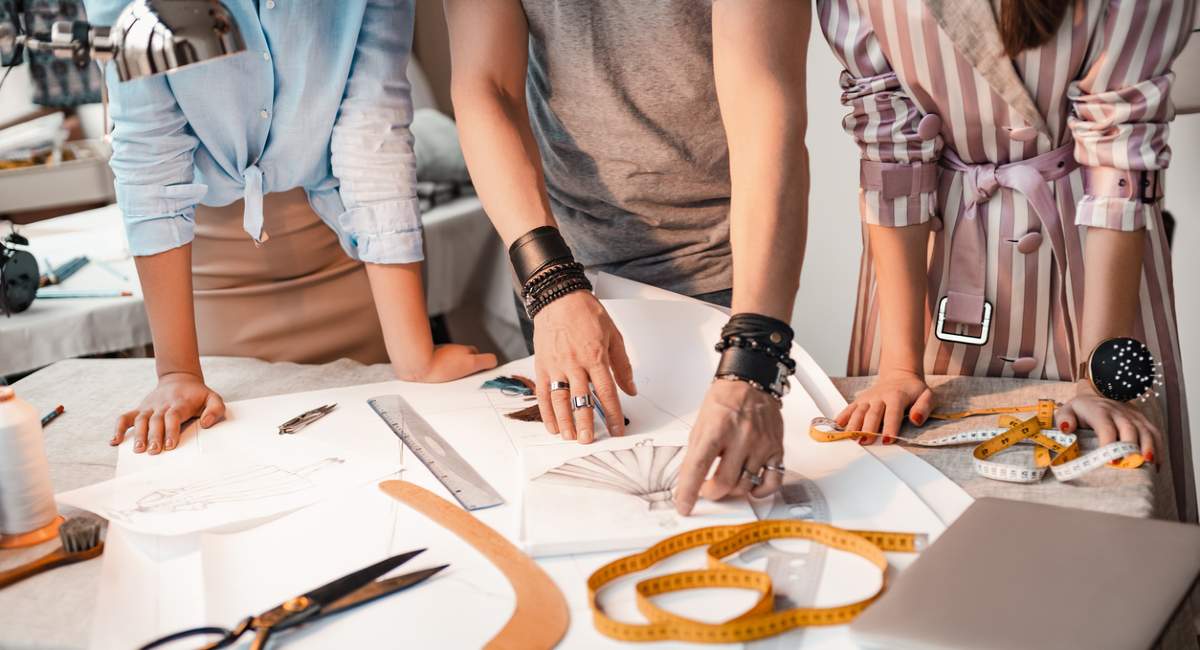 Introducing the Bill of Materials
The Bill of Materials –or BOM– is your shopping list for the fashion product you are developing. Let's take a closer look at that analogy.
If you are like me, you write out a shopping list before going to the grocery store. This list helps you avoid forgetting important items you need to make your meals for the week and also keeps you on budget. This list helps you plan ahead and gives you a plan of attack. 
This is exactly how a Bill of Materials works. The BOM is a page in your technical package that you give to the factory, and it lists the components needed to make the garment.
This page needs to be perfectly correct, or you can end up with missing details, which can put your garment in jeopardy as you scramble to find the missing or correct components.
Let's learn how to avoid these mistakes. Here is how to build a Bill Of Materials:
What Goes Into A Bill of Materials?

BOMs have a TON of information built into them and should be customized to suit the project at hand. The main information you need in your BOM is:
Category of Component, ie: Fabrication, Trim, Interfacing, etc.

Description of Component, ie: 98/20 Poly/Spandex Jersey Rib Tubular Rib Knit, 125 gsm

Size/Dimensions of Component, ie: 60" wide, 8mm, etc

Color of Component

Supplier

Quantity needed for a single garment

Location of Component on the garment, ie: CF/CB, Shoulder Interior, etc. 
Below is a working BOM I created for a client who is making a corset. You can see that I color-coded the categories (labeled as Item), and also inserted my technical sketch with color-coded labels and arrows pointing out the specific components' locations.
You will also notice that there are a lot of spaces that read TBD. This particular BOM is in-progress, and as we develop the product fully, these will change to reflect the correct information. The fabrications will have weights added, as well as fiber content, etc.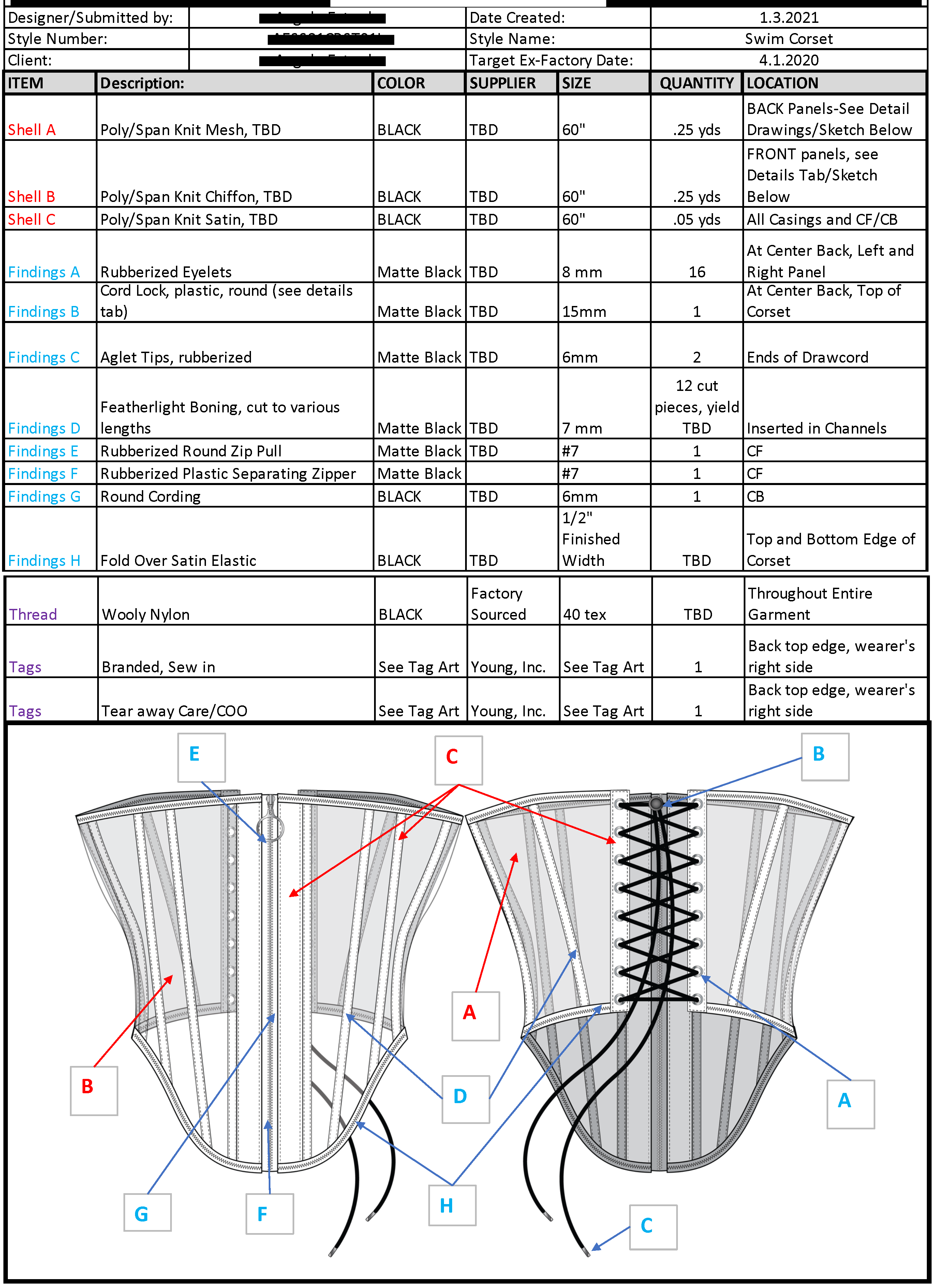 Let's Define Terms
Apparel design is full of unique terms and lingo. These can be very overwhelming to decipher at first. Let's talk about some of those terms and abbreviations now. 
Shell
This is a term used to describe the fabrication on the outside of the garment. If there are multiple –or contrast– fabrications, label them A, B, C. Also known as Self Fabric. 
Findings
Findings is a term used to describe non-soft items, such as a zipper, eyelets, pulls, and aglets. Home sewers call these notions. Findings differ from trims, which are usually a soft fiber item that is applied topically to the outside of the garment like fringe or sewn into a seam, like piping. 
COO Label
A Country of Origin Label, or COO, is a label legally required to be in your garment. The FTC says:
"Products covered by the Textile and Wool Acts must be labeled to show the country of origin. Imported products must identify the country where the products were processed or manufactured. 
Products made entirely in the U.S. of materials also made in the U.S. must be labeled "Made in U.S.A." or an equivalent phrase.
On the other hand, products made in the U.S. of imported materials must be labeled to show the processing or manufacturing that takes place in the U.S., as well as the imported component. Products manufactured partly in the U.S. and partly abroad must identify both aspects." Source: FTC
Interlining/Interfacing
These are terms used to describe a fabrication that provides structure to the insides of garments. There are many, many kinds. Basic interfacing categories include fusible, woven, tear-away, water-soluble, and knit. 
Interlining is cut to match the pattern pieces exactly and is sewn into the garment, whereas interfacing is usually a bit smaller than the pieces it is being attached to and is most often fused through heat to the fabric before cutting. 
CF/CB
CF is the Center Front of the garment. CB is the Center Back of the garment.
These terms are extremely common in the fashion industry and will make you sound like a pro when talking to your factory. 
How to Use a Bill of Materials
Your BOM not only functions as a shopping list, but also helps you find potential issues in your construction of the garment. It makes you think through each step, identifying potential problems. A Sequence of Construction is exactly that: it is the process of how to sew the garment together from beginning to end and is usually on your pattern card/face card.
Your BOM is the best friend of the Sequence of Construction and should be provided to your pattern-maker. Your pattern-maker will look at the BOM and determine the best order in which to sew the garment, thereby creating the SOC. This is an essential part of the pre-production process and helps your sample-maker sew your garment together with minimal oversight. 
Examples of a BOM in Action
Not only does the BOM help in the SOC creation process, but it also tells you how much of each component you will need to order.
For example, you are cutting 1000 pieces of this corset. How many eyelets do you need to order? Each corset requires 16 eyelets. Multiply 16 by 1000, and add 10% for loss or mistakes. You need to order 17,600 eyelets. That is a lot of eyelets! 
This is particularly important when it comes to yields on fabrications. This corset uses three different fabrications: two at .25 yards, and one at .05 yards. For 1000 corsets, I need to order:
Shell A 275 yards

Shell B 275 yards

And Shell C 55 yards
This includes a ten percent overage to cover mistakes. There is nothing worse than getting to the cutter, they spread the fabric, and you discover that you miscalculated your fabric yardage order. Many cutters have MOQs (Minimum Order Quantity) for fabrication. If you are short on yardage, you will pay a surcharge, or worse: they won't cut until you have enough fabric. Avoid this by using your BOM.
Making Life Easy
Your Bill Of Materials will enable you to know your product intimately, prevent mistakes, and be intentional as you develop your products. It will also enable your factory to work quickly, avoid unnecessary questions, and keep them accountable to the design intent of your product.
Use that BOM to go shopping for components and order with confidence! I promise your life will be easier if you use this flexible, powerful tool.