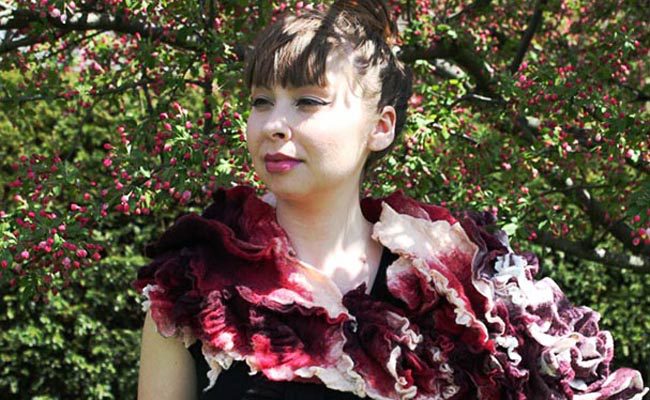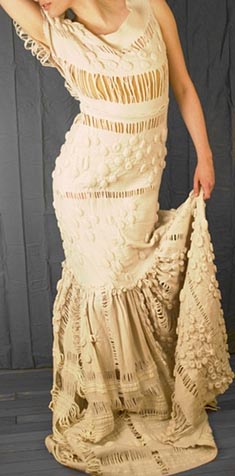 When felt comes to mind, you probably think of the flat rectangles used for arts and crafts as a kid. But in fact, felt is slowly becoming more widely used as a fashionable textile.
We're not taling about the heavy, lifeless industrial material you might picture. Felt made by hand is incredibly soft and versatile, as well as extremely easy to create.
The process is best described by an old story told to me by my fashion history teacher: A monk was on a long journey, and the soles of his shoes wore down until there were holes in them. To protect his feet, the monk put wool over the holes and continued walking. When he reached his destination and removed his shoes, he discovered the wool had meshed together to create an entirely new fabric. The combination of heat, dampness, and continuous agitation is what turns wool into felt.
Felt from a shoe sounds a little gross, but the process can be replicated using soap and hot water to make a clean, beautiful textile. Simply take raw wool, add the soap and water, and gently pat or rub it until it begins to felt up. The longer it's done, the sturdier it will be. Detail work can be done using a special felting needle. An even easier method is to take a knitted or woven wool garment and put it through the washer and dryer on hot. Keep in mind, the wool will shrink, which can either help or hurt your project, so do a test sample first!
These three emerging designers have each incorporated felt into their work. All are recent graduates of Mass. College of Art and Design and use the material in unique, fashion-forward ways.
Hanna Zien
Inspired by the stacks of fruits and vegetables on produce stands (the closest she can get to nature living in New York City!) Zien creates one of a kind, avant-garde neckpieces and shrugs. The wool is hand-dyed and wet felted. Colors are layered over each other to make interesting patterns, and bead-woven accents are added as a finishing touch.
Ashley Conchieri
Conchieri already has several collections under her belt, the most recent one focusing on texture. Her garments are all hand-woven using high-quality materials such as merino wool and silk. The "bubble" fabric that is used in several of her designs is created through wet felting. Conchieri recently had her debut trunk show at Fire Opal in Brookline, MA.
Erin Shaw
Shaw is inspired by nature and Native American culture, and brings this imagery into her stunning headdresses. She is skilled in a wide range of processes, including knitting, crochet, weaving, beading, etc. But some of her most impressive pieces are created by freeform "sculpting" wool through needle felting. Shaw's designs have won numerous awards, and were recently shown at New York Fashion Week.
Felt can produce many different, beautiful results. If you want to try incorporating it into your own work, check out the vendor list at Sheep and Wool; all are independent wool and fiber retailers from across the U.S. who have shown their products at the NYS Sheep and Wool Festival, the largest fiber festival in the country! Luxury wools for felting such as merino and alpaca are available, as well as high quality yarns and tools.