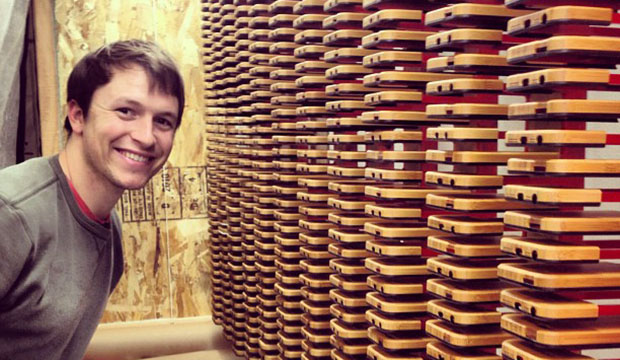 Pairing a passion for quality products with a smart design, Grove founders Joe Mansfield and Ken Tomita discovered, through always trying to one-up each other's design ideas, that they should put their crafty minds together to make the best iPhone case possible. It was that plain and simple.
Grove iPhone cases are handcrafted in Portland Oregon, with the Grove team involved in every step of the process.
Although both Joe and Ken had little to no knowledge about how to work and run a slightly larger scale business, they still jumped in head first with the attitude, "go hard or go home."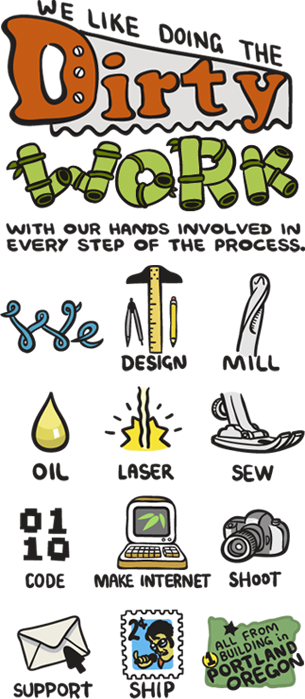 The Grove iPhone cases were a hit in just a few short days. Sales came flooding in and both Joe and Ken had a, "oh crap" moment when they realized they would have to start busting these handcrafted phone cases out in a matter of days.
And because this was all so new, Joe and Ken relied on friends and family to help them work through many sleepless nights to fulfill all orders.
Even today, some two years later, Grove has kept the number of employees down because they enjoy and want to maintain a small, family like business. They have stuck with just 24 wacky members.
All members of the Grove team will tell you that, "DIY is their soul" and every single iPhone and iPad case is handcrafted primarily by the members of the Grove team.
Having a handcrafted business is important to Grove because not only does it create local jobs, but each product is more amazing because all members are involved with every part of the creation process.
Also, not only are the cases all handcrafted by members of the Grove team, but they are all insanely sustainable. With a solid bamboo exterior made of 100% post-consumer fibers and renewable bamboo bound together with only water based resins, there is nothing about Grove's cases that doesn't make us earth-loving consumers want to smile.
Editor's Note:  We wanted to introduce you to Grove not only because of their awesome products but because of the collaborative, family-style team.
As independent designers who are rockin' it, you will eventually need to think about growing your team in order to keep up with the  demands of your business.
It's businesses like Grove that remind us to really embrace the creative side of everyone we work with, work hard but remember to laugh, and most importantly have fun! Otherwise, why are we doing this?