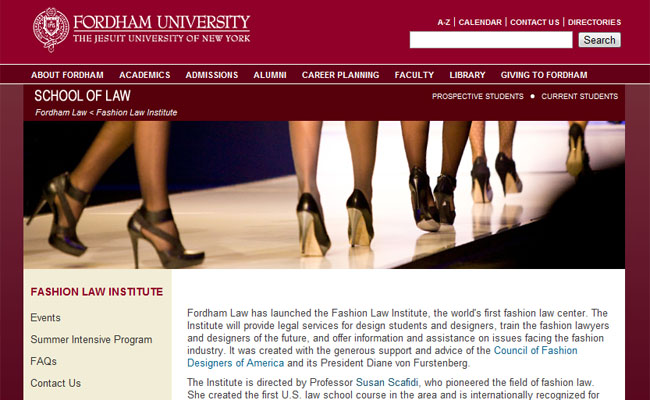 Fordham Law, based in New York City,  offers a service that you should all know about.  It's called the Fashion Law Institute, the world's first fashion law center providing legal services for fashion designers. The institute also offers training for future fashion lawyers, and assistance on fashion related legal issues.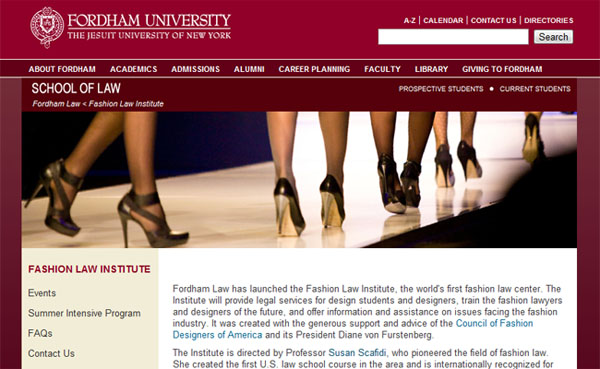 Started with support and advice from the  Council of Fashion Designers of America and its President Diane von Furstenberg, the Fashion Law Institute will focus on  intellectual property, business and finance, international trade and government regulation, and consumer culture and civil rights.
According to the website, "The Law School's proximity to Manhattan's Garment District will facilitate frequent interaction between the Fordham Law community and members of the fashion industry, including opportunities for internships at some of the world's best-known fashion houses. Additionally, now that New York Fashion Week has moved to Lincoln Center's Damrosch Park, fashion will literally be right outside the Law School's front door." Nice.
We were really excited to share this resource with you all because, frankly, this is something that you should without a doubt take advantage of. Reliable legal advice and services is absolutely imperative for any business venture but tend to be expensive and not always easy to come by.  Yes, there are places you can go to find pro brono help, but never have we seen easy access to law professionals who have a deep rooted understanding of the fashion industry and its unique issues an needs.
But don't just take our word for it.  As a member of The Fashion Center's Emerging Designer Group, we were treated to a review of the Fashion Law Institute's services from a fellow member, the founder of FU e=fu8 Underwear, "I had my appointment on March 9th and it was absolutely amazing from beginning to end. [Fashion Law Institute] trys to have this once a month to help anyone in fashion with pro bono legal advice as it relates to the fashion industry…The Fordham attorneys were all very professional, enthusiastic and very helpful. Prior to my session they had already looked up my website; so they came to the meeting informed with some background research (which is half the battle). The attorneys were all exceptionally bright, knew their stuff and gave me very helpful advice. I had a very productive 45 minute session with them and would recommend it to anyone who needs fashion related legal advice."
Well there you have it; a fantastic resource for fashion designers and other fashion industry professionals has launched in New York and, it seems, is everything it claims to be: helpful, useful, necessary, and pro bono!
Contact Fashion Law Institute:
Professor Susan Scafidi
Fordham University School of Law
140 West 62nd Street
New York, NY 10023
fashion@law.fordham.edu