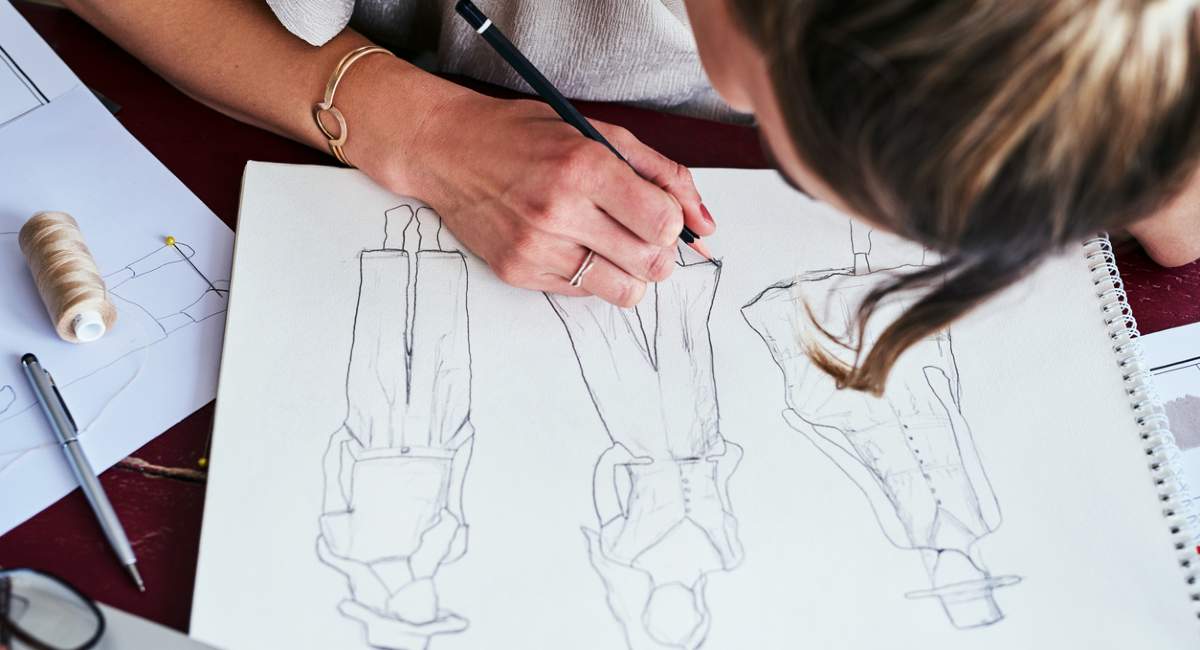 So, what are fashion sketches and technical sketches, anyway? Everyone has seen those gorgeous fashion sketches. You know the ones: artistic renderings that make you gasp with delight, dreaming of all the places you would wear that glorious gown.
These beautiful renderings inspire people, inciting feelings of desire…but these confections are not what you need when developing your line. What exactly, then, do you need?
When developing your line, fashion sketches seem like what you may need, but in reality you need something far less flashy: technical sketches. These are also known as technical flats. What the heck is a technical drawing, you ask? Let me tell you!
A technical drawing is a plain line drawing showing the proportions of a garment, the stitch types, and any details of construction that are not easily described in words, in black and white.
Why Do You Need Technical Sketches?
Technical sketches are not just here to harsh your vibe! They are a powerful tool that can make or break your first samples. The reality is that most people employed in the apparel industry who are not sitting at a desk rarely speak English. This means they rely on visual communication to accomplish their jobs.
A technical drawing shows clearly the shape of the garment, the hem types, the tag location, the placement of any embellishments, and so much more. If your drawings do not accurately reflect what you want, you will end up with a sample that looks like the drawing, but not the garment you desire. 
The sketch should be illustrated as if the garment is lying flat on a table, not as if it was being worn. This more clearly reflects the shape of the pattern pieces that the garment will be made from. When developing a pattern, the sketch is essential to your pattern maker. They can look at a good sketch and see the shapes of the pieces as you have illustrated them. Sometimes measurements do not accurately reflect shapes, so this sketch is an essential part of the process.
What If I Can't Draw?
Not a problem! You can hire a freelance artist or hire a technical designer to help you with your technical sketches. There are also templates you can use from places like WGSN or even Google. Another option is to take a photo straight on of a garment laying flat that you like the shape of, then putting it into a sketching program like Adobe Illustrator, and tracing off the garment.
Be sure to include stitching, bindings, lacings, zippers, buttons, and any detail you want to include. You can download pre-made findings or brushes like zippers and buttons from the internet, so you do not have to make them by hand. It is worth the money to save time. Vecteezy is a great site for things like zipper pulls. Make sure the file you download is an .eps or .ai file.
Show And Tell
If you are baffled by what technical sketches should look like, I am going to insert one here for you: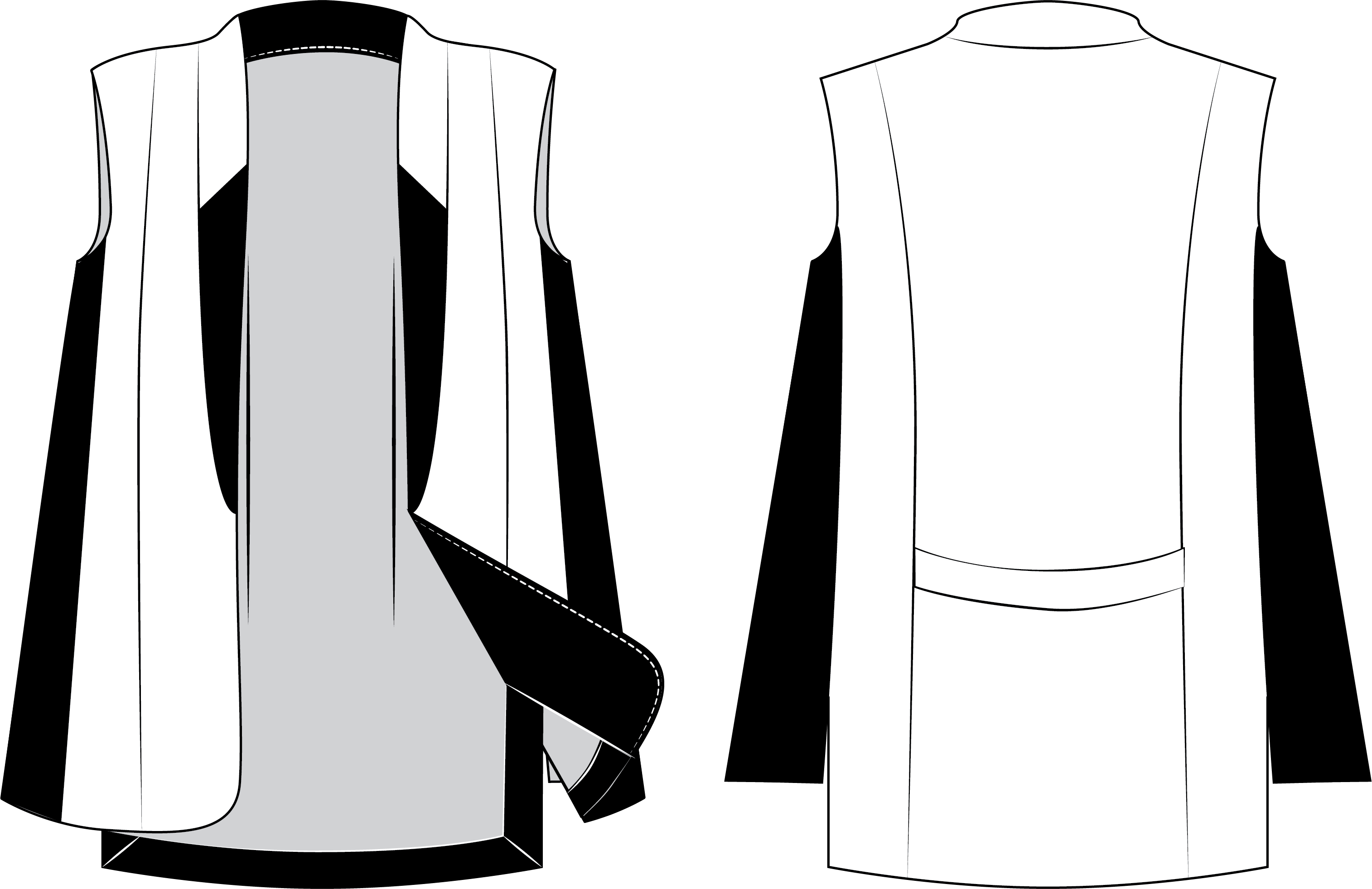 Notice this drawing is flat, shows the inside and outside of the garment, and shows construction details such as stitch locations, facings, and color blocking. It is simple and easy to follow.
Details that need to be called out are usually done on a separate tab in the tech pack, with another drawing showing the details in question. For example, this vest has a hook and eye at center-front that isn't visible in the tech sketch. Also, the detailed drawing calls out things that are hard to see in the original drawing, such as the edge stitching at the center back collar, and the darts in the lining.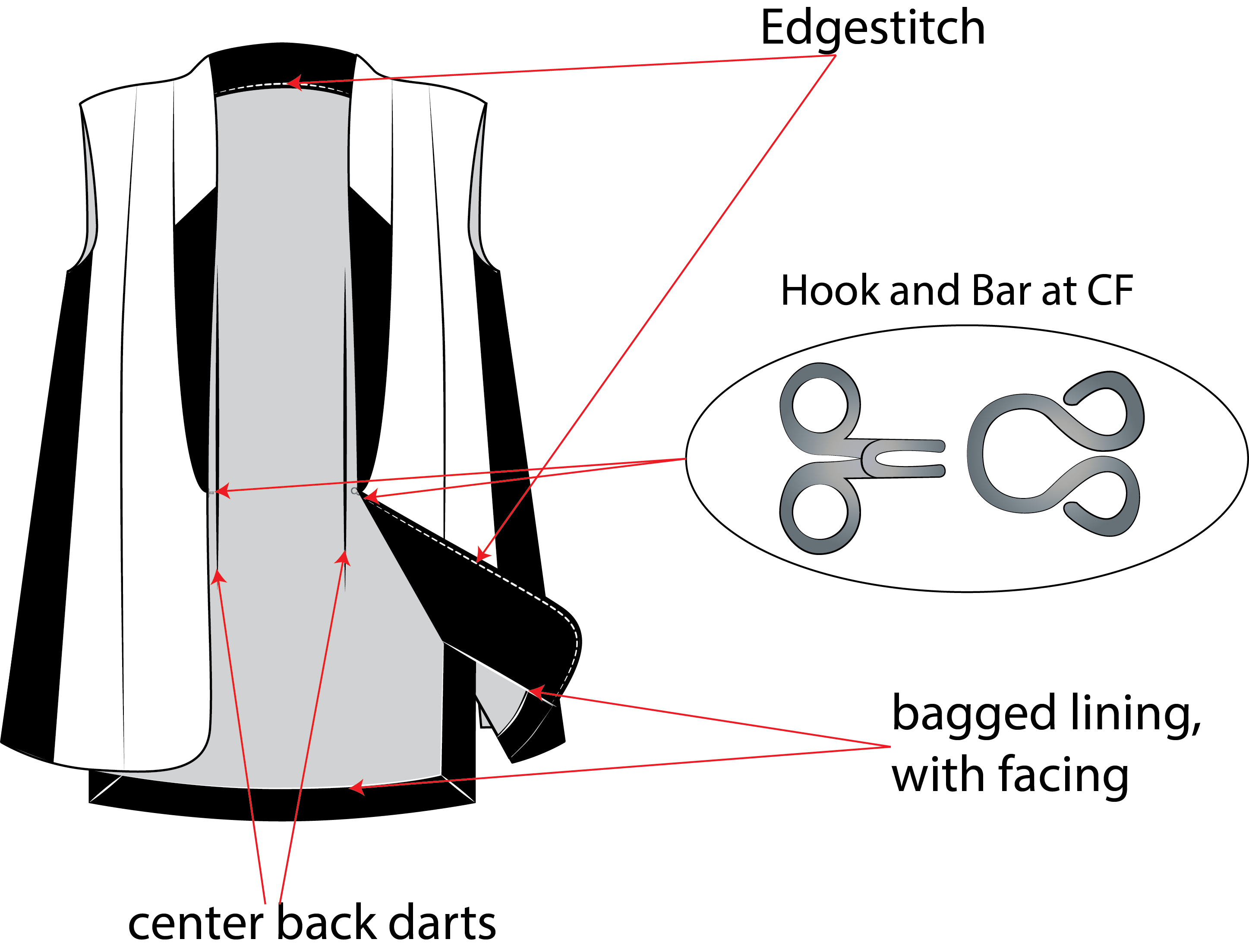 SOOOOOO…What Is A Color-Up?
Another type of technical drawing is a color-up. This is essential when you have multiple fabrications or multiple colorways. This drawing shows each fabrication in its correct location. Take a look: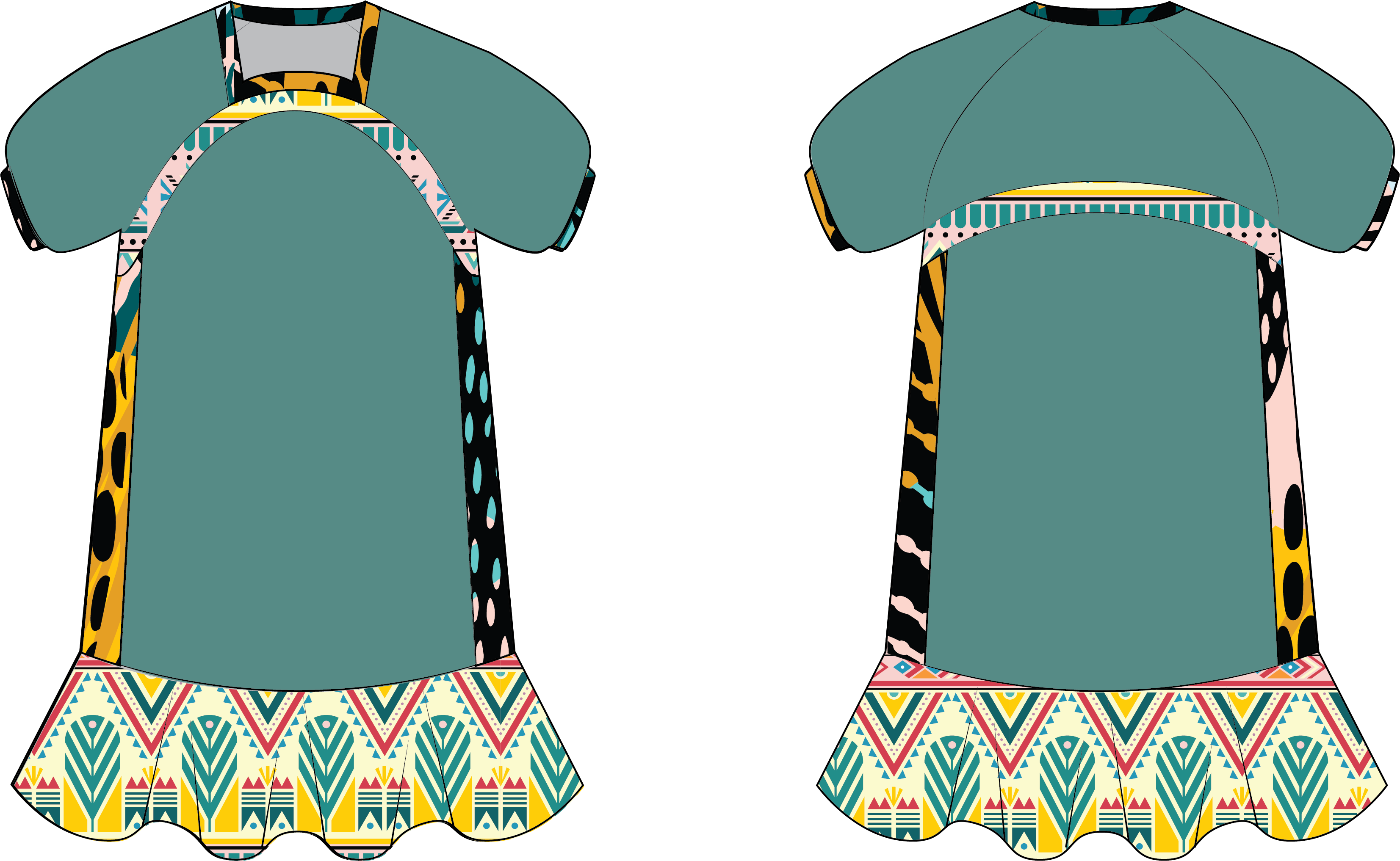 This garment has three fabrications in one garment. It is essential that the cutter knows which fabric goes where. The color-up drawing clearly shows where each fabrication is intended to go and prevents mistakes in production. 
This color-up is made from the technical sketch, and each zone is filled with the pattern or color of the fabric chosen. A low-tech way to do this is to attach swatches of the fabrics you want to use to a copy of the technical sketch, highlighting each section of the garment on the sketch in a different color based on the fabrication, and create a key showing which color highlighter goes with which swatch. The main thing is to be very clear about which fabric goes where, or you could end up with garments you cannot sell. Disaster!!!
Here is a color-up of the vest in multiple colors: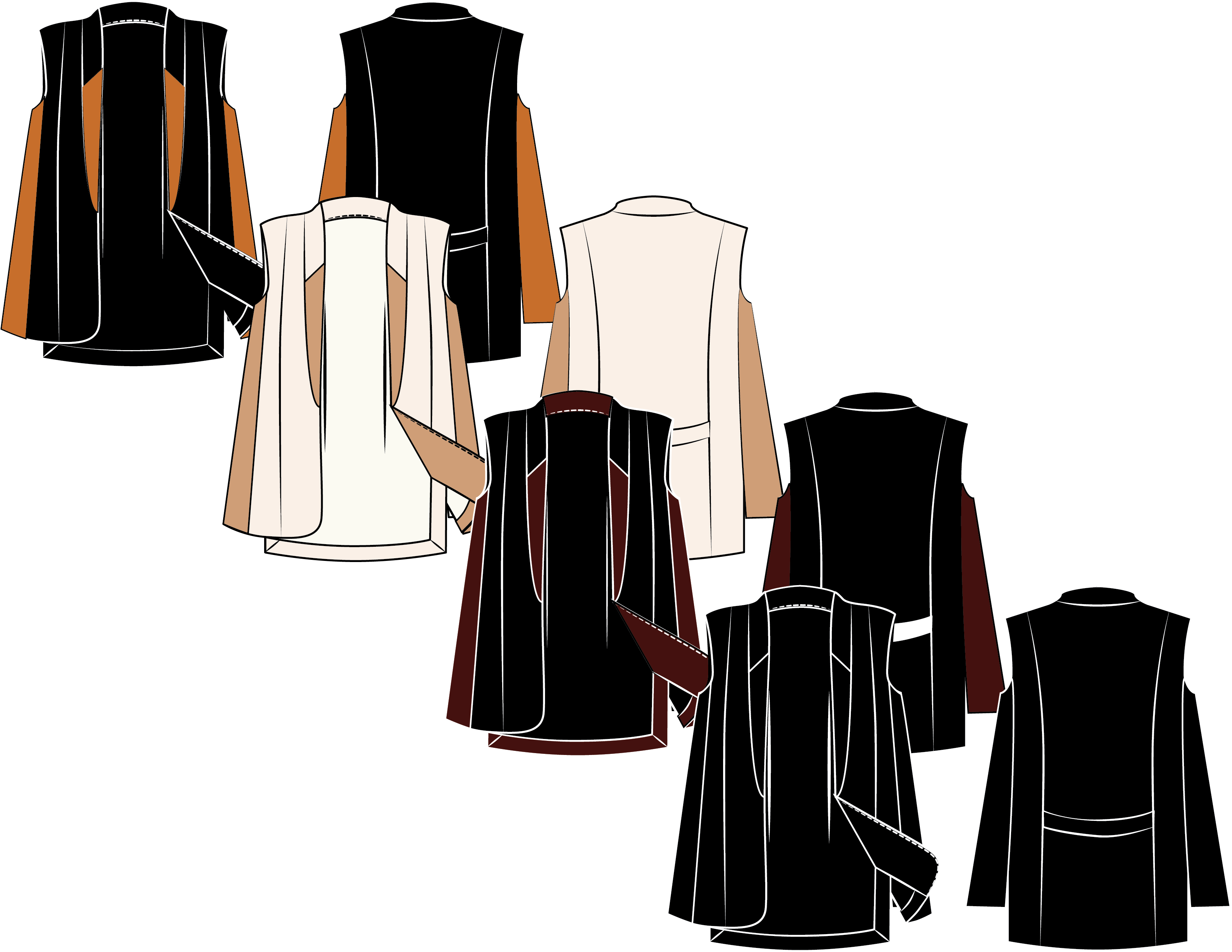 This is a far more effective way to communicate the locations and colors of your fabrications within the garment than words. It works across language barriers and clearly shows the expectations you have for your garments. This color-up can also double for your line sheets before you have physical samples to photograph. This means you can sell your line before you have even sewn a stitch. How handy! 
Save The Fancy Stuff For IG
Fashion sketches are fun to do and are extremely valuable for generating interest in your garments with the public. Get creative, make beautiful drawings, and share them on social media to generate excitement for the brand. When it comes to production, stick to the plain Jane technical sketches. They will result in better samples and also save you time and money, as well as frustration in product development. 
Clear communication is essential in product development, and sketches are the easiest way to accomplish this. They communicate the details you need, the scale of the garment, and the locations of fabrications without having to explain it in words. Develop this skill, or hire someone who already knows it to make your life easier! 
Sketch away, and make those dreams a reality.