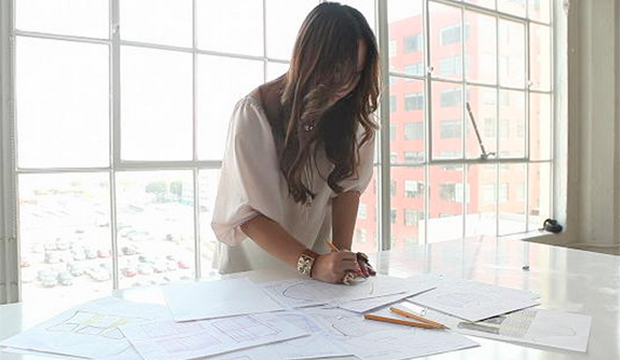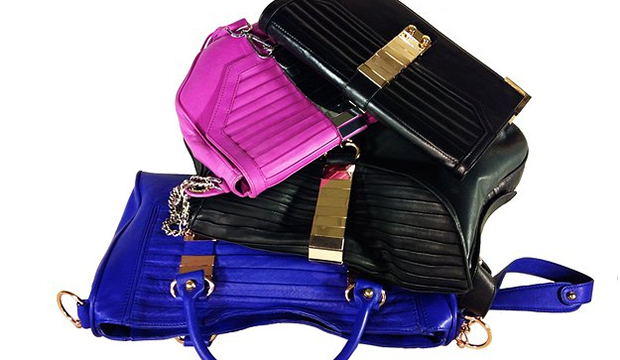 Designer and founder of handbag label Dapper Diction, Anh Nguyen focuses on combining bold hardware and funky design elements  with smart functionality.
Nguyen knows that,
as women, we practically live in our handbags
and she uses that as her main inspiration when designing bags that are totally functional.
Nguyen is confident that she has a market for her handbags and has found many of her customers through the consistent voice that she has established for the brand since its birth.
Through maintaining a consistent brand voice Nguyen hopes to build a strong brand recognition.
To learn more about the business of Dapper Diction, check out our interview with Anh Nguyen.

Your brand is unique. What inspired you to start a business around this concept?
I've always had an affinity for quality leather and stand out jewelry, and they were always apparent in my everyday outfits.  Whether it was a really gnarly pyrite ring or an extremely bold and supple handbag, these were the accessories that I naturally gravitated towards in my personal style.
It wasn't until 2 years ago when I was playing dress up that I came up with the idea.  I was sitting in my bedroom layering on jewelry on top of my leather bags when I thought, how cool would it be to have handbags that had great hardware.  It's the best of both worlds in one piece!  I searched high and low for designers that offered this and besides the spiked and studded pieces, there really wasn't much left.
So I started sketching my first few ideas on paper and it was the start of my business.
Solving a problem is a key aspect of a successful business. How did you identify a problem and how has it impacted the growth of your business?
My bags are bold statement pieces that also provide functionality to the everyday woman. Often, in the market, there are these great bags that are either functional and a little boring, or bold and not practical.
We aim to combine both functionality and bold hardware designs.  As women, we practically live in our handbags, so we are always making sure that our designs are practical. But more than anything, we are all about making a statement, so we incorporate bold hardware and design elements into our products.
We are also always looking for ways to be eco-friendly and are currently developing special edition pieces that are made of an eco- friendly leather. The leather on these bags is created through a process where botanical methods are used for the dyeing process. If everything is a go, we hope to make these eco-friendly leathers a staple through our collections.
How did you establish a voice for your brand; was it a conscious strategy or did it just sort of happen? Is this voice consistent across all your content and platforms?
It first started with the birth of our brand name. Dapper Diction came from the idea that everyone has a unique fashion stamp, and it's what we portray everyday as we dress ourselves.
I am sometimes a word nerd and my brand name really came about when I was referencing a part of a novel I was reading.  I was trying to figure out what the diction was, or what it was trying to say.  Halfway through trying to figure it out I became enamored with the word diction.
What is diction but a statement.  Our brand proudly proclaims that we are dapper and that is our fashion statement.
Next, we wanted to make sure our voice shined through our products.  When you first see one of our handbags, you immediately can see that it has an attitude about it.  We want our bags to be a statement on our consumer, and it should read as powerful with an air of femininity.
As our brand grows, we want to maintain this voice throughout our brand.  We hope to create a world full of dapper chicks strutting around with our designs!  And who knows, somewhere far far in the future, we see a world of dapper men, dapper kids, dapper girls, the possibilities are endless.  But for now, we are focused on letting the world discover what we are about, and we hope they receives us well!
How do you see your brand growing in the next few years?  Do you think it's important to have a clear view of your goals documented in a business plan? Have you adjusted your business plan along the way?
We are still in the baby phase of our company, so we hope to develop a brand that women and girls identify with in the next few years.
We also want to develop brand recognition and want our consumers to recognize our bags through the design rather than the label itself.
These are our main goals for the next couple of years.
As far as a business plan, I do have one in place where there are certain goals set each quarter. But with every growing company, there are always glitches. I am always adjusting my business plan when there is a bump in the road.
The important part is that my goals remain the same.  For us, we want to make sure that our goals never change.  The way we attain them may change from here or there, but these goals are a part of the foundation of our company.