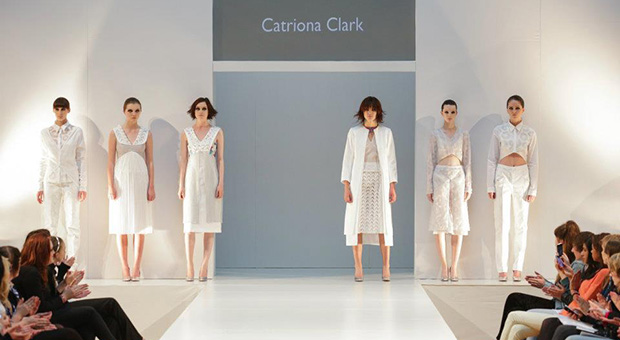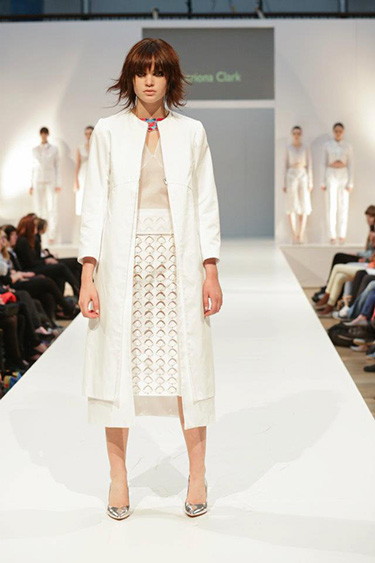 Taking each day one gentle step at a time, young emerging designer Catriona Clark of womenswear label Catriona MacAllister is making all the right moves to reach all of her fashion goals in a hopeful few years. And through my brief chat with the busy sewing bee, I can sit here and tell you all that with a passion like hers, no brick wall will ever be big enough to stop her from accomplishing her dreams.
With hopes on creating new trends and bring new fresh ideas to the fashion industry, all of Clark's work is innovative, strong and unique proving why she is worth highlighting.
This girl may live, breathe and study fashion however she's just as normal and silly as the rest of us. Clark told us she tends to be a NCIS guru, what girl doesn't love solving crimes? Oh and she also loves to discover new types of music and bands which makes perfect sense being that her passion for playing the violin is still burning inside.
Growing up in a creative world has helped her find her way into the future. Clark enjoys having both artist's mom and dad around to help inspire her as well as her friends, which she told us she loves to cut and sew commission pieces for.
So with a humble heart and a love for designing, Clark really doesn't care about the money, rather about the giddy little feeling she gets in her stomach when she sees her final garments being photographed and worn. I couldn't believe more that she is one of the greatest examples of why we should all live by the quote, "If your dreams don't scare you, then they aren't big enough." – Lowell Lundstrum 
The interview:
StUF: What are some things that you have done to make your mark in the fashion world?
CM: The first thing that comes to mind, would be the nomination I received at the Scottish Fashion Awards, as Ifeel that it shows others how determined and committed I am to my work and to running this as a full time business.
StUF: Why do you believe that your work deserves to be under the spotlight?
CM: Working as a fashion designer and running my own company is what I've wanted to do for a long time and now I have a chance to really go for it. My ideas are innovative, and I have the creative ability to go the distance to create new trends. A chance in the spotlight would give me the opportunity to showcase my work on an international level.
StUF: What is a typical day in Catriona Clark's world? 
CM: As this is so early on in my career, I'm not able to make my living solely from my work as a designer, so I currently have a temporary part time job to make ends meet. Depending on my hours of work at my job, I usually end up working on my own business in the time I have available around this.
Some of the things I get up to are, just now, sorting and organising my new studio, which at the moment is just a spare room in my house! Pattern cutting and sewing commission pieces for friends and family, recently I have been involved more with business planning and form filling for funding to ensure I have a good platform for which to continue my work when I leave my part time job. The work I do each day changes which is why I get so much enjoyment from it as it's never the same thing.
StUF: Name some of your favourite things about being an independent designer?
CM: I love being able to design and create the clothes that I would like to see people wear. I love the process involved in creating my own clothes right through to the final stages of doing photo shoots.
I remember the feeling I had when we started doing the photo shoot for my graduate collection. It was the first few shots that we had taken of my models, Emma and Natalie, and the photos were looking great. Neither of the girls had done any modelling, all they had to go by was some photos I gave them of different poses and they looked simply beautiful. At that time I remember thinking that this was exactly what I wanted to be doing for the rest of my life, as seeing the completed looks of the past few months hard work come together was very rewarding.
StUF: Is there anything that may be seen as a struggle, being a young designer specifically in Scotland?
CM: As a young designer in Scotland, sometimes I can feel so far away with what's going on in fashion, and it just seems like such a monumental task to try to break into the fashion scene at international capitals around the world.  There are so many graduates, who set up straight out of university in fashion capitals and they are immediately in amongst a hub of activity and to get my work noticed can become overwhelming.
But I always try to look at the bigger picture and think back to what I've already achieved and just take it one step at a time, and then eventually it will be my turn.
StUF: What's one thing you love about being a European designer?
CM: Some of the oldest fashion houses in Europe still lead the trends today and challenge the way we think about design. With three of the fashion capitals being in Europe, there is a great wealth of heritage, which provides a rich source of inspiration to draw from.
StUF: What do you do when you're not designing?
CM: At the moment most of my time is dedicated to working at my job then working on my designs so I don't get up to much else but if I do take some time off, I have been playing the violin since I was eight so I occasionally take some time to practice that.  I also love looking for and listening to new music, and watching all sorts of TV shows – I'm a big NCIS fan!
StUF: In your designs, what do you think makes your garments unique compared to others?
CM: So far with my graduate collection, I feel I have been able to identify my signature style, which would be that of a very elegant cut and silhouette, and my next collection is shaping up that way also.
I like to focus on a particular feature of my work whether that is through laser cutting, embroidery or printing- it just depends on what has inspired me for that season. But I feel that a strong silhouette is an emerging element of my work.
StUF: If you could give other emerging designers a word or two of advice, what would it be?
CM: Don't give up believing in yourself.
The fashion industry is a very difficult industry to work in as you are up against thousands of emerging designers in the same boat as you. Not only that but you are up against the best of them out there who are already doing what you want to do, so you have to be strong to see your idea through and prove to others that you should be taken seriously.
I am still a very new emerging designer myself, so this is something that I have had to learn pretty quickly to keep me going.  And I think once you believe in the strength of your own work then you can achieve what you set out to do.