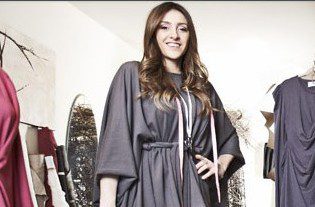 Last month, while working as a blogger for WWD Magic and Teen Vogue, I was excited to meet and connect with a multitude of talented and progressive designers.  One that stood out in particular was Fotoula Lambros.  Her work is not only environmentally responsible and domestically made, but also unbelievably stylish and stunningly chic.  I knew the minute I approached her booth space, that I wanted to feature her as a BreakThrough DESIGNER here on StartUp FASHION.  Lucky for me (and You!), she agreed to an interview.
Meet BreakThrough DESIGNER Fotoula Lambros of Fotoula Lambros Design. Listen, Learn, Connect.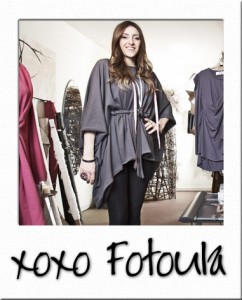 1. What is your brand's mission? How has it evolved since you started your business?
Fotoula Lambros Design is dedicated to avantgarde thinking and ecological impact in modern design. To create beautiful work, and support the idea of an American Made, ecologically conscious product, is a priority in the direction headed for this company. FLD is solely interested in the development of community through function and fiber, and guarantees that all operations are of Fair Trade regulations in the US.
My independent brand is pretty new. The main objective with my brand, is to pursue environmental consciousness in modern design. Function and fiber are the core in building my brand, as I am dedicated to making original and unique silhouettes that feature natural fibers, while crafting each piece to carry the least environmental impact through production.
2. How would you describe your brand's aesthetic?
My brand's aesthetic is feminine, without being girly. Ecologically thoughtful, by the selection of fabrics. There is a lot of draping that influences me through design, but it comes from a very minimalistic perspective. Some of my pieces have the ability to be worked more than one way, so the functionality in some of my pieces is important for my brand's aesthetic.
3. What's the most difficult aspect of running your business? What do you do to combat that?
In running my business, it is very important to me to be surrounded by positive and like-minded people. Design is something I can do alone in a room, now I am mostly realizing that I need help to keep a brand going. Design seems to be the most simple part of owning a fashion label. In order to grow, it is important to build the business. From manufacturing to marketing, there are a lot of details designers need to be fluent in. Developing the skills to operate a business is an ever unfolding experience.
4. Do you sell wholesale or primarily through your own website/retail location? What steps do you take to attain brand recognition, whether to wholesale buyers or retail consumers?
Currently, we are only offering our product to wholesale buyers, since this is our first collection with the new brand. We are also in development of our e-commerce identity, so the product will be available by the A/W 2011/2012 season for sale through us as well as the boutiques we were introduced to at Magic.
5. What social media platforms do you find most integral to your brand's marketing? How do you utilize them to connect with your customers?
Facebook is first and foremost in the social network realm. Not only do I use my business page but I also utilize my personal page to connect with friends, fans, and fashion enthusiasts. Creating events is so important on FB to get ideas of attendance, feedback, rsvp, etc.
Twitter is very important as well, and I can honestly say the international connections that can be made are incredible.
Besides having the website, sharing more up to the minute information and news is fun on my blog. A little more of a Fotoula check-in point, as there is always something to update, whether with FLD or my involvement with Fashion Group International, where I am a board member;  specifically Creative Connection Programming Chair.
There are a lot of fashion happenings going on in and around Detroit and beyond, and it is great to have all these socially inclined ways of connecting to it all.
6. Can you describe in a few sentences your day to day?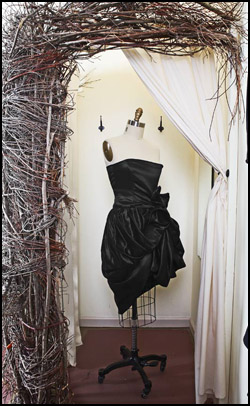 Breakfast at the family's café up the street first thing in the morning. Then staff meeting, replying to the first emails/calls of the day, sometimes I take in new clients as custom orders.
My friends have told me my life is like a reality show… everyday starts the same, but there is always something else thrown in the mix to make each day different. Visits from glass blowers I am collaborating on jewelry with, meetings with staff and clients, music, Sally singing, business, interns, fabric flying, two cats lounged out in the mix. Hilarious!
7. What are three of YOUR favorite brands? What do you admire most about them?
Chanel: Coco is an icon. Refined sophistication and feminine silhouettes, from past to present.
Versace:  it's more provocative designs, figure conscious and fitted.
DVF: she gets prints. Prints are so bold and outspoken, but she manages to make them work with all different types of silhouettes.
8. One piece of advice you can offer the fresh faces of fashion?
Be prepared to work very hard. Be focused, driven and passionate. I always say, after the millionth time of wanting to quit because it is hard sometimes, will be the day I make it!
9. What exciting things are in store for you in 2011?!
From production to L.A. visits for new textile sourcing  to trunk shows, all the FGI jazz, and currently planning my next event, 2011 is going to be full of exciting things!
10. Please describe your experience at WWD MAGIC. Was it worth it? Would you do it again?
WWD Magic was incredible. From the excitement of this being my first trade show to how informative it was taking a stroll through Sourcing, I was a sponge. This experience showed me so much about how the fashion business works and where I want to be in the industry. The relationships with fellow exhibitors and all types of fashion professionals I met was the best part. It was great to see people interacting with my clothing and hearing their thoughts. Also, there have been some great associations made with wonderful organizations that support ecologically friendly design. I will absolutely do it again, and again! 🙂
Connect with Fotoula Lambroas Design:
@Website
@Blog
@Facebook
@Twitter
P.S.  I had to include the below photo.  I saw this coat at WWD MAGIC and it's what initially made me fall in love with Fotoula's work.  The silhouette is just beautiful. I seriously cannot wait until the e-commerce is up and running!