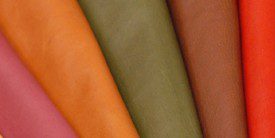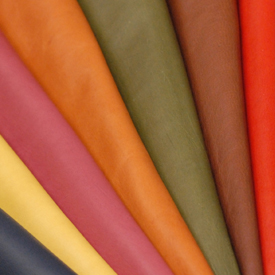 This week, while making a purchase with the leather company Pergamena, I was introduced to a new product they will be offering in the coming months. And it's a good one; Waterproof Leather.
You may remember I wrote about Pergamena in the past but in case you're new to our little blog here, I will give you a quick recap.  The company supplies quality vegetable-tanned leather that is made from animals who have died of natural causes.  So, if you're a business that utilizes environmentally and socially responsible raw materials, this is obviously a company you should look into.
OK, back to the waterproof leather.  Apparently, the leather is their same vegetable-tanned formula, with a sprayed on finish that makes the surface almost completely water resistant.  (Do I see a leather raincoat in my future?!) Anyway, the back (non-grain) side of the skin does still absorb some water, but the tannage used prevents discoloration and stains from appearing because of color migration.  The hides can either be dry-drummed, which gives them a very unique, worn texture and softens the skin to the consistency of glove leather, or alternatively they can be left natural from the process, which gives them some stiffness and rigidity. Take your pick.
I don't know about you, but I find this to be very exciting.  The possibilities are endless and I'm already thinking about how I want to utilize this product in my own work.  And with a 2 week lead time on delivery, I have plenty of time to make up my mind.