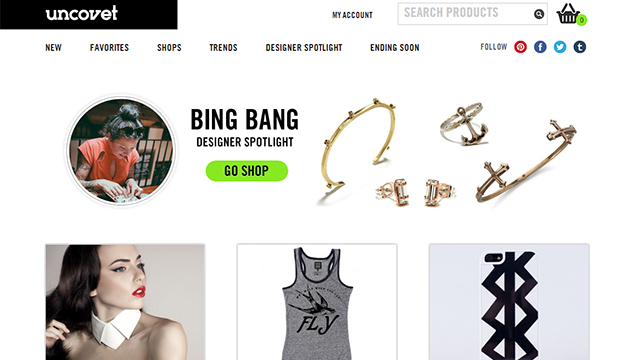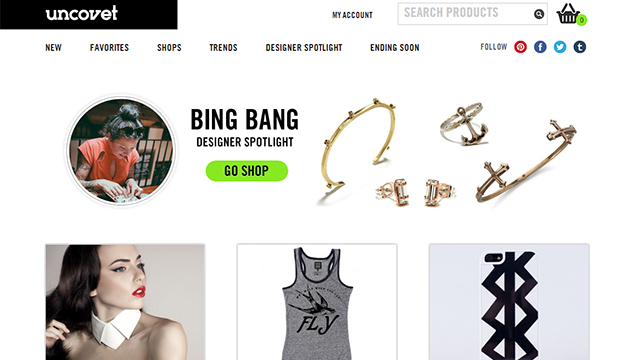 As Community Manager for StartUp FASHION, I search for creative images like it's my job, because, well… it is. I spend a lot of time on Pinterest and have a wishlist that stretches 10 miles long of things I'm currently lusting after. I'm not the only person to do this.  And for emerging designers, finding ways to get on those 'must have' lists is an important part of increasing brand awareness and kickstarting that cult following you need grow your business.
In a recent hunt for all things beautiful, my search led me to a site I'd never heard of called Uncovet, which has officially found its way onto my daily hit list.
UNCOVET.COM is a carefully curated and design-centric shop that unearths a daily pallet of fresh, rad, one-of-a-kind products for its members at a discounted rate. Uncovet's staff of interior and fashion design experts hew the cutting edge, scraping the best bits from both just-discovered artists and well-known designers. Uncovet's members enjoy all that is new, daring and unique.
The team at Uncovet combines industry knowledge with data science from sites like Pinterest, Svpply and fashion blogs that feature the latest and greatest to understand user preferences and deliver items that are truly on-trend and of the moment.
They create a collection based on a specific theme (this week's e-mails featured amazing leather handbags and perfect gifts for Mother's Day) and deliver a daily email with special discount pricing.
I think that a lot of other sites are concentrating on just one type of style. However, you find today that the young, hip kids are actually interested in different style genres. They might really be into urban, but also be into preppy, and also into bohemian. On Uncovet, we're scouring any kind of style and products, the best of all of these. On top of that, we're using data and technology to recommend products based on a user's personal style, and building a style graph around that" – Heaher Lipner via SocialTech.com
For Emerging Designers, Uncovet also features a "Designer Spotlight" section with Q&A's with their most recent artists to be highlighted on the site.
Uncovet, like other discovery platforms, is not necessarily right for every emerging designer, but its ability to get your product in front of a massive audience that you didn't otherwise have, is worth the time it takes to do some research.
What experiences have you had with product placement on discovery shopping websites?  We'd love to know in the comments!