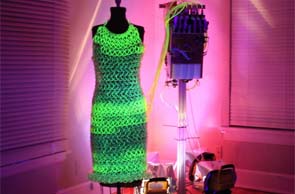 Hello Everyone.  I hope you have been enjoying a wonderful turkey-induced long weekend, as I have.  In light of the mini vacation we are all having, I'm not going to go on and on about any topic today.  I have however come across something really cool that I would like to share with you, the Fluid Dress. Textiles come in all forms, right?
Have a wonderful weekend.
Enjoy!
Fluid Dress from Charlie Bucket on Vimeo.