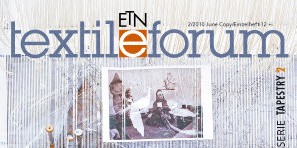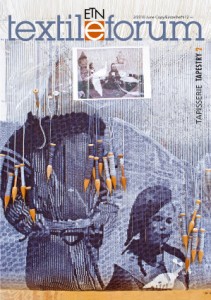 I'm a big advocate of immersing yourself in literature written about your chosen field.  Not just what is completely specific to your role, but media that enables you to become a well-rounded, knowledgeable, semi-expert on all aspects surrounding your work.  Textiles happens to be a profession that can go in a lot of directions; from technology and production to design and craft.  So on my quest to find some new fabric-based reading material I came upon Textile Forum.  It's a magazine, both in print and online, that focuses on the art of textile design, textile preservation, education, research, and events.
Each issue  of Textile Forum seems to hone in on and deliver in depth information about a given topic; Tapestry, Lace-Making, New Technologies, Smart Textiles, Natural Dyes, Textile Networking, Innovation and Tradition, Printing Techniques, Paper Textiles, Ingenious Textiles, The Silk Roads, Country-Specific Fabrics…
All of those are actual topics form past issues.  Which, by the way, you can assess online with your subscription. Now aren't you so curious about this little gem?  Has it not crossed your mind that you need a subscription pronto?  It has crossed mine!  All I can think about is what a smarty- pants this is going to make me seem!