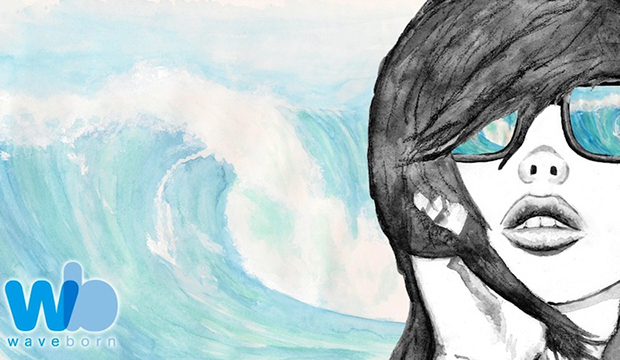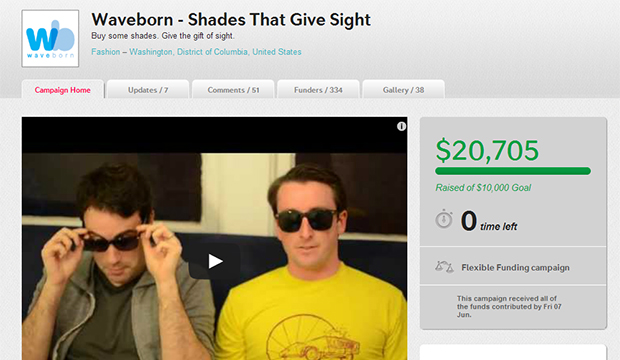 Have you thought about crowdfunding as a means of raising money for your fashion business? While there is an on going debate about the pros and cons of trying to pull this off (it's definitely not as easy as some tend to think), it can be a great way to grow your business.
When we were introduced to the emerging lifestyle label, Waveborn, we were impressed not only with their stylin' aesthetic and overall mission, but also with their ability to grow their brand by creating and launching a very successful crowdfunding campaign.
So we decided an interview was in order.
Check out below what co-founder Mike Malloy has to say about running a successful crowdfunding campaign to grow your fashion business.
Tell us a bit about Waveborn, its mission, and why you started it.
Waveborn is a lifestyle brand that sells Italian-designed and manufactured sunglasses at a price well below the average designer sunglasses.  Every time you buy a pair of Waveborns, you enable us to:
1) give a pair of prescription glasses
OR
2) fund a portion of a vision-restoring cataract surgery through our non-profit partners Unite for Sight and SEE International. As a social good sunglasses company, we strive to combine the cool of fashion with the soul of giving
You recently completed a successful crowdfunding campaign, can you tell us what made you decide to go this route for fundraising?
Crowdfunding has become a great democratic way of building a company. If you have a good company selling a quality product at the right price, consumers can build capital for the company.
We know there are a lot of "ifs" in that sentence, but Waveborn sells high-end Italian made shades at a very competitive price while giving back to the world.  Crowdfunding, and more specifically Indiegogo, was a natural fit for us to be able to pre-sell our summer inventory of shades.
What are the absolutely necessary components of a great campaign?
Video and momentum.
We spent almost 2 months on our video because that's the first and in some cases the only thing people are going to look at before deciding to commit money to a project. If the video really captures someone they'll be more inclined to read more, and that's where the text backing up the campaign really comes in.
Once you break through the noise and get someone to the point of actual consideration we've found that the sunglasses-for-good concept speaks for itself, but the video opens the door.
The other thing I would say is just understanding momentum, how it works and especially how social media hits will accelerate everything once you reach a critical mass. You don't want to stretch it out too long.
There was a lot of discussion of time frames and goal thresholds. We could probably do a whole separate interview on this alone, but basically everything we did was a strategic decision based on our understanding of how to build momentum.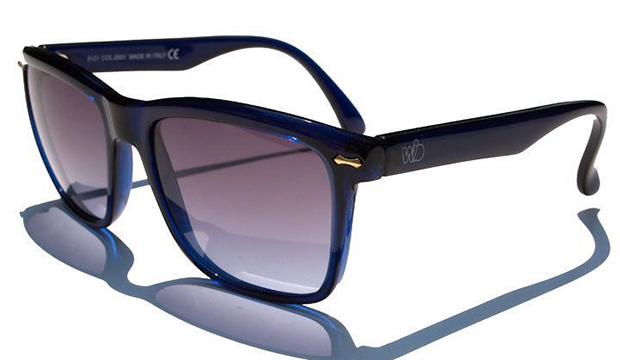 What are some common mistakes or pitfalls you see fashion brands make when putting together a campaign? Any suggestions for avoiding them?
The number one mistake is launching on a whim or an idea and not being really ready for primetime.
Don't underestimate the savvy of your potential investors. If your website is shoddy, if your video work is shoddy, people will notice and assume that the product will also be shoddy.
You might think starting a label in your basement is a cool and fun side project, and it can be if you're just doing it at the Etsy/craftsman level, but if you're asking people to put money behind your business? Be ready to show your investors a level of competence and professionalism they can believe in when you launch.
Can you speak a bit about the commitment it takes to having a successful campaign, i.e Just because you build it doesn't mean they'll come.
Pre-campaign research and work is vital.
Before launching our Indiegogo campaign, the team did extensive market research into every aspect imaginable.
Reaching out to your networks to get their support prior to launch is important, but don't just reach out once. Maintain contact with your supporters throughout the campaign by sending out updates, adding new content, seeking good press, and sharing the press with current and potential backers.
Can you share examples of some great campaigns out there?
Here are a few of my favorites:
Who Gives A Crap – High quality toilet paper that builds toilets in the developing world, a great cause and a fun but still professional-looking video
Misfit Shine – Simple activity tracker, great, almost apple-esque video shows that they're the real deal
Nice Laundry – Making a full and colorful sock drawer cost less, some concepts speak for themselves
Now that Waveborn has raised funds, what are your next steps with your brand? What do you have in the works?
We're always working on new and fun ideas for the company. What I can say is look out for more designs, more colors, and keep a close eye on our "partners" page for some real big deals that are currently in the works.