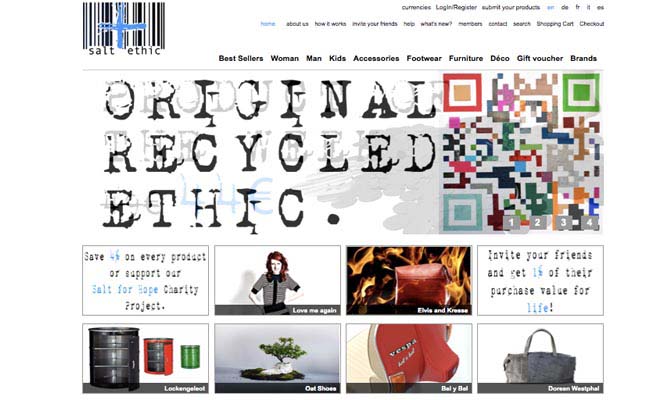 OAT's high top sneakers designed with a tree branch sole made from biodegradable plastics and natural materials like hemp, cork and organic cotton is just one of many super cool and one-of-a-kind products from Salt + Ethic. You'll immediately want to click to find out more. And, when you do read on, you'll learn that that when these kicks have seen their life, they can be planted and bloom into a beautiful bunch of flowers. Pretty fascinating? We thought so too.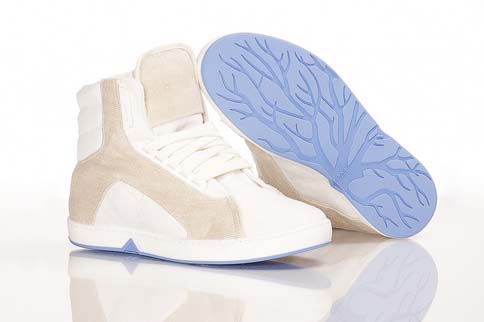 Launched in June 2011, Salt + Ethic is building a platform dedicated to responsible shopping through an international e-commerce site that is merchandised with a mix of women's, men's, children and home product categories. Their hope is to "simulate global-eco-creativity" with design and originality being key factors, but of course, ethical and sustainable pursuits.
Talk about vetting their inventory; you'll be intrigued and often times awed with the selection of designers from Milan, Berlin, Paris, London and the United States. The Salt + Ethic team has traveled all over the world scouting out product in an effort to merge some of the most interesting, functional products from new talent, all of whom believe in making eco and socially responsible products without compromising design or their own aesthetics.
Within the site, designers have the chance to tell their back story and also explain more about the product, which often times is compelling enough to customers to drive them to make a purchase. For example, one of their best sellers, the sleek and stackable aluminum oil can cupboard system made by the German-based design team Lockengeloetis,  is really and truly made from reused large aluminum oil cans that is held together with guitar strings and closed by magnets. There's also the PLUMEN 001, the world first designer energy saving light bulb that serves as a fancy source of light, giving you the option to ditch the shade.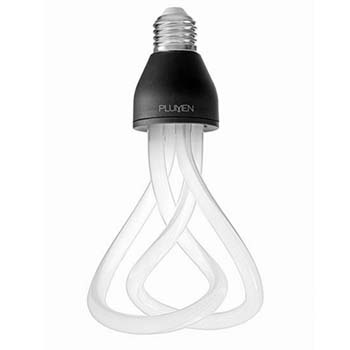 For young talent, the site is an interesting platform because it provides international exposure, which gives designers an opportunity to showcase their products to a wide audience.
The team believes that the site is a way to "spotlight young and talented designers with a conscience." It also acts like a creative exchange that can be used as a way to shed light on how materials can be re-used and be crafted, sculpted and re-used into socially responsible designs.
Going one step further, they also support Salt + Hope, where customers are able to donate 4% of their sales to be applied to their next order or to donate to one of three non-for-profit causes that they believe in like under-privileged communities, medical care and human equality.
To learn more, check out Salt + Ethic and be sure to submit your pieces too.