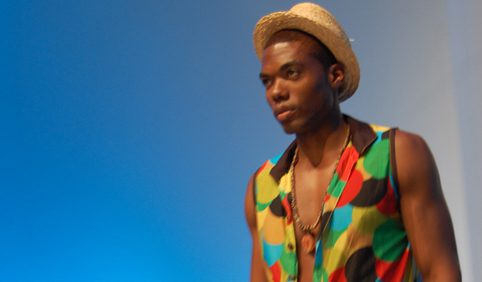 One of the most inspiring and colorful shows at Boston Fashion Week was the Prajje 1983 show. The head designer, Prajje Jr. Jean-Baptiste, graduated from the Massachusetts College of Art and Design in 2009, but started his label prior to that. His work has been shown in Washington D.C., Miami, New York, and of course, Boston. In fact, for Boston Fashion Week 2008, Jean-Baptiste organized the only runway show featuring numerous designers, and returned this year to present his solo show.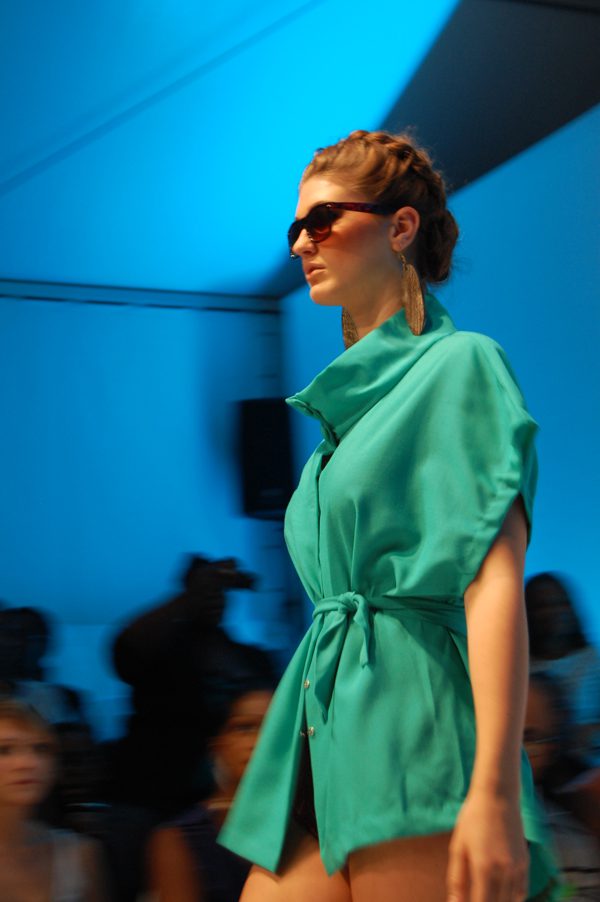 This most recent show strives to bring attention to cultures in need with this event benefiting FACE Africa, a project focusing on clean water and women's empowerment in the nation. Artistically, Jean-Baptiste draws his inspiration from Haiti, the country from which he originates. Known in our culture as a country of poverty and suffering, the designer wants to bring a more positive aspect of Haiti to light. "Its love of dress! We Haitians take our looks very seriously.", says Jean-Baptiste
This particular collection contained five "color categories", vignettes that showcase the beauty of the designer's childhood. Each color story refers to a place Jean-Baptiste remembers fondly.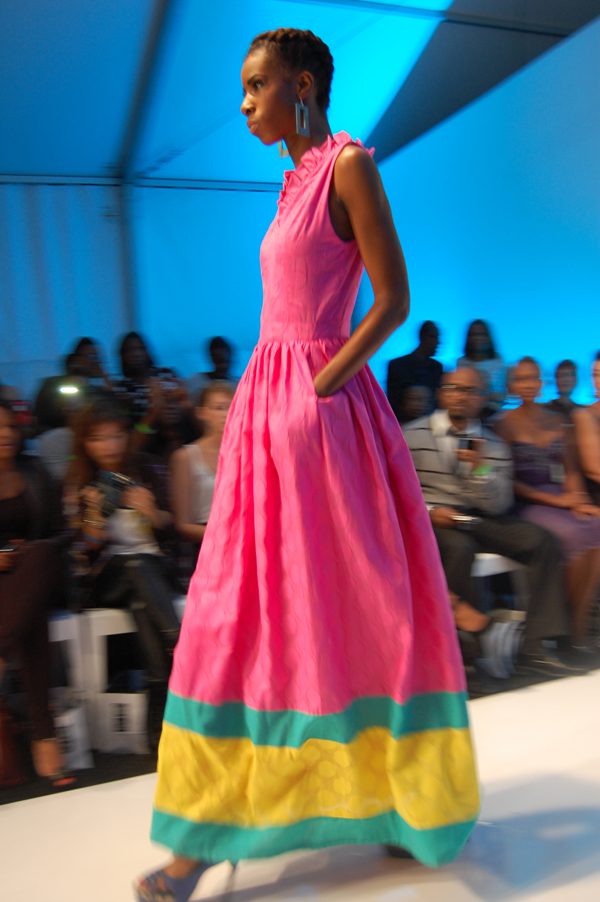 Bold turquoise started off the show. Surprisingly to me, wool was used frequently in the collection, and the color lent an unexpected lightness to the typically heavy fabric. A long wool jumpsuit accented with a colorful beaded belt seemed breezy and weightless. The turquoise refers to Kaliko, a gorgeous beach in Port-Au-Prince.
A deeper "cascade blue" in other garments further called up images of the water, particularly a sundress with a tie-dyed print reminiscent. This represented Mount Carmel, a holy pilgrimage site with stunning waterfalls.
Shocking pinks were next, deliciously complimentary mixed in with the blue garments. This hue recalled Jacmel, a vibrant town defined by the hue. An electric fuchsia maxi dress was a definite standout, the classic silhouette married perfectly with a contemporary color scheme.
Even brighter still were the sunny yellow garments that followed. Jean-Baptiste limited that particular shade more than others. It represents the Grande Riviere, a mustard-colored waterway considered "precious" to Hatians, and the yellow is used more sparingly, as though it is also valued.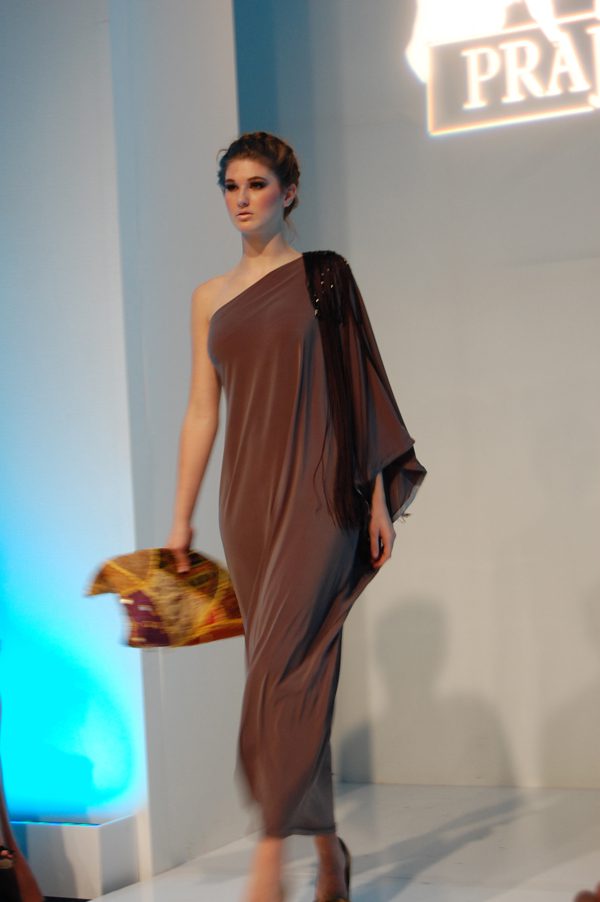 The show then took a more subdued, romantic turn with several grey gowns in silk and taffeta. A glamorous, one-shouldered sheath dress particularly caught my eye. Bow Kenscoff, a town high up in the mountains surrounded by a dreamy fog, inspired these garments. Grey and purple ikat fabric became incredibly elegant when cut as a beautiful draped silhouette. Soon after came the finale piece, which perfectly wrapped up the entire line: a silk charmeuse gown printed with a floral pattern containing all the colors used in the collection!
For more information and ordering, visit www.prajje1983.com. To donate or find out more about FACE Africa, visit www.faceafrica.org.