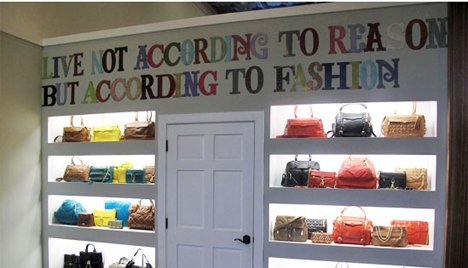 As an emerging designer, you should constantly evaluate your sales channels to see what new opportunities are out there. E-commerce sites are cost-efficient and have become a must for any designer. We also know the importance of getting your products into a store as you want your customer to interact with your brand; touch,try on, and really experience your products. Owning your own store or getting your line into a boutique has its pros and cons, especially with overhead costs. Pop-Up shops can be great too, but they also may be short-lived depending on what you are trying to accomplish.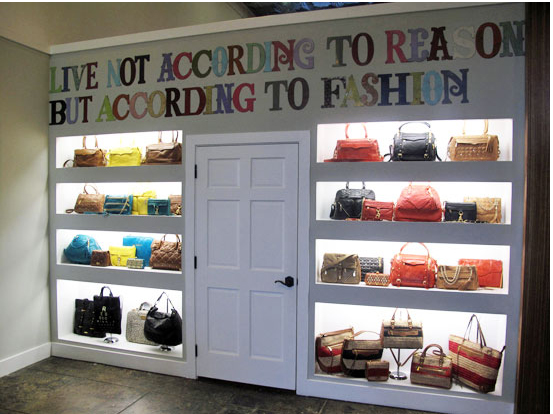 Another option to consider is what we're calling a Pop-In shop! So what's that? The idea is to partner with a store to carry your line for a certain amount of time in a dedicated section that's uniquely merchandised.
So how is that different from a store simply carrying your product? First, not all buyers will pick up your entire line and it could be just one item or a few pieces. Also, like any type of marketing, it's creating news for your product and promoting it at right place and time.
We recently heard that Rebecca Minkoff, a maven for smart and strategic marketing, recently popped into Confederacy boutique in Los Angeles where she has a space dedicated to her coveted wares. This is a great idea as customers will be able to get the full-on Minkoff experience by seeing her entire collection of handbags, shoes and apparel.
So why should you follow suit?
Here are a couple of reasons to venture into the pop in space.
This is your opportunity to leverage a store's network as they already have a customer base and credibility. They also know what their customer likes, how they shop and how to make a sale, which hopefully means new business for you. Think of it as a trial run with a store. You don't want your relationship with a boutique to last one season. Your goal should to be to develop a rapport with the account and get to know their customer and what sells so it becomes a mutually beneficial relationship that lasts.
This is an excellent opportunity to get learnings on your customer. You'll get to see and hear what they think of your product, the price point and fit, which is all valuable insight for your next collection and will also make strong talking points for selling to your next account.
So how do you sell in a Pop-In shop to a boutique?
1. You'll bring news to their store
The reality is that we all love news and what people thrive on today. The idea of a pop-in may be exciting enough, but also think strategic. Consider seasonality and whether your brand can bring in fresh news during a slow period. Perhaps you have a holiday collection or your line fits in with an event that creates buzz like Fashion's Night Out.
2. Pitch your network
If you have a large social media network, be sure to mention that as you will be able to promote your partnership on Facebook, Twitter and other sharing sites. Plus, there's nothing better than having a fan or customer support you by spreading the news. Hopefully, this will bring in new customers and potentially a Facebook like or a Google +.
3. Develop an Experience
Offer to merchandise your collection and build a story. Whether it's in the window, on a shelf, or if you can get substantial floor space, sell in an experience. In addition to a visually appealing display, you could include press clippings, photos of customers and social media information showing that you are relevant. You should also consider a trunk show to drive traffic to the store and also meet your customers.
Remember, stores like to work with designers that know their target, can bring in fresh ideas and new customers. The Pop-In shop just may the outlet to consider to get your brand out there!