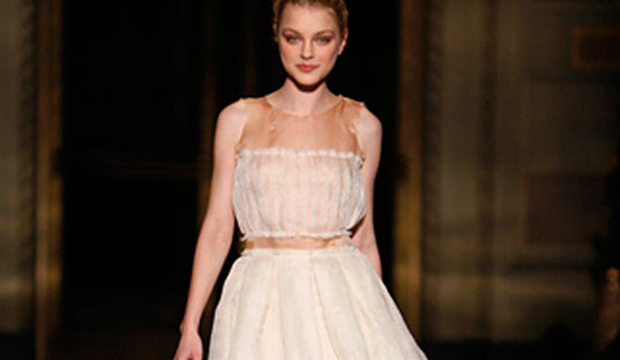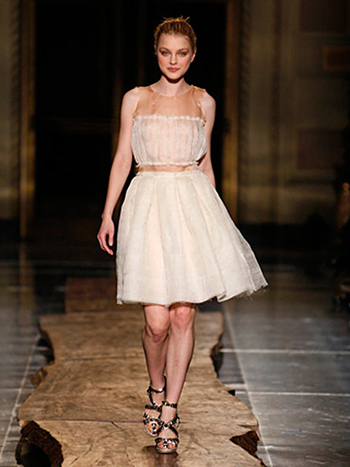 Though summer is still many months away, it's certainly never too early to be dreaming up designs for next season.
When we think resort wear, we think bright colors, relaxed cuts, and breezy fabrics such as linen and cotton. While these go-to fabrics for summer are nice, wouldn't it be fun to try something different?
What about piña, a fabric made from pineapple fiber?
Some of our readers may recall a short article we ran on piña awhile ago- back then it was still new. Well, we have since discovered more about it.
Piña has two qualities that make it special: the hand of the fabric and how it is made.
The Hand:
The textile is light and airy. It is similar to linen or hemp in that it is cooling and slightly stiff, although piña is a bit softer.
The fabric has a natural gloss similar to silk, and is better in quality. This gloss protects the fibers and as a result, piña does not require any treatment with toxic chemicals.
And unlike many high-end fabrics, it is easy to wash and care for; no dry cleaning required!
How It's Made:
The weaving process for piña is intensive, as each step is done mostly by hand.
Pineapple leaves are soaked and scraped of the fibers. The fibers are then dried, waxed, and spun into yarn, which is woven into cloth. The yarn is delicate and requires skill and care to work with.
Piña is produced primarily in Aklan, located in the Philippines. Many women from the area are able to support their families through the craft of weaving the fabric, as it is such a specialized skill. Some women are able to have independent businesses, enjoying such success that they are able to take on employees of their own.
How It's Used In Fashion:
We mentioned Oliver Tolentino as a famed user of piña. And while he is certainly the designer who introduced the fabric to mainstream fashion, others have followed suit, including big names.
Rodarte for example, designed a cocktail dress made from several eco-friendly fabrics, including piña.
Would you try mixing this luxurious fabric into your next summer collection?