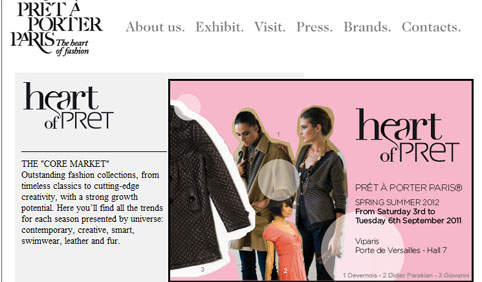 If you keep up with your Women's Wear Daily, you may have heard about that fact that Prêt à Porter PARIS is partnering  with WWDMAGIC this August.  They're calling it Heart of Pret.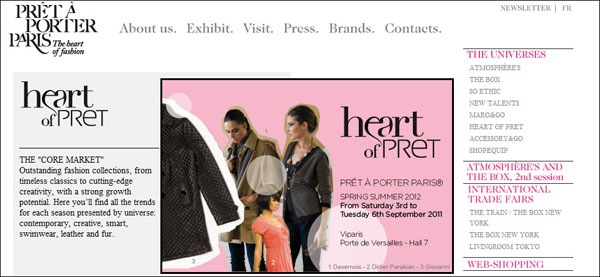 WWDMagic, as we all know, is the largest and most respected fashion industry trade show in the world and based in America. Prêt à Porter PARIS is a globally recognized international fashion trade show. Separately, they're each aawesome, together they're gonna rock the fashion trade show landscape.
As you may or may not realize, we have done and are continuing to do some blogging for the WWD Magic Tradeshow.  Our first experience was this past February.  We toured the trade show, attended the many seminars, and had a ball in the Teen Vogue Blogger Lounge.  This coming August we look forward to another amazing experience.  This time intensified by the presence of Heart of Pret.
Think about this for a second.  As emerging and independent designers based in the U.S., how exciting is it to think about the inclusion of some of the best emerging talent in Paris?  Successful designers realize how important it is to learn about and understand trends from all over the world and Paris has a reputation for talent. Chic and sophisticated, the 20 to 30 collections that will be shown at Magic this summer will be quite a treat for all of us.
On StartUp FASHION, we often act as a platform for emerging fashion talent.  We love to showcase the work of the independent designers, as this is what we find to be the most exciting, most relevant, and most news worthy.  So Magic's announcement is right up our alley. We look forward to introducing you to the labels we get to meet.
Heart of Pret is a great opportunity for these emerging French labels to show their work in America and reach a new and very broad audience.  But it's also a great opportunity for emerging American designers to meet and interact with brands they wouldn't ordinarily get to know.  If you weren't planning on attending Magic before you read this, maybe it's time to reconsider.
Remember, success in fashion requires (among other things) talent, thick skin, business savvy, passion, and building a community. Exposing yourself to something new is always good. Especially if it's something as chic, cutting-edge, and avant garde as sophisticated Parisian fashion.