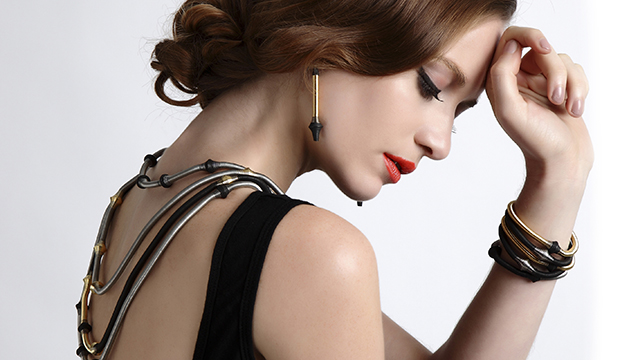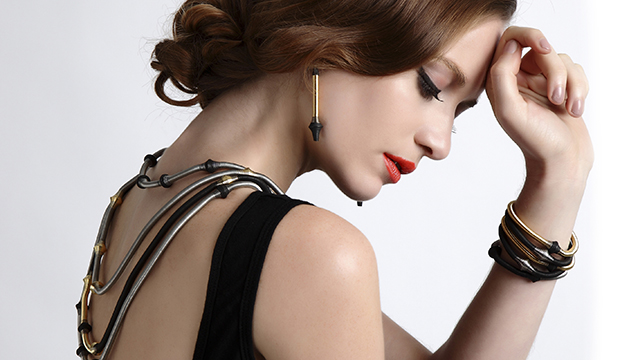 Designer Hila Rawet Karni of label Industrial Jewellery knows a thing or eight about the craft of turning unconventional materials into beautiful pieces of jewelry. The label was created because of Hila's passion and love for crafts and the inspirations she's found in art and design since she was a young girl.
With a quick glance at one of her collections, you would have no idea that they were designed from springs, aquarium tubes, paper, and other unusual materials. As the designer of this exceptional label, Hila is always trying to learn new skills and crafts to apply to her designs.
With a background in product design, and experiences as an industrial designer in the consumer goods industry, it is no surprise that Hila's personal accessory brand has taken off so successfully.
But how does she do it?
Check out our recent interview with jewelry designer, Hila Rawet Karni.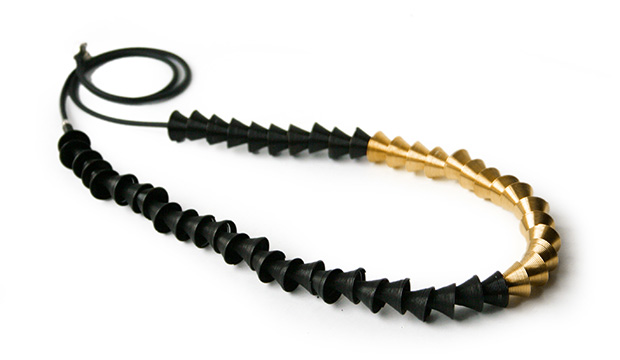 Your pieces incorporate a wide assortment of industrial materials. How did this come about?
My background is in Product Design, this is what I studied in University and worked in for a few years before starting the 'Industrial Jewellery' brand. The inspiration for the jewellery lines comes from the Industrial materials and technologies I have come across and from constant search for new ones.
You have studied a variety of art forms. Can you tell us how your past artistic experiences now influence your line?
I love crafts, always have. I don't think there is a creative class I haven't tried – silk painting, crochet, welding or needle-point. I think every skill I have learned is 'filed' in me and comes out when the time is right. I try to learn a new skill with each collection and see how it will affect my work.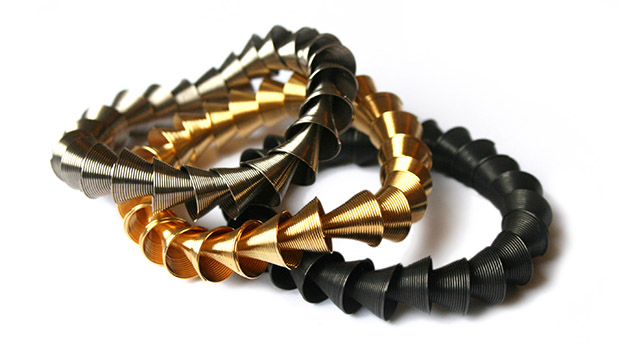 You've built a successful brand with a strong global presence. What have been some of the biggest challenges you've faced in the process and how have you overcome them?
I think you need to be confidant of your product, know what the brand aesthetics are and who your client is – these seem like trivial questions but the answers are hard to establish.
Having your own business can be very hard and lonely, especially in the first few years and you have to make sure you surround yourself with people that are excellent in fields you aren't as strong at. This allows you some perspective and they will push you forward even when you don't wish to be pushed.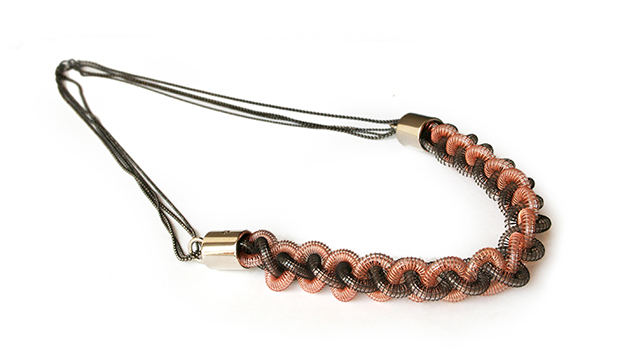 If you could go back in time, before you created Industrial Jewellery and tell yourself one thing, what would it be and why?
I don't believe in regrets, honestly. Some of this journey has been hard, but it brought me to where I am now and that place is amazing.
What are your plans for Industrial Jewellery in the next year? Any exciting plans you'd like to share?
We are planning on targeting some new markets working with our new agent in Australia & New Zealand and participating in new shows in Germany and for the first time in the UK. We also plan on developing other products to compliment our jewellery lines in the fashion accessories and table-top fields.