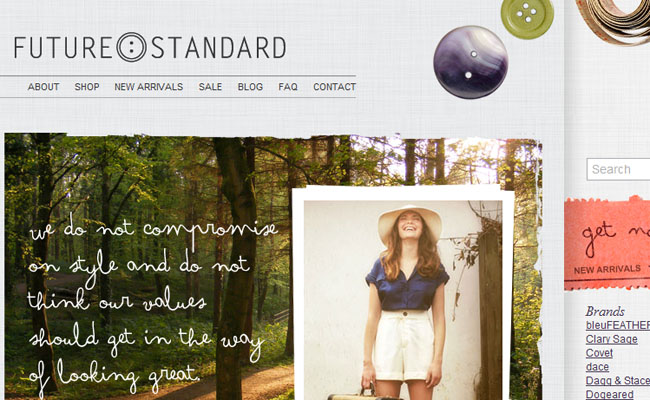 Online retail solely focused on ethical designers is not easy to come by.  If you're a fashion or accessory designer who has made the decision to focus on ethical production, you may want to sell and market on platforms that focus on this important and niche community of designers and products.  If this is you, you should check out Future:Standard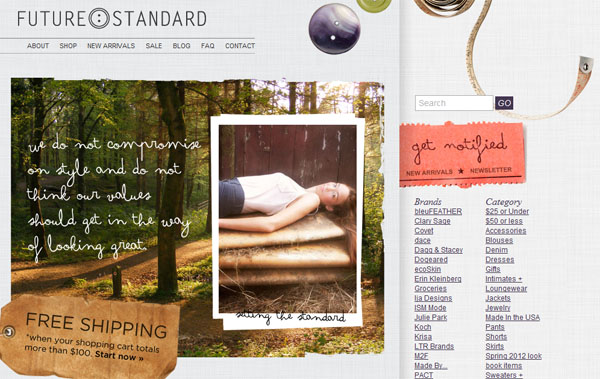 F:S is a unique online space that focuses on selling and promoting fashion and accessories from ethical designers. "Ethical" can be determined in different ways and by different standards, depending on a person's perspective.   Read our interview with Jessica Althoff, the founder of F:S, to learn more about how she classifies ethical design and how designers can apply to be a part of the marketplace.
StUF: How and why did you start Future:Standard?
J.A.: I started F:S because I felt that there wasn't really a place that young women could find on-trend clothing that is ethically made.  Or, really there wasn't a place that I could find clothing that I felt like I "had to have" and I wanted to give that to people.
I also really want to prove to designers and consumers that ethical and beautiful or trendy are not exclusive of each other.
I started working on Future:Standard about a year and a half ago;  writing a business plan, working with a web designer, etc.  As we got closer, I started doing the buying and marketing to get ready for a January 2011 launch.  Around that same time, I hired an intern that could help me (really actually teach me) with social media.  Then we launched!
StUF: What kind of merchandise can we expect to find in the boutique?
J.A.: You can find everyday wear.  I am a very casual person, and I think the site reflects a lot of my personal style.  Of course, I think of other women in my life when I am buying too.  My sister is a new working mom.  We have very different styles and I think about her a lot when I am buying.  We have things for pretty much every occasion, but everyday casual is what I think we have the most of.
You will see a lot of really cute and absolutely not boring basics and a lot of silk items (I love silk) and a lot of  U.S. made items. Spring is here and we just got the most amazing shipment of brights from Toggery  and Threads For Thought that I am just in love with.
StUF: What do you look for when deciding to take on a new designer?
J.A.: As we grow, I get pickier with the eco & ethical credentials.  We just picked up M2F and I thought to myself, are they at least as sustainable as our other denim?  Yes, they are.  We also are getting a new line Amour Vert in the fall.  I have looked at them for a year or so, but wasn't sure if it was a fit.  Their  fall collection is so beautiful, I had to have it.  I like to see a line and think to myself, "I can't wait to get that!  I want to put it on now!"  If I have that moment when I see the line and it meets my guidelines, I know it is a good fit.
StUF: Do buy and stock your merchandise or is fulfillment handled by the designer?
J.A. : A little of both.  We stock most of our merchandise, but have a few designers that drop ship.  We are working on getting a few more on board.
StUF: What qualifications does a designer need to be a part of Future:Standard?
J.A. : We only have a few real rules, but we do only carry lines that at the minimum are made in a socially responsible factory using generally eco-friendly fabrics.  One of the first questions I ask is "Where was it made?"  If the answer is the U.S. and they are using mostly natural fibers, I will consider carrying them.  I like brands that show me in some way that they think sustainability is important.  If they are made outside of the US or Canada, I ask them about their factory audits and how they can ensure that the people making the garments are made using a living wage.
Our rules:
We do not carry leather unless it is scrap leather or upcycled leather.
Only organic cotton.  A few of our lines make things with combination organic / conventional cotton blends and we will buy them.  But we don't carry any lines that use primarily conventional cotton.
Because there are a lot of really great eco-friendly jewelry designers out there, I typically focus on designers using recycled metals, like Ija Designs.  We will be picking up a few more lines in the summer & fall as well.
As we grow, I will develop official guidelines but for now, I just ask the designers.  We will also get even more sustainable as we grow because I am constantly being approached by new lines, so I can be much stricter with our guidelines.  Also, I think (hope?) that designers are getting more sustainable in general, so there will be more options!
StUF: How can an interested designer submit their work for consideration?
 J.A. : Just send me an email.  I like to see a line sheet/ look book, and any minimums or guidelines.  I also like to know why the designer thinks they are a fit, how are they sustainable/ ethical.  That's it.
StUF:  What's in store for Future:Standard; any plans to build and expand on the current model?
J.A.: Yes.  I think the next step will be women's shoes.  Or mens.  I haven't really decided.  Both are a few years out, so I will decide as we get a little closer, but these are the things that people are asking us for.
You can connect with Future:Standard on Facebook and Twitter.