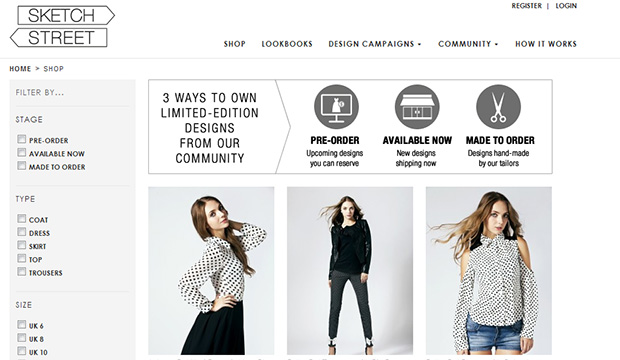 Always on the lookout for interesting new start-ups in the fashion world, especially those that are doing something to shake up the industry a bit,  I was looking forward to the opportunity of speaking with Anthony Chan from the new fashion start-up Sketch Street, a brand that is rethinking the fashion cycle around the community.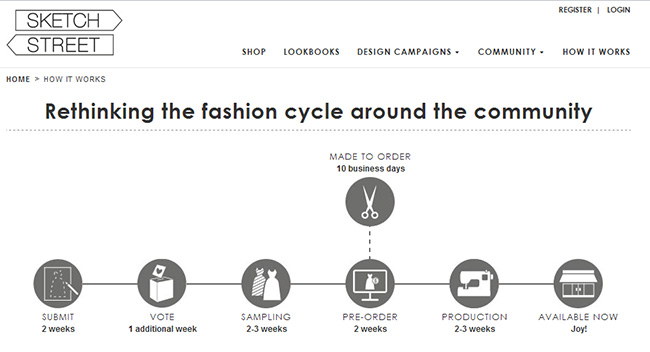 StUF:  How did Sketch Street begin?
AC: The idea really stemmed from an ordinary fashion lover's desire to buy high-quality, unique designs without burning big holes in one's pocket. I love high-street, love their trendy pieces and love them being affordable to young people like me. However, I slowly got frustrated by seeing the same fashion pieces, in the same chains across the globe.
Fashion is a statement of personal taste, a showcase of individual style. Of course, for some privileged individuals, they can afford to buy customized clothes, or high-end designer limited edition clothes. But I believe that fashion should be enjoyed by ALL. It is a simple pursuit of beauty. So why can't we have unique designs that are high quality and yet affordable? We definitely should – that is what we are trying to live up to at Sketch Street.
A second important propelling force behind the Sketch Street idea is to disrupt the hierarchical nature of the fashion world. For emerging designers, it can take years before they see their own designs been made and sold. Worse still, many of them may never see that day.  The film "Eleven Minutes", depicts well the difficulties faced by young designers such as Jay McCarroll (winner of Project Runway). The difficulties faced by emerging talents are at best understated!
We want to establish ourselves as a platform, a jumping board for these [emerging] talents. We finance the sampling and the production. We want to allow these designers to focus on what they do the best – design. For designers, participating in Sketch Street is a sure-win with no downside risk.
Powered by these two beliefs – bringing unique and affordable designs to fashion lovers + supporting emerging talents to produce great designs, Sketch Street was born.
StUF: What types of fashion do you allow? Restrictions?
AC: All products are designed by the community via our design campaigns. Each design campaign has a brief and some campaigns can specify a specific fashion type – for example, our current 'Classic Tweed' campaign is restricted to Jackets only. However, for Sketch Street as a whole, we aim to offer a complete shopping experience so you will find all types of fashion as we fill out our store in the future.

StUF: What's Sketch Street's target audience?
AC: Sketch Street invites all fashion lovers worldwide to join our community – to design, to vote, and to shop. For example, our design campaigns are not restricted to only professional and student designers – we encourage all fashion lovers to participate and showcase their style. For those who are not as gifted in drawing, we offer an illustration service to help bring your ideas to paper. We also run guest campaigns with fashion bloggers and illustrators. So we really try to enable all talents in the fashion community! We believe that great designs come from real people.
In terms of our products, we also keep the mass market in mind. We make conscious efforts to ensure that our products are affordable to all. At the same time, we keep our products unique by limiting each design to 500 pieces globally.
StUF: What makes Sketch Street unique?
AC: Sketch Street is unique in that we are a 100% community-driven clothing label. The community designs, the community votes, and the community decides what gets into our shop via pre-ordering.
All of this is transparent and open to our users to participate. It is a new experience for the community to create and consume fashion. Never before has the community been so empowered to express their style and have their say in fashion. Indeed, it is the diversity of our community that makes Sketch Street unique. Fashion designers, bloggers, illustrators, shoppers come together at Sketch Street, collaborate and make great styles together.
StUF: What sets Sketch Street apart from competitors like Threadless?
AC: Sketch Street is similar to Threadless in that we are both community-driven companies. However, I see Sketch Street and Threadless tapping into different crowds – Threadless is more into graphic design and art whereas Sketch Street is about fashion.
The production complexity is also vastly different between t-shirt printing and fashion garments. Turning a fashion design into real garment is a complex process – from fabric selection to pattern making to sampling. It requires great attention to detail and patience to produce a fashion piece that is wonderful and wearable.
StUF: Can you provide some details on the UGC experience; what it means for the fashion industry?
AC: User-generated content definitely plays a critical role in fashion. Fashion blogging is a great example. As more and more fashion lovers shop online, the influence of fashion bloggers is on par with, if not greater than, that of magazine editors and stylists.
Bloggers now regularly take front row seats at the most prestigious fashion weeks. UGC also plays a key role in product curation. With sites such as Pinterest and Polyvore, ordinary people are becoming taste-makers and offering styling advice.
Fashion is inherently social and there is now increasingly more ways for bottom-up feedback from the community, rather than top-down dictation.
UGC is at the core of Sketch Street as we try to foster active engagement from the community. At Sketch Street, users submit design sketches, give feedback, exchange ideas, vote, pre-order and kickstart production. All of these are all user-generated and Sketch Street is really about empowering the fashion masses.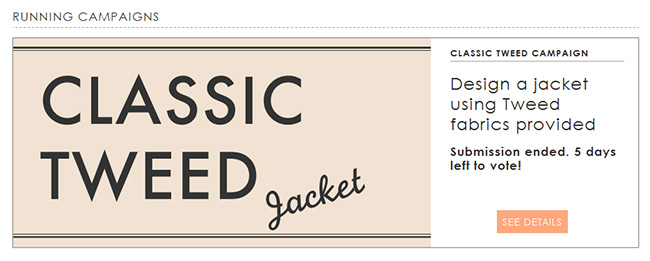 StUF: Thoughts on a Pop up shop or sticking to an only online experience?
AC: Yes a pop up shop is a very interesting idea. It is a great way for our shoppers to touch, try on our products, and feel our difference.  However, the Sketch Street pop up shop will not be a conventional one. Sketch Street is all about the community and connecting the designers with the shopper – and our physical shop will reflect this. It'll be more like 'experience-shopping'.
Therefore, shopping at Sketch Street will be primarily an online experience. After all, one big reason why we can offer great quality at affordable prices is that we don't have brick-and-mortar stores!
StUF: What's next – new updates?
AC: We will be soon releasing our first ever blogger collaboration collection with London-based Amy He from DollsAreUnited. Also we have some fantastic social media design campaigns lined up and further partnerships with bloggers and illustrators – stay tuned!