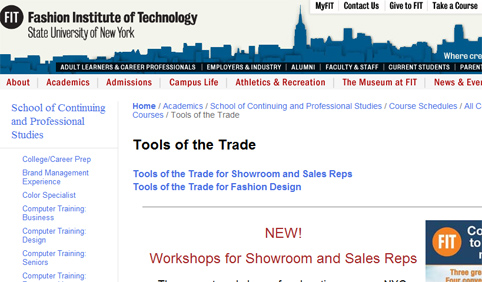 Starting a business, of any kind is hard.  Starting a business of the creative kind, seems even harder.  So much of the designer's time is meant to be spent creating their beautiful work but really, in order to be successful, the majority of your precious time is spent on focused on the business side of things.  The un-sexy, shall we say.  And it's not fun, right?
In order to grow your brand, wearing many hats is an absolute must.  From public relations and marketing to accounting and tax preparation, you are kept very busy.  Besides the obvious need for hiring assistants and outsourcing the stuff you can't do, something an emerging fashion designer can rarely do, it seems taking a few classes and learning the business side of things would be a pretty smart thing to do.

It wasn't until recently that we were introduced to the Fashion Institute of Technology's Tools of the Trade Program. It's a series of one-off classes that focus on various aspects of running a successful fashion business.  They are all individual, meaning you can take the ones you want/need and leave the ones you don't.  The best part, at $35 a pop, they are right in line with an early-stage entrepreneurs lack of access to funds.
StartUp FASHION was invited to sit in on a Sourcing class last week that was just plain awesome.  Anthony Lilore, co-founder of Restore Clothing, and a StartUp FASHION BreakThrough DESIGNER, taught the class, based on his years of industry knowledge and general expertise.  The class felt comfortable, with a Q&A kind of set-up and everyone sharing their resources.  Running form 6-9pm, the sessions are convenient and just long enough to learn a lot but not feel like you've been glued to a seat for too many hours.
Here's a list of some of the classes currently being offered.  You really may want to check them out.
Tax Tips
Paying your taxes promptly is important. Fees and penalties add up quickly. That said, don't pay more than you owe! The IRS allows special tax deductions for freelancers, the selfemployed and business owners. Learn how to document your income and expenses and reduce your tax bill.
Assessing Your Market
The most important research that designers can do is assessing their potential market. Whether you are looking for your perfect product niche or analyzing competing collections, the market research you do positions your business for success.
Fabrics, Patterns, and Sampling
Finding fabrics, trims, and accessories for samples is difficult. Chasing these down for production often determines a designer's ability to ship what they have sold. This seminar will give you a thorough understanding of the material side of fashion and will help you plan material purchases from sampling through production.
Line Sheets, Look Books,and Sales Collateral
The most important aspect of establishing your brand is providing sales materials that convey the image you are trying to create. From line sheets to look books, this seminar will present strategies to increase sales while preventing unnecessary duplication of your valuable design concepts. From models and photographers through stylists and printers, we will provide an overview of the tools you need to create the branded image you want to achieve.
Finding the Right Supplier
Take advantage of all the new opportunities in sourcing and supply chain management available to the small designer. Representatives from the Garment Industry Development Corporation will review manufacturing opportunities and resources available from sampling through production. Global opportunities the Internet has made available to the small designer will be discussed.
Sales, Marketing, and PR
Score free publicity and get your product in the spotlight. From fashion editorials and the "what's hot" pages to morning television spots and celebrity endorsements, this seminar will show you where these opportunities are and how your company can benefit. Industry experts will teach you how to write press releases and how to send your product to editors.
A View from a Retail Buyer and Sales Rep
This seminar gives you the opportunity to hear about the fashion business from a Buyer's and Sales Rep's perspective. A discussion on how your product will be recieved at the two levels, insight into getting your product into a boutique and how to properly merchandise your line to get maximum sales using a sales rep.
Selling and Marketing Your Product Online
Today's fashion market strongly relies on the Internet. This seminar discusses the advantages of having your product available online and shows you how to get it there.
The Inside Scoop from Pattern Makers, Graders and Sample Makers
What really goes into the process of making a pattern, a sample and marking and grading? Get first hand advice from industry professionals to fully understand the steps to make your product come to life.
Designer Panel
Meet designers from all areas of fashion: apparel, home furnishings, accessories, and jewelry. Ask all of your questions!