Designer Camille Cortet is a fan of using snakeskin- but not in the way you might think. While the patterns and scales that make up this reptile's body are certainly beautiful, Cortet is less interested in its skin's aesthetic qualities, and far more interested in how it behaves.
Cortet's innovative textile project, aptly titled Transformations, draws inspiration from nature- specifically the physical changes that take place in animals.
Her fabrics "translate the animal's beauty and finally merge with its behaviour, almost to the point of embodying it." The piece that best exemplifies this project is her "Snake & Molting Legwear"- pants that were inspired by the scaly, shedding skin of a snake.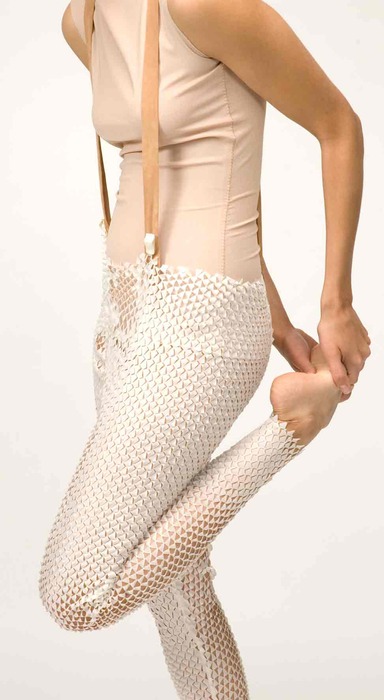 The designs seek to point out the similarities between humans and animals. In this case, the shedding of skin, which, while less noticeable in humans, occurs both in us and in reptiles alike.
Cortet achieves this look by creating a laser-cut textile that mimics the look and behavior of snakeskin. The fabric is as paper-thin and delicate as flesh, and the cutouts reveal the wearer's own skin underneath, visually merging both layers.
The precisely cut "scales" move and conform perfectly to the body.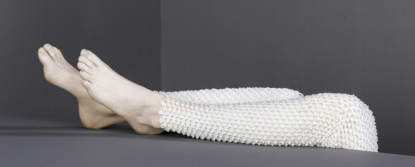 We must remember however, that this is a conceptual garment, not a wardrobe staple that is meant to be worn for years to come. Like a snake's skin, the garment eventually "sheds." Just as it conforms to the body, it evolves with the body as well.
Just as skin does, the textile ages, breaks, tears, and eventually falls off. "The wearer," Cortet says, "can escape from its pants when they become too old."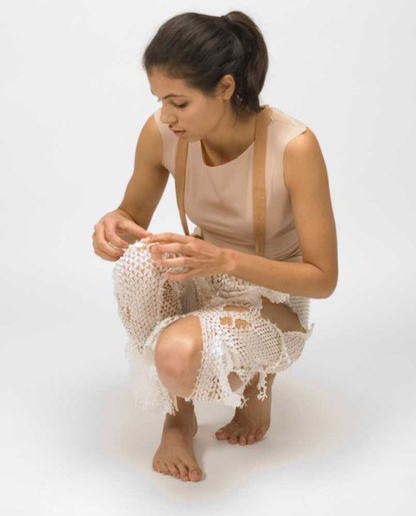 While the piece itself is a more artistic, less practical garment, aspects of Cortet's textiles show promise in industry application. Laser cutting is a growing trend for example, and the pattern was not only beautiful, but made the garment easy to move in, like a "second skin."